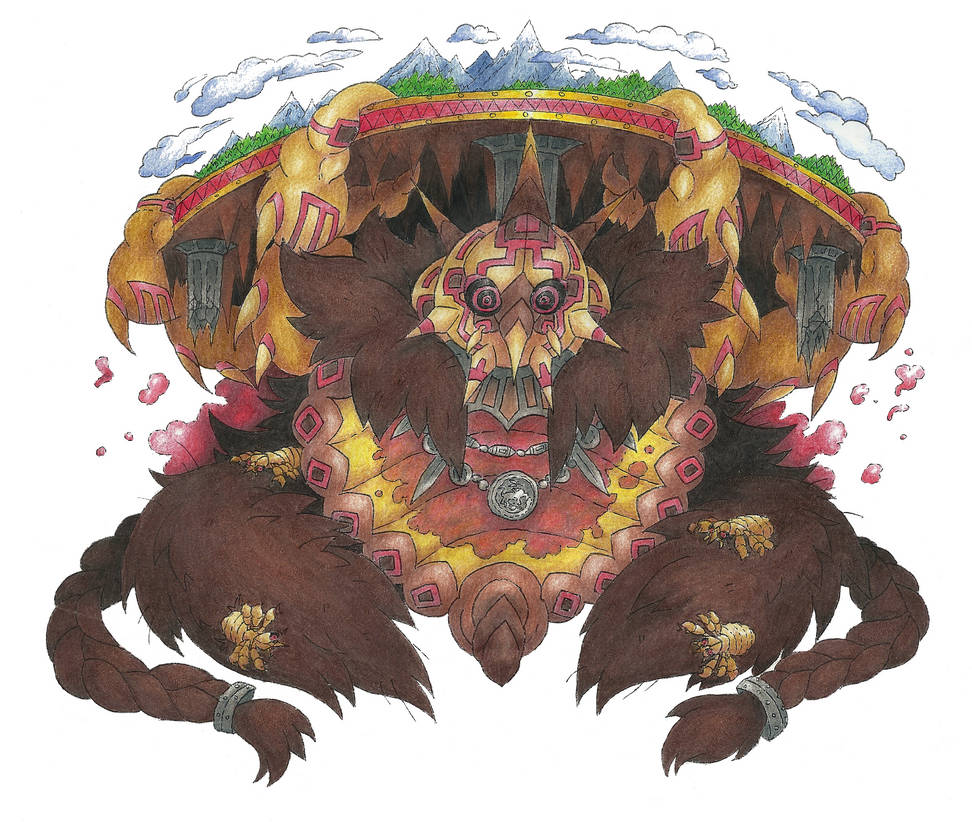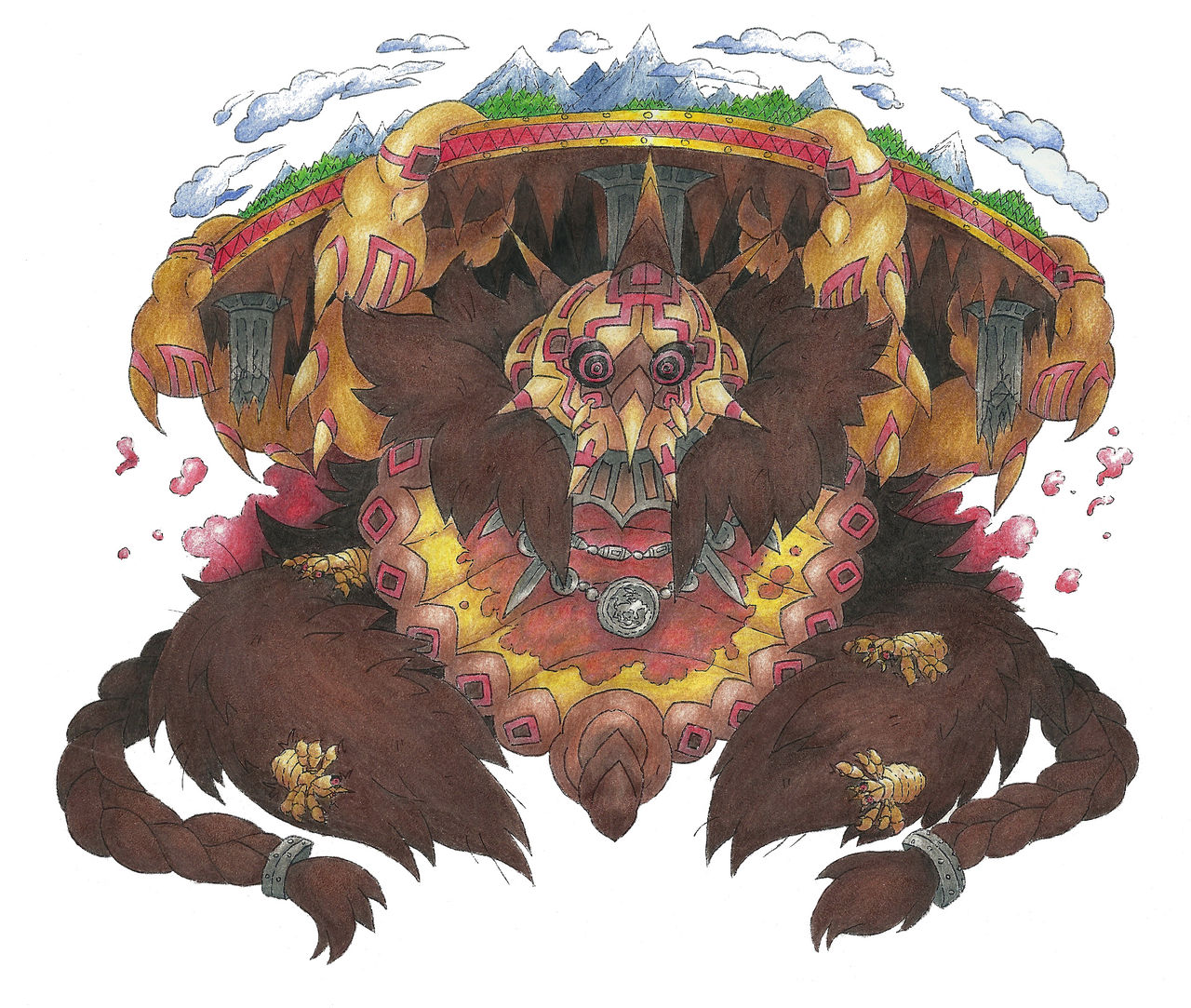 Ladies and gentlemen, we're gonna need a bigger flask of shampoo...
---Krun-----------------------------------------------------------------------------
The lord of the underworld and dakrness in Mandean mythology, taking the form of an
enormous louse (or lion, depending on the source), living in the deepest reaches of
the earth supporting all of the world on his back. He's also referenced by the
fitting title, "The Mountain of Flesh". It is said that after Hiwel-Ziwa, the god of
light, created the world, he travelled deeper and deeper into the earth in a journey.
After passing through the underworlds governed by the other gods of darkness,
Zartai-Zartani, Hagh, Gaf and Shdum, he reached the bottom of creation and found the
gigantic god holding the earth, being described as so enormous that he could swallow
everything with his mouth. The god of light takes the wife of the dark gods, Ruha,
Queen of the Demons, away from Krun and along with him to the surface, gaining the
Skandola amulet in the process. In Mandean tradition, the Skandola amulet is a
mystical artifact engraved with the figures of a lion (a representation of Krun
himself, according to some sources), an Ouroboros-like snake, a hornet and a scorpion,
symbols of the dark magical forces, and are used to seal the graves and protect the
newly dead, containing powerful magic related to the world of darkness. It is said
that the demons subordinated to the god and Krun himself also holds the power of
language, being able to speak in any of them, from anywhere in the world.
------------------------------------------------------------------------------------
It's gonna be hard to draw something even more obscure than him after this...
I ended up discovering Krun by accident some weeks ago, and I felt instantly that I
had to draw him. A giant louse god that holds the world? How cool is that?!
I was also in the mood for some insect goodness, so...
His design is pretty straight forward, but I've also included the Skandola amulet in his
necklace too as a reference to his myth.
Heavy influence from
Shin Nagasawa on his design too!


Hope you liked it! See you guys next time!

interesting, your depiction of Krun is more like a cosmic horror than a traditional god, its the rare insect god type.
Reply

Yeah, it's so bizarre... As soon as I discovered about it, I knew I had to illustrate it someday!

I do wonder if those sources that mention him having an insect form are truly correct though... It was hard as hell to find good information about this guy, and a lot of them were pretty vague in general... I do remember the wikipedia page mentioning he took the form of a giant louse when I did this, but if you go to that page today, that information is nowhere to be found anymore... Suspicious.
Reply

Just curious, but where did u discover Krun? I am a pretty big mythology nerd, but I have never heard of this guy or "Mandean mythology" & would like 2 research it myself.
Reply

Funnily enough, by chance he was one of Wikipedia's articles featured in it's "Did you know" section in the main page one fateful day, I had never heard about it or Mandeanism before as well.
If you search for it you can find bits and pieces about it, but it's hard to find much more than what I've put in the description.
I remember I found most of what I wrote here in a google book page while researching, but don't quote me on anything, I'm not sure I trust much of those sources myself, hard to be sure.
Reply

I don't know if u have seen it or not, but if not u should look at this website that I just found called A Book of Creatures (or ABC). There r a bunch of depictions & descriptions of various mythological creatures that I have also never even heard of either. I don't know if any of them r accurate 2 the actual stories, but I just thought u might want 2 have a look. They also do book reviews!
Reply

This site is a godsend! I actually discovered about it just in the past couple months or so, I almost every creature is completely obscure to me as well, and a lot of them are incredibly unique from anything I had heard before! It's incredibly interesting and informative stuff! I discovered about it while trying to research more about brazilian folklore, and the site contains some creatures from it that I had never heard before in my life, and I thought I knew plenty about the subject. I'm trying to trace back their sources to anything in portuguese so I could verify it, but I can only find quick mentions of some of the creatures here and there with almost no information at all about them beyond their names. Just how good and obscure their sources are?!
Reply

Just asking, but what do you know of Papa Figo?
Reply

There's not much to know about him actually. He's a variant of the standard "
Sack Man
" kind of legends used to scare children around here, and his name is literally a corruption of, and also a childlike way of saying "Liver-Eater". He's usually described as a hideous old man carrying a big sack on his back (but sometimes he's also portrayed with the claws of a bird and vampire-like teeth), and as I think you have probably already guessed, he kidnaps children (sometimes acting alone or sometimes through someone else who lures children with candy and toys) to drink their blood and eat their livers, supposedly looking for a cure for a strange disease of his that only fresh livers could cure. According to some tales, the children's bodies are usually found in the street with a huge sum of money next to them, supposedly to pay for the child's funeral and family expenses. That's... Nice of him, I guess??????

He's... Not a very interesting figure overall in my opinion, there are more interesting bogeyman type figures out there, south american ones or otherwise.
Reply

Really? That's disappointing... I read somewhere (TV Tropes, I think...) that he was like a Portuguese Dracula, which I thought it could b a very interesting horror game: u play as an amateur detective in a village looking into the kidnappings/murders of children that many people r overlooking for unknown reasons which leads u 2 an ominous castle where u meet Papa Figo & his minions, sorta like a hybrid of Resident Evil 4 & Castlevania, but since I couldn't really find anything on him, I thought u would know something (I didn't know about the money bit). Oh well, back 2 the drawing board lol


Reply

In some other versions of the legend (which I've only learned about today, just like that money part), he's actually a rich old man who lives hidden from society inside his lair, and his servants are actually the ones who bring the children to him to have their livers eaten. I guess that's where the whole Dracula comparison came from? But this version of the story is not only very uncommon to be heard in itself, but the Papa Figo himself actually doesn't have any powers per se, nor is near as cool or imposing as Dracula, so comparing the two really is a biiiiig stretch to be made. He's just an ugly old man who happens to be a cannibal, that's all.
That game of yours could definitely work in this alternative version, where you would have to infiltrate his hideout at some point to rescue the children from his clutches. It would fit like a glove I would say! But alas, in the end, it would be a nice idea wasted on a lame character. XD
Reply
(1 Reply)

At the end of all things, the lice shall swallow the world...
Reply

Worst. Apocalypse. Ever.

Reply

Hey, Atmaflare. I discovered the true origin of the gentile adjective of "Mandean". Before that, i didn't know about the term of "Mandean", but in Wikipedia, it comes from Iraq and this death god comes from a mysterious religion called "Mandaeism". ¿You know it, man?
Reply

Well, yeah, I discovered about Krun when I was researching about Mandeanism, after all. And then I decided to draw him. There's a research behind every drawing I do!

Reply

this look like it popped strait out of Lovecraft mind
Reply

Now that you mention it... A giant insect-like god living in the depths of the earth does sound a lot like him...
ALL HAIL THE LOUSE OLD ONE!
Reply