Deviation Actions
Daily Deviation
September 6, 2004
Master and Commander by *
athenatt
is a small look at one of her amazing traditional drawings. The inclusion of so much detail, wonderful strokes, and extreme likeness, make these images a worthwhile viewing.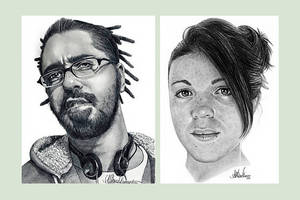 Super Supporter
For tipping at the $5 tier you will receive an 8x10 sketch of the simple subject of your choice (graphite or digital), a high resolution scan of the sketch, and I'll mail you the original graphite (or a print if it's digital) for just $5 Shipping & Handling.
---

Description
9/6/04 THANK YOU for the Daily Deviation!
Pencil drawing, 8 hours. A gift for *
Stillwater
. Photo reference from
People magazine
.
First RC drawing (also for *
Stillwater
):
Image size
3185x3984px 2.77 MB

Woah, epic, and all with pencil

You've managed to draw that really soulful look in his eyes