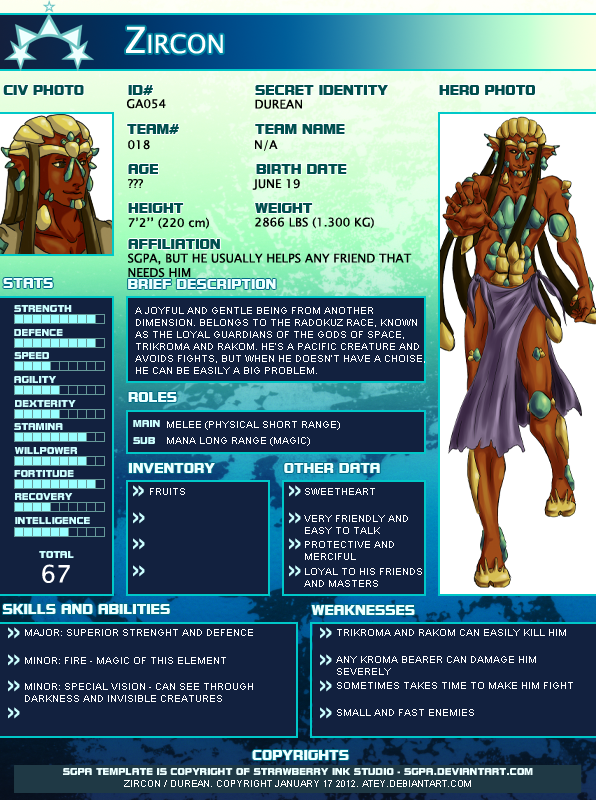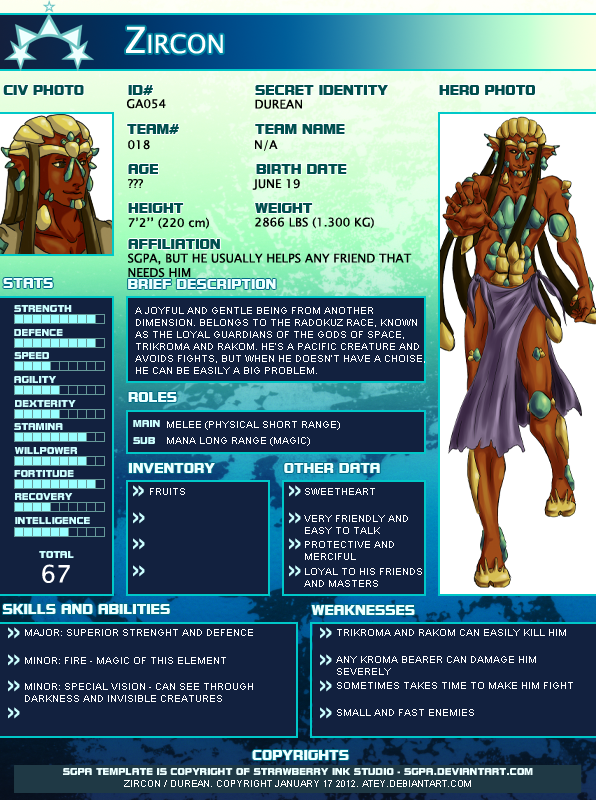 Watch
I just wanted to have another character (one more sympathetic) so, here's Durean

--------------------------------------------------------------------
BASIC STATS
Secret ID: Durean
Superhero Alias: Zircon
Group / Alliance Affiliation(s): SGPA
Age: Unknown, but he's old
Gender: male
Nationality: Kuzun (other dimension)
Current Residence: Somewhere in Earth
Height: 2 m 20cm
Weight: 1.300 kg
Personality
General Personality: He's usually in a good mood. Has a lot of patience with everybody, specially with kids. Is very sociable, even if the reactions about his appearance isn't good. He cares for the other and doesn't like to worry his friends.
Good Traits: Kind hearted, patient, sociable, brave, honest, sweet, patient.
Bad Traits: sometimes he's a little overprotective, doesn't have total control over his own strenght.
Quirks: Durean has problems controling his strenght, so... he break thing very often XD and it get worst when he eat sugar.
His real powers are blocked by Rakom, he can use them only when he's on the Warrior Dimension
Fears: Loneliness, his own strenght
Memorable Quote(s):
- "Hi everybody!"
- "Where's the party?"
- "Do you want some fruit?"
Relationships
Closest Friends: He has A LOT of friends, but his closest are Taro, Yikah and Inriel
Enemies: The ones that destroy nature and robbers
Girlfriend(s)/Boyfriend(s): Hmmm... none XD but he has a crush on Inriel. He's probably bisexual, but he tends to feel more attracted to women. It's hard to tell when he's in love, 'cause he's a sweetheart with everybody XD
Battle
Power(s): Huge strength and a high defense capable of withstand a wide variety of attacks
Weapon(s):
Style: No weapons, only his own strength. Can give very strong punches that are capable to broke a lot of materials. Can throw heavy things. Has some fire attacks.
Weaknesses: He's not very good with fast and small enemies. Is hard to heal his wounds.
Background:
Durean belongs to the radokuz race, known as the loyal guardians of gods of space: Rakom (god of day and emperor of the Sun) and Trikroma (god of night and emepror of different moons in the galaxy) Durean is part of the solar radukuz race, which means that his main master is Rakom, and his orders are over Trikroma's.
This creatures can easily live for millenias and their abilities are compared to the superior demons.
Durean was one of the victims of one of many wars against Rakom's enemies, demons from the darkness who are looking for the Apocalypse, trying to hurt the main gods. Durean's body was destroyed in one of this wars and to recover, was sent to Earth, and he slept for years. He looked like a statue, with his body petrified, and was found by some ancient civilizations, he was even being revered as of he were a god.
Durean was found by an archaeologist in a very old ruin. The archaeologist though he was a statue so he took him to a museum. One of the relics on it awoke him and he flees with the jewel that fused to his body. Currently remains hidden to avoid the persecution of scientists, but his personality has caused a lot of troubles on that.