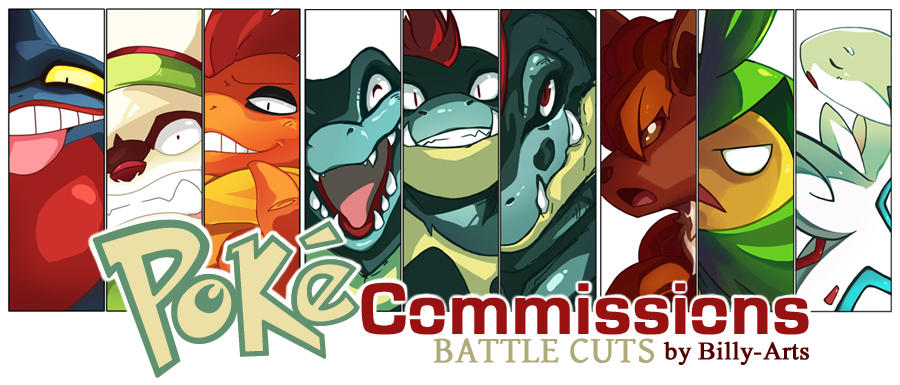 Check out my
tumblr
for more recent-old drawings.
Information before commissioning:
I will not draw NSFW, inappropriate themes, or anything I find disturbing.
I will only draw Official Pokemon, including their various forms and Mega Evolutions.
Payments only made through Paypal, all in USD.
Prices below cover the Paypal fee; the client should never pay the PP fee anyway.
It will usually take me 3+ days to finish a commission, so no urgent orders please.
I am using Photoshop Elements 7, very old and outdated, but the results are decent.
My tablet is a Wacom Graphire4 CTE-440; it is almost 10 years old, so commission me if you are okay with lines of various weight (I work with large images; sizing them down makes the lines less noticeable).
Pokemon Battle Cuts

Set of three: $18 USD
Starter party, evolution chain, legendary trios, or what have you!

Set of six: (CLOSED)
Your whole Pokemon team doing their game faces! Or two evolution chains, or three!
Set of nine: (CLOSED)
Regional starters and their evolution chains, a trio of evolution chains, or all the Eeveelutions, plus the Eevee!
Place your orders here:
ON PAYMENT:
When paying artists for digital art, always select Pay for goods or services.
Please select No shipping address needed/ No address needed.
In the "Add a note" section, please do not include words such as "commission," "drawing," "deviantart," or anything related; "from (username)"

will do.
How To instructions here:

OR, YOU MAY PAY ME DIRECTLY AT:
www.paypal.me/billyarts91

__________________________________

Process
Upon ordering, I will begin the initial sketches and send drafts to the client.
When the client is satisfied with the design, I will ask for a downpayment - usually 50% of the total cost.
AFTER the client sends the downpayment, I will begin working on the commission.
I will be sending progress reports until I finish the commission.
The client will receive a low-resolution image of the final draft, and must pay the remaining 50% in order to receive the full-resolution art (including the .psd file and other file types they request, if possible).
Slots:
-
Thank you! These commissions will be extra opportunities for me to grow as an artist! And to buy a new pen tablet!