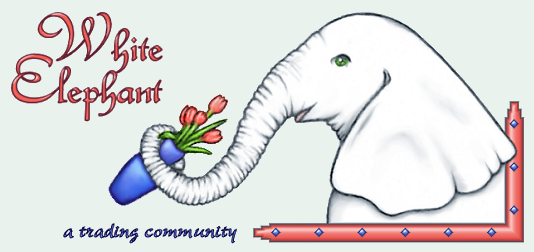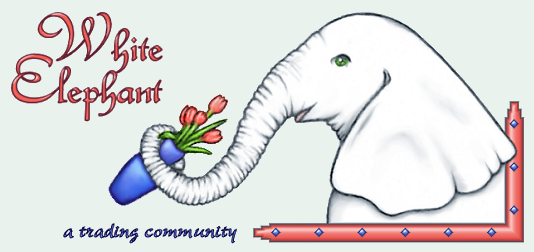 Watch
About 6 months ago, I opened a separate account on GoPets with some friends, to act as a trading post. It was founded on donations, and people could trade for items of equal value. Unforunately, for various reasons, such as time constraits and shifting economic conditions on GoPets, I recently decided to close the trading post. I still have the account, but for now it's just my second account.

Procrastinator that I am, I didn't get around to posting the artwork I made to promote the project, until it was closed. But I still like this drawing so I wanted to post it. I don't often pull off this kind of style very well.

I named the account WhiteElephant, a term with a coloruful history, sometimes used for exchanging used gifts, or for market stalls selling donated items. This is my drawing of our mascot, a white elephant named Eudora. The vase was drawn to look like a GoPets item that we often had out for trade in the early days, making it a fitting logo for the trading post.

I think of Eudora as the best buddy of the GoKitty on the account, Hodge Podge. There is an elephant the pets can ride as they enter or exit your desktop, one of many entrance vehicles. But I ignore the fact that it's not a white elephant, and when Hodge is riding her little elephant, I think of it as Eu giving Hodge a piggy back ride.

I really like the folds of the trunk, great work.
Reply

I drew most of it looking at elephant photos online to get some realism, and then just added a bit of cartoon cuteness to the face. It's hard for me to get any "expression" in a character's face, so I was glad she came out with kind of a happy, welcoming expression, which is what I was going for. She still looks a tad vacant, I tried moving the pupil and the highlight to get her looking out at the audience more, but it just ruined the eye and I put it back.

I'd like to commission a couple pictures of the kitty Hodge Podge and the elephant Eudora together, but I haven't had time to search through artist and try to find one with the kind of style I'm looking for. I want it kind of anthro, but not anime. Well, you know I love Ursula Vernon, but I imagine her commissions would be a bit spendy!
Reply

Yeah, it would be great to have an UV original commision, but I don't think I'll ever have the spare couple of hundred it would take.

Reply