Digital Art
Hello everyone,
Since it's something many people struggle with while working digitally, today I will be discussing how you can achieve smooth and clean lines using digital mediums.
SAI Stabilizer Tool
Paint Tool SAI offers my favorite method of creating smooth lines with its easy to use Stabilizer tool that works with absolute ease and no need for complicated setting adjustments. It doesn't matter how shaky your hands might be, the stabilizer tool will still be capable of creating beautifully smooth lines for you.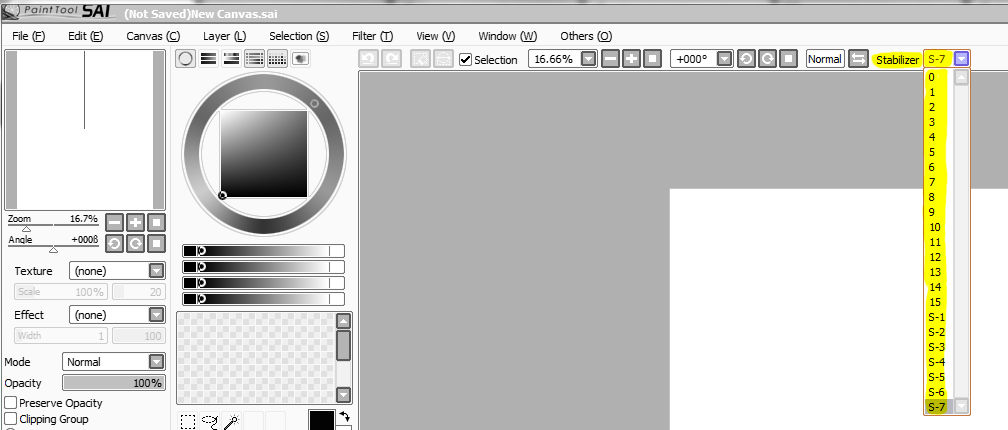 As you can see, the stabilizer tool is easily accessed, and you can quickly and easily adjust the level of stabilization you desire. The lower the number selected, the least amount of stabilization is utilized, the higher the more. I generally leave the stabilizer tool set to the highest setting (as seen above), though I've found that sometimes if you're working with smaller brush sizes reducing the stabilizer can be beneficial. Don't be afraid to play around with it some to find the setting you feel most comfortable with.
---
Pen Tool
I believe these days most if not all digital art programs have a pen tool included and if you're one of those artists who works with a mouse, the pen tool will probably be your best friend when it comes to creating smooth lines since they are easily achieved with the pen tool, even if you don't have a fancy tablet and pressure sensitivity available to you.
The pen tool works by creating points linked as a path, which can either be stroked or filled, depending on the type of line you wish to create. Some programs such as Illustrator have several other tools available to help enhance your pen 'strokes' with tools like the smooth tool, or the ability to add or remove anchor points easily, and even change the weight of your lines.
---
Brush Settings
Editing your brush settings can give some nice benefits as well when trying to achieve smooth lines, let's have a look at some of the different settings that can help you create smoother lines.
Smoothing

This setting doesn't really allow for any adjustments in Photoshop, however, simply turning this setting on will help create an overall smoothness with your lines and strokes, so it is worth having it turned on.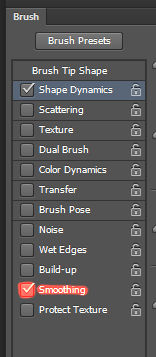 Shape Dynamics

Shape dynamics are exactly as the name implies, a setting which gives more dynamics to your strokes.
When you turn on the setting you'll notice the tapered ends. The big thing with this setting is the pressure sensitivity aspect that will allow you to create lines that vary in width.
You can adjust pen pressure sensitivity, tilt etc for your shape dynamics and I suggest you play around with these settings to find what will work best for you.
---
Brushes
Different brushes will have different effects and overall react differently with how you use them etc. There are a number of brushes that are wonderful for working on line art
Above are just a few examples of brushes that can help you create smoother, cleaner lines. I recommend browsing the Stock & Resource gallery under the appropriate application (program) you plan to use, for more brushes that can help you create beautiful line work.
---