Help for my dog LisaHelp for my dog ​​Lisa
Hello my dears!
Perhaps you have noticed that I have not been very active in the past month on DA.
The reason is the illness of my dog ​​Lisa
I've been thinking for a long time about writing this journal!
But my desperation is now greater than the embarrassing feeling of asking for help!
Lisa, my dog, is now 3 years old. She has been infected with a serious illness due to a tick bite.
She has anaplasmosis! A shock!!!
The first episode of the disease was a retinal detachment in both eyes.
She was blind for several days and could not handle it.
Then the veterinarians succeeded in using all medical possibilities
that the retina has partially re-established.
Lisa could see again. Not as much as before - but she saw something!
That stayed like that for about 3 months!
Then came the next anaplasmosis disease episode.
She had a glaucoma on her right eye.
The eye pressure was now 63 !!!
Furthermore the lef
www.deviantart.com/astoko
Dear Artist

With the little donation / download I finance the medication for my soul dog Lisa.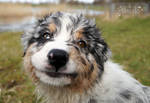 Lisa is still very young and an Australian Shepherd / Bordercollie mix.
I try to save the little mouse seriously ill from blindness.
Every download supports poor Lisa.
Because I am sick myself and get a small pension, which is not enough to cover all veterinary costs.
(more about her illness and the situation in my soon following journal)
Thank you for you great help and/or sharing
Very great Quality in full view
Image details
Image size
3500x5000px 16.95 MB
Comments have been disabled for this deviation