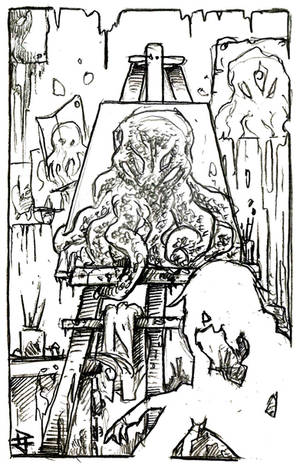 Support
Help me thrive, help me give me substance so I can draw to my soul content the stories in my head. Dreams or Nightmares, It's up to you!
---
Suggested Premium Downloads

Description
Leaving the Cavern of the Flame and the priests, he went down the stairs.

It was a long descent, always spiraling and turning, deeper and deeper.
After a while, he reached the bottom and saw a gigantic wooden door, massive and marketed from fine brass. Upon closer examination, he noticed small writing all over, scribbles etched in the brass in a language he could not recognize. The wood was dark and old, very old. He searched for a knob or a lock but couldn't find any. He tried pushing but the door won't bulge an inch. Scrapping his head, he took a step back and saw the tree.
The stairs were gone. He was now in a large clearing in a thick, wild and phantasmagoric forest. The door were still there, protruding from a massive oak. There was sun, and birds and small movements in the bushes...

Pencil doodle on A6 sketchbook
Image size
803x1280px 2.2 MB

Personally, The Dream-Quest to Unknown Kadath has to be my favorite lovecraft story imagery-wise.