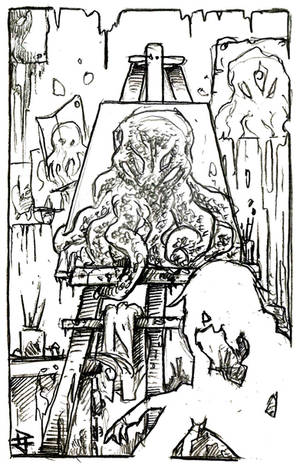 Support
Help me thrive, help me give me substance so I can draw to my soul content the stories in my head. Dreams or Nightmares, It's up to you!
---

Hagarg Ryonis, the Lier-in-Wait
Description
"Since their expedition in the bayou in the search of the sunken confederate submarine, Harry always felt watched. What he saw on this day left him with the uncanny feeling of being the prey and not the hunter. He could manage, most of the time. Each morning, he found strange leaves in his bed and sometimes seen swift movements from the corner of his eyes. But nothing more.
After what happened in Garisson and the tragic disappearance of Locke, nowhere feel safe anymore. he feels like every step he took could be fatal. He tried his very best to endure, but couldn't.
It was a relief when he decided to commit himself. Hal did his best to place him in a nice and place, where he knew he could receive appropriate care and take the time to rest.
But then came the eyes..."
Excerpt from the Azazoth Offspring campaign of Call of Cthulhu RPG.
Pencil doodle on A6 sketchbook from my Great Old Ones series for an upcoming Elder Gods Tarot project:

The Great Cthulhu
Chaugnar Faugn
Shub-Niggurath
Hastur
Atlach-Nacha
Cthugha, the Living Flame
Ithaqua the Wendigo
Father Dagon
Yibb-Tstll
Shudde M'ell
Yog-Sothoth
The music of Erich Zann - Tru'nembra
Y-golonac
Tsathoggua
Mordiggian
Quachil Uttaus
Eihort - God of the Labyrinth
Tindalos Hound
Gla'aki
Yig, the Father of Serpents
Daoloth, Render of the Veils
Abhoth, Source of Uncleanliness
Gatanothoa
Azazoth, Daemon Sultan
Umr Al Tawil - Avatar of Yog-Sothoth
Ubbo-Sathla
Mother Hydra
Nug and Yeb, the Twin Blasphemies
Bast, Goddess of all Cats
Nodens - Lord of the Great Abyss
Ghroth the Harbringer
Hypnos, Lord of Sleep
Green God, the Horror Under Warrendown
Tulzscha the Green flame
Hagarg Ryonis, the Lier-in-Wait
Zhar and Lloigor

Image size
845x1280px 1.75 MB

Hagarg Ryonix is the one "earth god" that has not deigned to take human form.
The others look like movie stars at an awards ceremony.