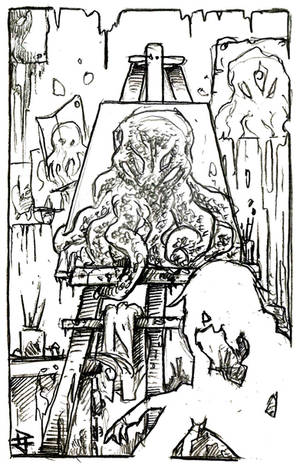 Support
Help me thrive, help me give me substance so I can draw to my soul content the stories in my head. Dreams or Nightmares, It's up to you!
---

Ecce Musicae - Erich Zann
Description
Props for a run of a
Call of Cthulhu
scenario from
Strange Aeons
: "3 days of Love, Music and Tentacles"
This partition was found by one student of the Miskatonic University in 1969, just before going to the Woodstock music festival.
The author, Erich Zann, was an obscure violin player which mysteriously vanished in the early 20s. The whereabouts of the student are unknown, and the only clue left, a scribbled journal, only refers to its obsession about the Angel of Music, and how to get it out of his head.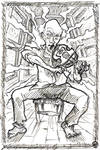 Ink nib on flying paper
Image size
1280x1928px 2.21 MB
Gonna print this out and add to a journal prop I'm working on. One of my friends is a jazz musician so I hope he tries playing it haha