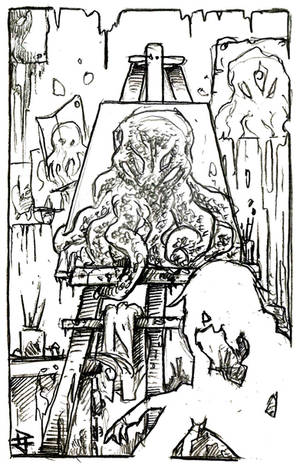 Support
Help me thrive, help me give me substance so I can draw to my soul content the stories in my head. Dreams or Nightmares, It's up to you!
---

Daoloth, Render of the Veils
Description
"...(not) shapeless, but so complex that the eye could recognize no describable shape. There were hemispheres and shining metal, coupled by long plastic rods. The rods were of a flat grey colour, so that he could not make out which were nearer; they merged into a flat mass from which protruded individual cylinders. As he looked at it, he had a curious feeling that eyes gleamed from between these rods; but wherever he glanced at the construction, he saw only the spaces between them."
- Ramsey Campbell, "The Render of the Veils"
Pencil doodle on A6 sketchbook from my Great Old Ones series for an upcoming Elder Gods Tarot project:
The Great Cthulhu
Chaugnar Faugn
Shub-Niggurath
Hastur
Atlach-Nacha
Cthugha, the Living Flame
Ithaqua the Wendigo
Father Dagon
Yibb-Tstll
Shudde M'ell
Yog-Sothoth
The music of Erich Zann - Tru'nembra
Y-golonac
Tsathoggua
Mordiggian
Quachil Uttaus
Eihort - God of the Labyrinth
Tindalos Hound
Gla'aki
Yig, the Father of Serpents
Daoloth, Render of the Veils
Abhoth, Source of Uncleanliness
Gatanothoa
Azazoth, Daemon Sultan
Umr Al Tawil - Avatar of Yog-Sothoth
Ubbo-Sathla
Mother Hydra
Nug and Yeb, the Twin Blasphemies
Bast, Goddess of all Cats
Nodens - Lord of the Great Abyss
Ghroth the Harbringer
Hypnos, Lord of Sleep
Green God, the Horror Under Warrendown
Tulzscha the Green flame
Hagarg Ryonis, the Lier-in-Wait
Zhar and Lloigor

Image size
842x1280px 1.71 MB

The premise of this short story was that hideousness is objective not subjective amd that it's inherent in reality. Our senses evolved to block out this hideousness.

This was a concept I could not accept.