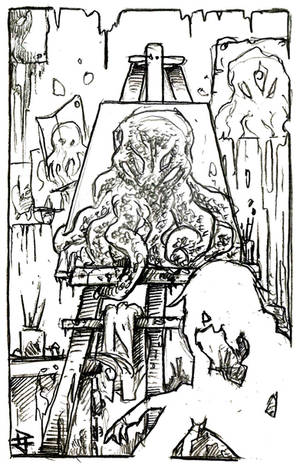 Support
Help me thrive, help me give me substance so I can draw to my soul content the stories in my head. Dreams or Nightmares, It's up to you!
---

Description
As the unholy memories of Silas flowed into his mind, James began to lose his sense of self. It was as if all the underground ceremonies of the past few years were happening at once, and each of them coming to their climax. They were others in the soul receptacle, and he saw through their eyes. He was the cultist, chanting forbidden abominations of ancient perverted cantrips. He was Silas, raising his knife and controlling the guardians. He was Mukunga, slowly raising the lid of the sacred well. And finally, he was the victims, struggling to escape this crawling horror coming from the depths of the well, the Chakota, the thousand-faced wormlike abomination made from the faces of its victims !

This was the last vision of James Benneth before losing his sanity.
May his soul rest in peace, 'tough is not, we now it.


- Excerpt from "The Masks of Nyarlathotep" Chaosium/Sans-détour "Call of Cthulhu" RPG campaign


Pencil doodle on A6 sketchbook from my Great Old Ones & Their Kin series for an upcoming Elder Gods Tarot project:

Rat-thing
Zoogs
Serpent-Men
Tcho-tchos
Elder Things
Mi-Go, the Fungis of Yuggoth
Hunting Horrors
Leng Spiders
Nightgaunts
Dark Young

Dhole
Cthonians
Great Race of Yith
Ghouls
Animiculi
Gugs
Deep Ones
Chakota
Flying Polyps
Shoggoth

The colour out of space
Shans, the Insects of Shaggai
Desh, creatures from beyond
Stellar Vampire
Shantak
Byakhee
Dimensional Shambler
Fire Vampires
Tindalos Hound
Servitor God - Flutist

Image size
845x1280px 1.53 MB

I've seen abominations too sickening for Lovecraft to dare indite on paper, lest the authorities...

Mormo, Gorgo, Thousand-faced moon...
Look favorably on our sacrifices,, ! (The Horror at Red Hook, and HYDRA)