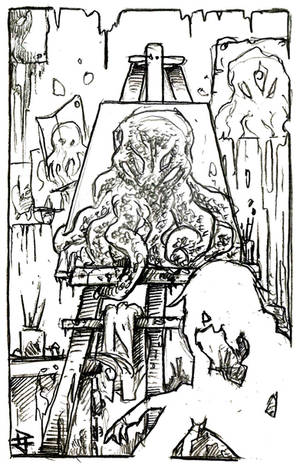 Support
Help me thrive, help me give me substance so I can draw to my soul content the stories in my head. Dreams or Nightmares, It's up to you!
---
Suggested Premium Downloads

Description
"It was dark, pitch black, almost painful to watch. More a shape than a volume, it looked like a hole, cut in the very fabric of space itself. And it was moving, growing and absorbing new arms and other appendices as it shifted between walking, crawling and oozing and god knows what else !

Sometimes, the shapes were almost animal : rat, dog, penguin... As if it collectively remembered its previous victims and tried to imitate them.

And it was cold, so cold..."
- Excerpt from the "Beyond The Mountains of Madness" Call of Cthulhu RPG campaign.

Pencil doodle on A6 sketchbook from my Great Old Ones & Their Kin series for an upcoming Elder Gods Tarot project:

Rat-thing
Zoogs
Serpent-Men
Tcho-tchos
Elder Things
Mi-Go, the Fungis of Yuggoth
Hunting Horrors
Leng Spiders
Nightgaunts
Dark Young

Dhole
Cthonians
Great Race of Yith
Ghouls
Animiculi
Gugs
Deep Ones
Chakota
Flying Polyps
Shoggoth

The colour out of space
Shans, the Insects of Shaggai
Desh, creatures from beyond
Stellar Vampire
Shantak
Byakhee
Dimensional Shambler
Fire Vampires
Tindalos Hound
Servitor God - Flutist

Image size
835x1280px 1.59 MB

Danforth glimpsed what lay BEYOND mount Kadath.
Hinted at in that famous novella.
(Earth is accursed and belongs to the Great Old Ones. Man is transient, ephemeral. There were peoples before man and there will be peoples AFTER man, )
The Old Race flourishes yet on other worlds, and the shoggoths there remain docile and obientategbbehwhewjw (gave up TRYING to get the word right !). There is a wrongness to the earth.