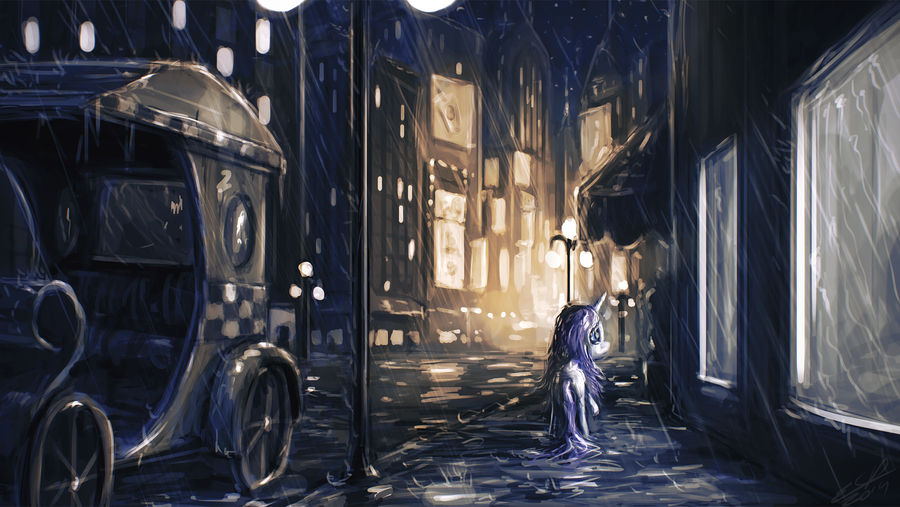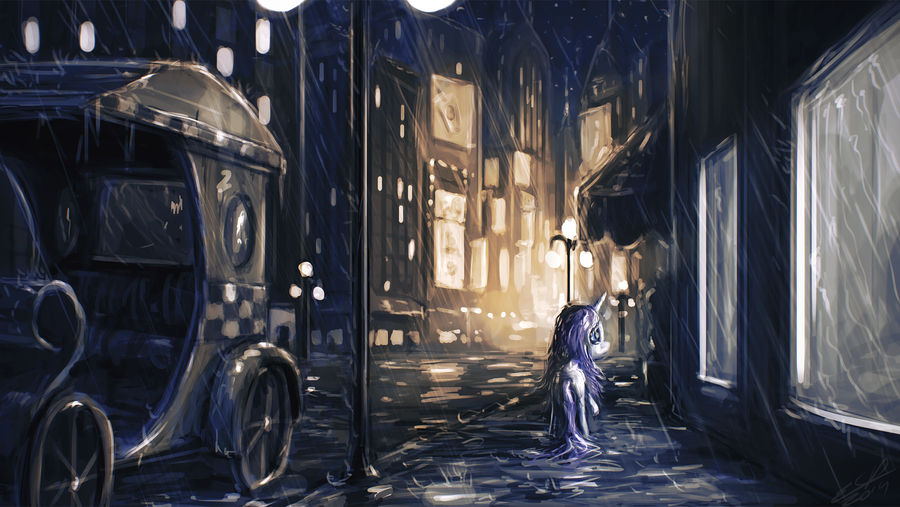 Watch
So different the piece for this episode compared to previous. Nice experiment, though I don't think I'm exactly happy with the result... *cough*failure*cough*
Much things to tackle, from architecture (still one of my main weaknesses) to simply a city scape, night time and rain combined. Fun to play around with though.
Such changes differ a bit from my take on daylight scenes, would've needed to spend a lot more time in this, but I felt this wasn't the piece to do that with.
---
Approx time: 5 hours
WIP:
I know I don't comment on that much of you art, but I have to say that I'm not surprised that something you consider a "failure" is still this good. There is no question that this needs to be added to my wallpaper collection.

Reaching absolute technical perfection is unnecessary when you manage to create an atmosphere so beautifully. You've taken what happened in the episode and created the feeling of a depressing and rainy city night in a much more realistic looking still image.

You have Rarity looking like she's thoroughly soaked and feeling pathetic as she looks into the window lit with a cold feeling artificial light. This contrasts nicely with the warmth of the streetlights and the downtown area. This makes her choosing to stop where she did seem like a conscious choice on her part, as if she feels she doesn't deserve to be in that happier looking place just ahead.

The way the rain itself was handled also looks nice to me. For some reason the reflections of the lights from the signs is particularly striking. The way it splashes off the taxi seems like it's using slightly bolder strokes than necessary, but it's still effective. I note this because the splashes on the ground look a little narrower to me. Perhaps this was intentional, though, because of the curved roof of the taxi changing the angle of the splash.

There are two things that I do feel are a bit off, but without looking at the picture for awhile I didn't even notice them. One is that the front wheel of the taxi somehow looks a little elongated vertically for it's placement in three dimensional space. The other is that the tops of the tallest buildings in the background seem like their shapes are a little odd, although I could be mistaking some of the raindrops for being parts of them.

The last thing is that I would have put originality higher, but while your vision for this was great I have a hard time giving anyone a 5/5 when the piece is based strongly on a specific scene in a show. That's no knock on you or this piece whatsoever.
The Artist thought this was FAIR
28 out of 28 deviants thought this was fair.
Oh my, that is so (sniff) so beautiful, heartbreaking and everything that should reflect on Rarity's generosity after what she did to her friends in the city. It almost just makes me want to cry. Real badly for Rarity.

And of course, the fan art looks like a paintings made from water colors mixed together with oil pastels of course. Makes the tone of this look dark, cold, sad and blue all at the same time.

Well, I think this is marvelous. I would hope you do more fan arts like this style. Thanks a lot for all the work.
The Artist thought this was FAIR
10 out of 14 deviants thought this was fair.