Hello everyone, my name's Anne-Sophie, but you can call me Aso.
Well, hum, i love american cartoons, mangas and videos games (especially Mario and Cell-shading zelda)
I have a lot of imagination, I create a lot of series with Mario or created characters, and i'm the creator of so many original series like Icky Monkey, Hilda Sunnysky, Loki Hawk, Moustachi and Binoclette and more!!!
Favourite genre of music: Bubble gum dance, electro dance, Rnb
Favourite style of art: Cartoon and manga
Favourite cartoon character: Marvin the martian, Mario, Toon Link, Sasuke Uchiha,Rock Lee, the Koopalings,and characters created by my best DA friend

, aka

!
Personal Quote: Simply simple!
My 3DS friendcode: 1478-2935-9755
Find me on Miiverse and me on your Wii U: Aso-Designer on Miiverse, and the same of my mii is simply Aso.
My Switch friendcode: SW-0411-7956-1999
My Youtube Channel
My Steam profile + My Garry's mod/SFM channel
www.youtube.com/channel/UCkTZm…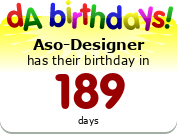 Favourite Visual Artist
Federico Bertolucci, David Alvarez, and on deviantart, Yoshiman1118, ZefrenchM,coconutstevio92..Etc...
Favourite Movies
Looney tunes:back in action, Lion king, Mulan, the princess and the frog
Favourite TV Shows
Duck dodgers, MLP:Fim , 90's cartoon disney or warner series, Super mario cartoons, Don Bluth movies
Favourite Bands / Musical Artists
I love some music
Favourite Writers
Roald Dahl, JK Rowling
Favourite Games
All the games with Mario, Toon Link, the sims or manga characters.
Favourite Gaming Platform
Super Mario
Other Interests
Cartoons, mangas,drawings, videos games