The results to the
summer AskMyPony contest
have finally came in!
Thank you so much to everyone who participated and thank you to the judges.

The prizes:

1st place: Full shaded pony by


2nd place: Base coloured pony by


3rd place: Sketch/black and white pony by

DRUM ROLL PLEASE..........!
Third Place goes to NecroWings !!
Congrats!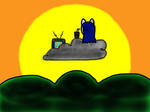 Second Place goes to TertonDA !!
Congrats!
And finally....!
First Place goes to MyHysteria !!
Congrats!
Any complaints can be sent via note to the group.









Each winner will be contacted with a link back to this journal.
If you're a winner, please fill out the following form when telling what you want drawn for your prize:
Contest Title:
Prize:
Reference of pony:
Pose/expression/etc:
Thank you to everyone! Stay tuned for more contests~!!