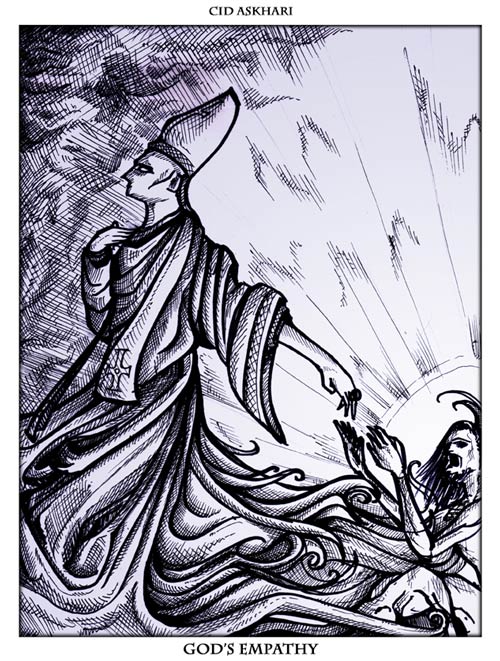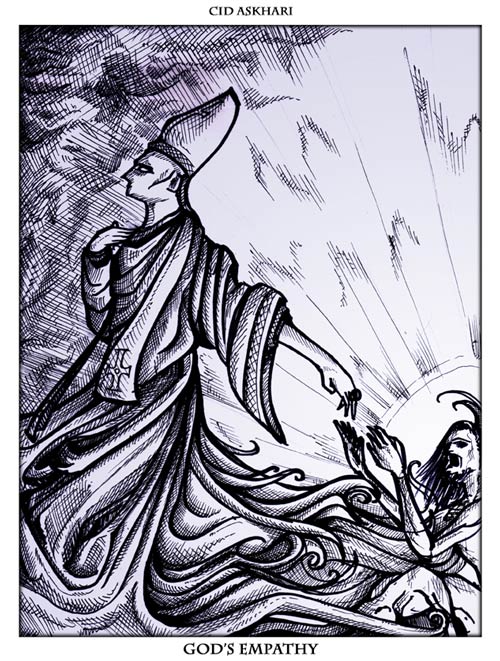 Watch
I was in Roma last week. It was cold, rainy, and we tried to see every important monument of history or art in within 5 days. My feet still hurt, and I've got a cold. On day 5, we entered the big one, St.Piedro, the center of teh roman catholic world.

Walking around for hours in and on the church, I stood before tons of the most impressive Artworks and monuments in the medieval history. I wasn't impressed. I was disgusted. The only impression I've got left of this, is the picture you see now.
Gold and Marble, splendour and glaze, built up with the hunger and the naivity of just those who should be impressed by it. Build up on lies and vage stories, to make self proclamed holy people more forceful.
A friend of mine, who goes to my class, didn't stop to look at me with this disgusted, arrogant sight, like she wanted to say "man, be impressed, more respect, that's the church". A bunch of Sisters and a pastor stood behind me while I was drwaing this, cursing and complaining about me in french, like If I wouldn't understand them.
That's when I noticed, the picture I was drawing didn't refer to the past....

This is good. I like the hatching, the light and the detail in the robes. It's a very emotional piece.

PS. I believe the book 'Smokescreens' goes into some of the problems you've mentioned (the gaudy wealth of the Roman church and etc...)
Reply
What bothers me is the exploitation of the dirt-poor for personal enrichment.
Reply

I can agree partially on that, the church is indeed bullshit, but who is who to say what is inspiration to someone. Even though I am completely against the church, I can appriciate the splendor and beauty of the actually building and art that lies inside. I can't bring myself to deny anyone of their muse or look down at them because of their beliefs, because if I did, I would be just like the religious freaks that look down on me because of the pentacle I wear around my neck and I refuse to step down to that level. Art is art whether religious or not, the artist still poured their soul into the sculpture, painting, mosaic, stain glass window, etc, it is still beautiful.
Reply

I can't agree fully, but I do like the use of light and darkness in this drawing. Even without color, it's as if there's rays of lights coming from the person on the right. It captures your point very well. I think you should consider coloring this!

My opinion on this subject is that it is of course true that the church only wants to show its power, financing it with money taken from poor catholic people who were fooled back in medival times, and the inside of St. Piedro was totally overloaded. You couldn't possible know what to look at first. But technically seen everything in there was done very well, also in terms of art (at least most of it)! I have to admit through, that nothing in there appealed to me as much as the stuff in the Villa Borghese.
Reply

yeah you're right there. But my point wasn't to offend the artists, whose work are brillant indeed, it was much more the context in which their art was created. With this picture I assault the church, not the artists. I made a first sketch where I used an artist, painting with blood and corpses, maybe I showed you, but what you said is eyactly the reason why I didn't finished the other work.
Reply

Okay, but then you'll need to make this clear in your description, because by reading that you could think you're offending the artists. By only looking at the picture, it's of course clear how is being offended

Reply

I really like that you had only one person reaching up to the man, here. You could have gone with many, all groveling, but it makes the piece much more personal that it's just one... when it comes down to it, everyone's beliefs and desires are very personal. I'm glad, even if you didn't mean to, that it came out that way.
Reply

I know exactly what you mean, all the baroque cathedrals just make me sick. They're too ornate and gaudy, like they have something to prove. The whole mentality you describe is part of the reason why I can't stand catholicism. Your picture is also technically quite impressive and very emotionally charged.

Reply

thx a lot.
and yes, that's what disturbes me... IF god is eternal, teh source of life, why do somebody has to convince other people that he exists...
Reply