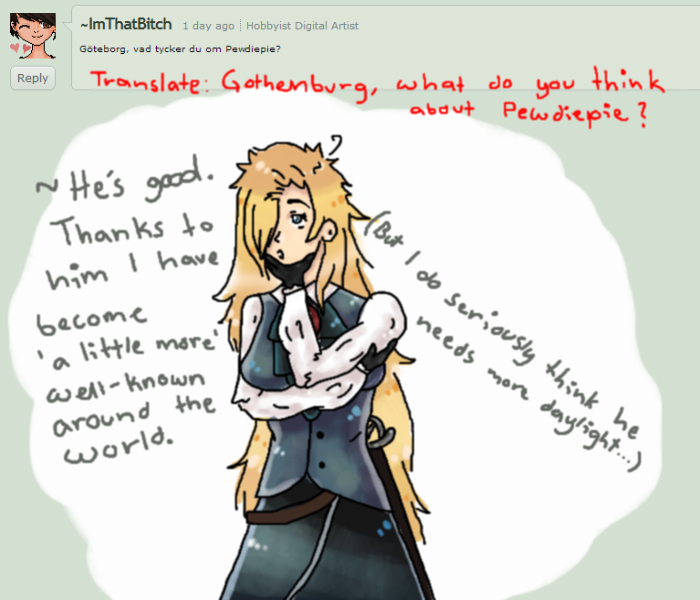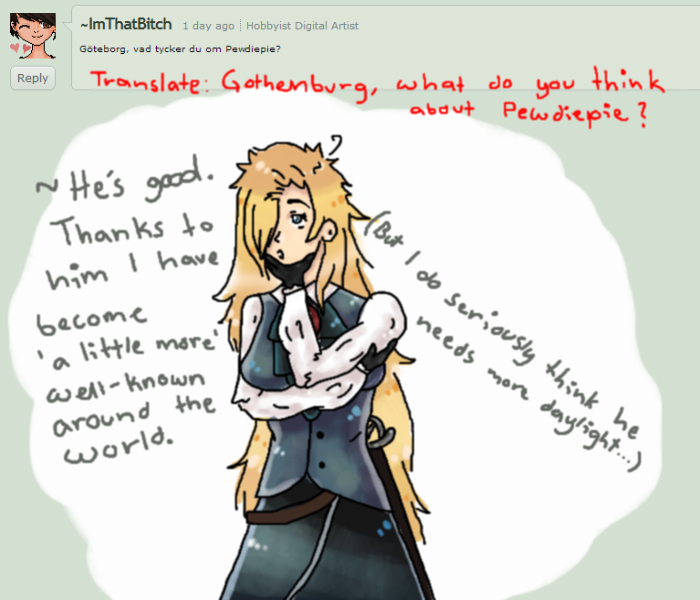 Watch

Reply

I have no idea how anyone could be proud of a man child who literally does nothing but scream the word rape like it's just a joke. It's childish, crude, offensive and not at all funny. One could say that he's making rape jokes, but that implys that he's actually making a joke with a set-up and a punchline. All he does is just scream rape like a maniac, and for some reason people think that's funny. I can see that maybe they just like to see someone pretend to be over the top and super scared at things, but I just see his videos and go "God, what a manchild."
Reply

Well everyone have there tastes, and many people like him, and likes thats kind of humor. Yeah, he screams a lot and do weird things, but would you rater lot at a person thats just sit there and do nothing? He offer himself a lot, some people like it, and some don't. And many Gothenburgers feels proud because he's famous on the internet, and because he is from Gothenburg, people thinks like '' Hey, he's really famous, and he's from Gothenburg, COOL!''. Even if one isen't rly a ''fan'', they likes to say '' You know Pewdiepie is from Gothenburg?'' (In Sweden, we have a habit of bragging about things/people who are from Sweden)
I understand if you don't like him, but please, don't hate here. It's not fun for anyone.
Reply

Well look, I can understand the whole being proud of knowing someone from your city, my admin is from Atlantic Canada and they pride themselves on knowing as many people from foreign places as possible, but I just don't understand why people find him funny. I just don't find someone grabbing a dead pig in a game and carrying it to a barrel to slap it in an attempt to "rape" it very funny, because rape isn't funny, at all. But if you think he's funny, then that's your perogitive. As for me, I am sorry that my comments offended you, but that is where I stand.
Reply

Like I said, everyone haves theres tastes. I like him cuz I (as a Swede) haves a very weird, and dirty humor ( like many other Swedes ). I respect your opinion, and I understand that you don't like him.
Reply

*comment from a bro in his army* He has a girlfriend and usually goes out when his videos are rendering. Just look at his last vlog, it explains his day.
Reply

Mm yeah, that's right. But he plays a lot of games, that's what I mean.
And I don't use to look at his vlog, I got better things to do but looking about others lifes, not rly my thing I guess..
Reply

Reply