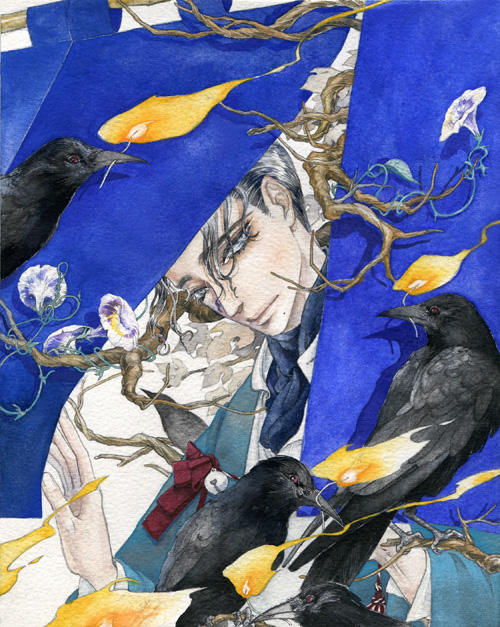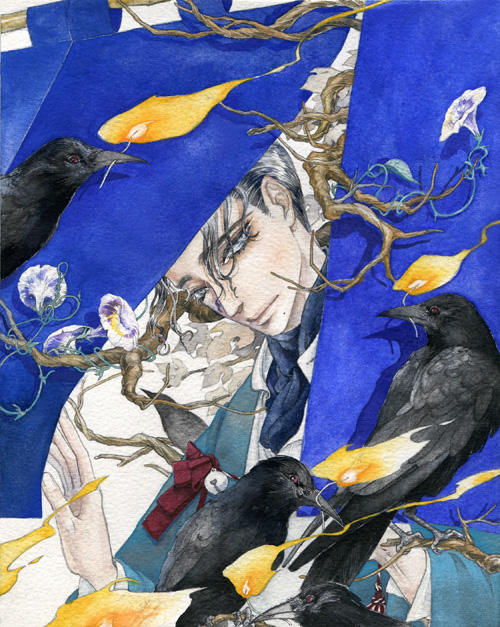 Watch

Such a great composition, even the thumbnail looks perfect in contrast and shapes!
I absolutely love the contrast between the big blue fabric and the smaller detailed elements, this works so well together! I especially like the fragile branches and flowers, so beautiful and delicate.

Reply

thank you so much!
actually the hands was not drawn good....
they are too stiff and I can't draw them better OTZ.....
Reply

I love this! The contrast of vivid complementary colors with the somber monotones of the crows is so rich and interesting. At first I didn't see the human face because I was so focused on the crows, and that created a wonderful "Aha!" moment of discovery. The crows are exceptionally well rendered. Their beaks are just a little longer than they are in reality, but that gives them a dreamy quality that I like. And I just adore that you made their eyes a little brown. That's how they really are in nature, and almost no one notices! Having had a pet crow and pet raven years ago, such details matter to me! Finally, your control of watercolor is masterful. I have learned a lot from this painting Thank you! ❣
Reply

thank you so much!
I love crows! It's so amazing to have a pet crow!
I wanted to draw them dark red eyes and I didn't know their eyes are brown!Thank you so much for telling me this!
I am very happy that you found my purpose,yes,I want to hide the 'human' and he's a hobgoblin which had a human body.
Reply

I am a fan of your majestic hand skills
Reply

Reply

Reply

very beatiful, i like his look
Reply