Hello!
My name is Ashley or Ash for short. I am 30 years old. (Yep I'm old.) I am happily married to the most wonderful man in the world. He and I have created our little family together which consists of our two furbaby weimaraners and our scaly ball python.
Our dogs are our furbabies and we happily spoil them rotten.
I enjoy art. It is a hobby of mine as is writing. I currently do not have any digital art software so everything I do is by hand (pencil, pen, color pencils, soft pastels). I am night owl because of my job. I work until atleast 2 in the morning 4 days a week and usually I draw when I get home.
Likes:
Dragons
Horses
CANINESSSSSSSS
Pokemon
Digimon
many other things that would take too long to write
Dislikes:
Spinach
Bullying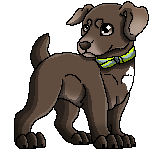 by