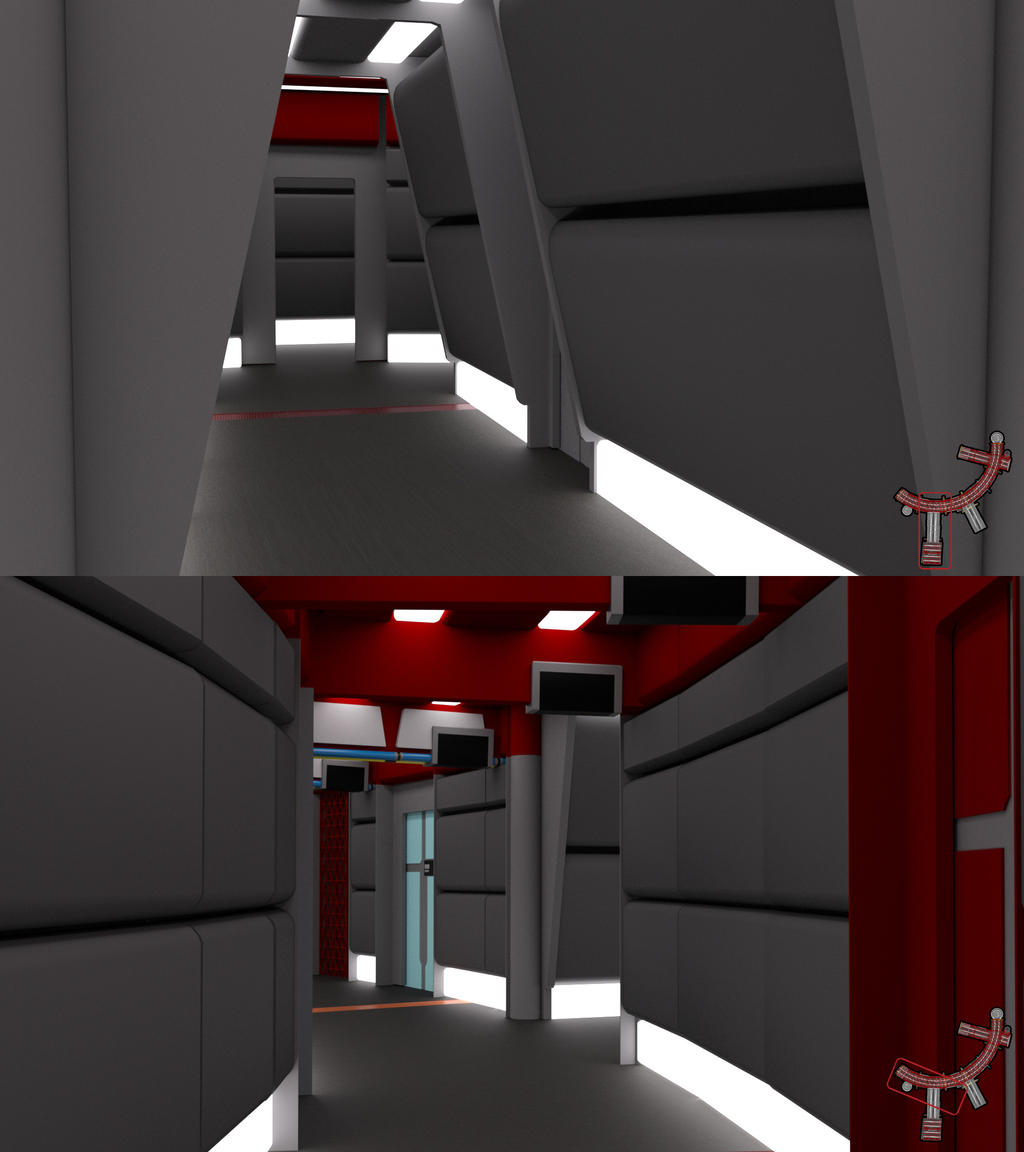 The goal of the Throwback Corridor is to create a kind of TOS enhanced, a TOS that fits the aesthetic of TOS but is also just a step away from the TMP sets. I started with the layout of the original TOS corridor set and added one small corridor spur that was used a few different times, but often enough that I tossed it in.
First up is the Transporter Room spur. I left the end of the corridor open like it was on TOS, but you can get pretty close to the end without seeing the open sides.
Next up is a view from the south end of the corridor looking back towards the rest of the set. The red door is the second turbolift. Sickbay is just up on the left. The blue door in the mid point is the entrance to the briefing room.
Bear in mind I just built the corridors, BUT, my Destroyer Transporter Room
fav.me/dbakmr1
and Destroyer Engineering
fav.me/dbe4f98
will absolutely fit in with this aesthetically.

Built in TrueSpace 3.2
Rendered in DAZ Studio 4.10 with iRay

Any chance we could get a view of these with the console palette i.e. the bridge well tan and/or duty station level flooring? I wonder how it would look with tan for the man walkway with duty station gray runners in lieu of a pretty picture to actually explain what I'm on about? hah
Reply

I'll have to build the middle runner carpet (I was bad and didn't quite map the flooring properly but it shouldn't take me long). Or did you just want one color for the flooring? I was thinking split carpet like TNG/VOY so the wall parts would be different than the center carpet.
Did you want to keep the red tops or are those going grey? I can remodel the doors too

Reply

Reply

Reply

Wow, that really gets broken up there doesn't it? Maybe too much.. The carpet layers would probably demand my head in contemporary times with all of those special cuts haha I am gonna say stick with your previous version with solid tan and your line highlights but what do you think?
Reply

Yeah should be easy to pull off I think.
Reply

Reply

Oops, I sent reply to your stash haha. How tricky would it be to add the gray runners to this scheme? Also, could you send along a snap of the door faces? I want to check my signage against your dimensions.

Reply

I will have to post the door signage reference sheets next!

Reply

Reply

Thanks!

Reply

I love how this is following the TOS aesthetics, while at the same time, leading the way to the TMP/TNG corridor design. Well done! What would Star Trek be without such clever fan-works?

Reply