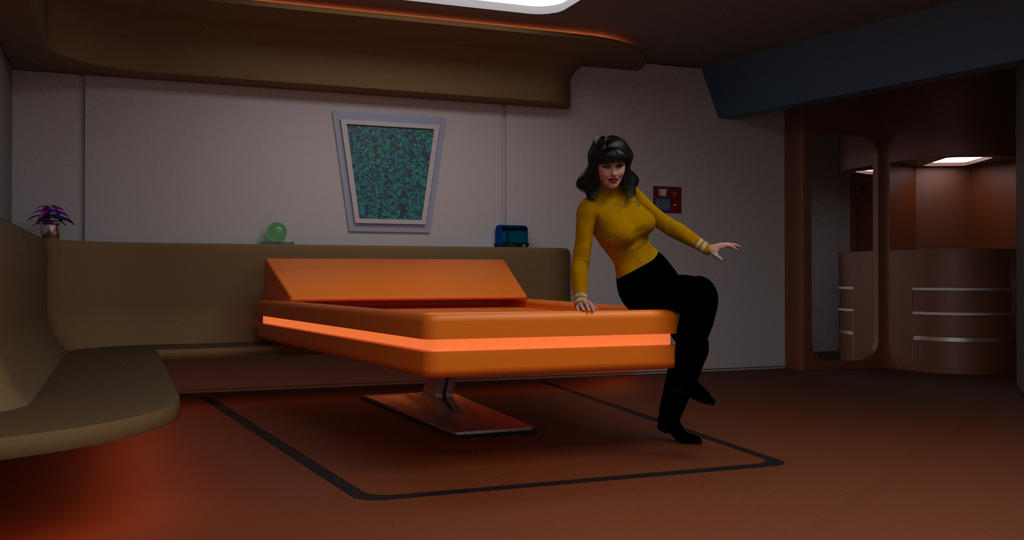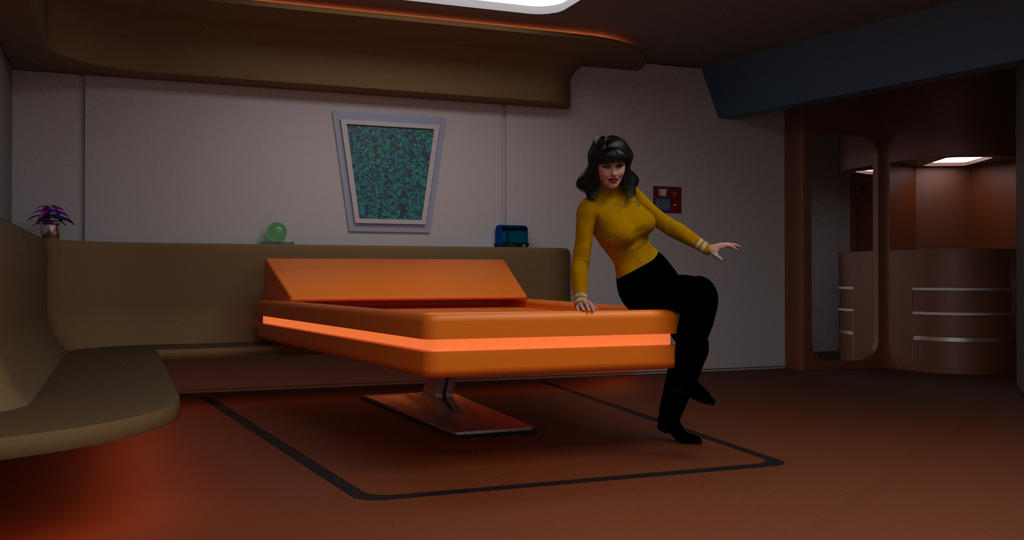 Went hot tub shopping last night, for medical reasons

, and so I didn't get more done, but I did move over to try out the bedroom with a character and boy does she think it's cozy.

Built in Truespace 3.2
Rendered in DAZ Studio 4.10 with iRay
Collab with
PDSmith
Pike Era uniform textures for Courageous by
mylochka
DAZ base figure V4

I know my crew would love to live there...
Reply

Seems like a bio-bed built for two. LOL. Seriously, VERY NICE! Pillows must be at a premium in the 23rd century as even in the TOS you rarely saw real pillows, just those angled cushions. And the future is filled with a lot of orange things. Orange space suits, orange doors like on TNG, orange beds, chairs. LOL. In TMP they had orange all over the officers' lounge where Kirk and McCoy met with Spock after he first came on board and had helped Scotty with the antimatter balance for the engines. In SW they even had those two-person 'Cloud Cars' in orange. 1970s and 80s Sci-Fi was filled with orange. Did you ever see the movie, 'SPACE STATION 76'?! It's a bit strange but is now a cult classic.
Reply

The other ting with those wedge pillows is they're good for acid reflux.

And thanks! Orange was in for decor in the time period too. It's kind of a warm inviting color to me so I think it definitely works for a lounge, and obviously, a bedroom lol. I haven't seen Space Station 76. I'll have to take a look.
Reply

Space Station 76 is a sci-fi movie with all 1970s stereotype interior design, a lot of wood on a space station but it is a good character study. It deals with the stages of romantic relationships and how people put on fronts and are bitchy to each other often. It has Liv Tyler, Patrick Wilson and Jerry O'Connell, Matt Bomer among its cast. Since it is set as a future as viewed from the mid-1970s, everyone seems to smoke cigarettes still. Some things are just funny and others are absurd. The best part is the classic, cheesy 1970s era special effects. The film was made in like 2014, I think. There is another underrated film, called THE MACHINE with Caity Lotz of Legends of Tomorrow. She plays two roles and it showcases her gymnastic and martial arts training. The movie plays like a prequel to the original 1982 BLADE RUNNER, very cyberpunk stylized. The film is from 2009. I can't believe it has been ten years for it. I am getting old.
Reply

she kind of look like number one. pike first officer.
Reply