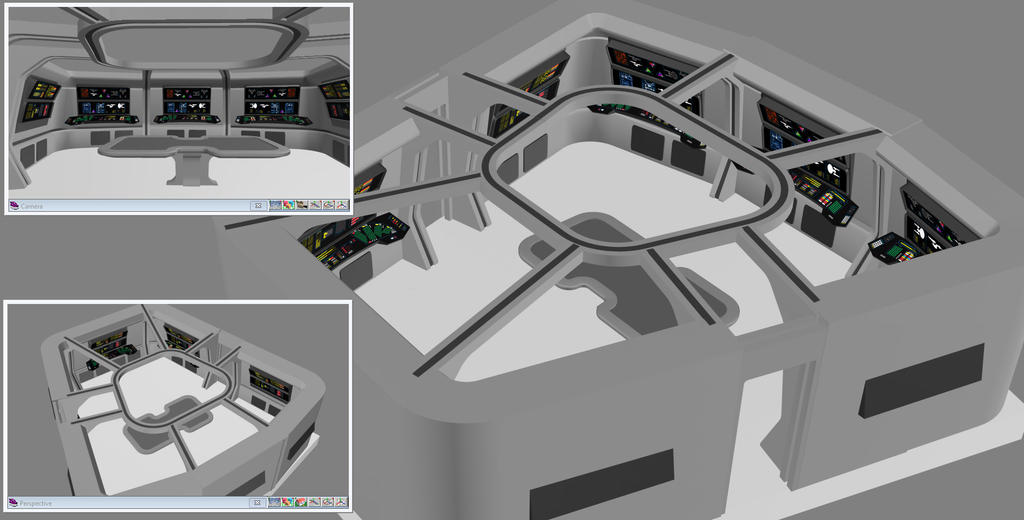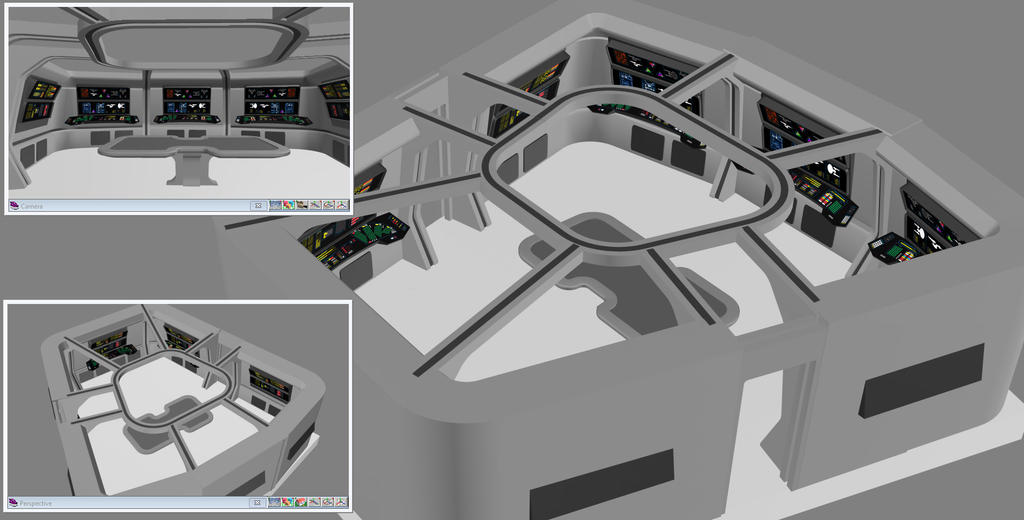 Watch
Apparently I have a few projects going on now.

Working on an an often theorized but never realized room on the Connie, but obviously can work on just about any ship, a Combat Intelligence Center, or CIC. When not in combat it could be used for mission planning and activity or coordinating with other ships.
I'm borrowing my own parts from the TMP Engineering set for this but then I decided to model my own 'pool table' for the room. It's deviating a bit from the plans but it works for my purposes.

Built in Truespace 3.2

The planning center for the onboard detachment of marines?
'cause we all have seen how much planning happens on the bridges' of Starfleet

Looks great btw

Reply

LOL. Well there's the briefing room too but we didn't get to see that at all in the TOS film era.
Reply

CIC. Combat Information Center. but yeah, Intelligence works too. I work with the military and lately, these kids would rather play on Playstation than do their job, so intelligence is relative. (well to be honest...the guys want to play games, the girls seem to be the ones with their heads on straight and do the job.) And I'm not being sexist, it's a damn near proven fact.
Anyway...moving on...On most ships these days 'Radio' as it's nicknamed is where all the 'spooks' work and where all the Intelligence gathering happens.
en.wikipedia.org/wiki/Combat_i…
Love the layout, I like the central surround look. Good job.
Reply

Kind of like CIA?

Makes you think about Uhura's importance on a ship that regularly patrols the neutral zone
Reply

Oh hell, she knew more about what was going on the ship than anyone. she had access to everyone emails, messages, she read all the CO only eye's only you're not supposed to see these letters.
And if you didn't think so...you're nuts.

The woman knew more than the guys...push came to shove, by her knowledge alone she could be the captain...she knew what he knew.
Reply

Works well. Much like the CIC we saw in ST4 (ST IV) on Earth Starfleet HQ, only this is better. I can see if the main bridge is disabled that engineering and operations could be controlled from here, deeper inside the ship. I always wondered if the JJ verse trek had a Battle Bridge that we might have seen in ST: BEYOND as the ship was being rapidly torn apart. Could the classic TOS have a Battle Bridge or maybe something just like this instead!? Maybe the saucer section would have this CIC and yet the stardrive might still have a Battle Bridge, much smaller and basic in design. In ST: CONTINUES, we saw the ship separate but did not see how the stardrive was controlled. A Connie BB might be a cool project too.
Reply

I actually blocked out a TMP Aux Control Room a few years ago, I just haven't progressed on it since then. May have to work on it when I clear some more off my plate!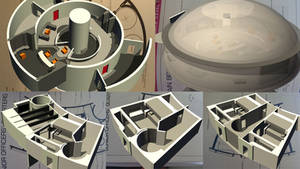 It's the one on the top left.

This version is from MSGTTE and is built around the computer core in the saucer. There's another version that is basically the main bridge relocated to the middle of the saucer but that doesn't scream 'we're in it deep and had to abandon bridge!' like this does.
Reply

That's a very cool looking CIC!
Reply

Thanks! Based loosely off the one that shows up in the Strategic Designs Constitution Refit deck plans.
Reply

Love it! This compartment would be entirely appropriate for the Federation (II) Class Dreadnought/Space Control Ship..

Give it the Phase II paint scheme treatment and boom.
Reply

Oh definitely. Any ship that could be considered some kind of command ship in a fleet would have one. Poor destroyers and frigates would luck out but I think a Heavy Cruiser on up would have them.
Reply