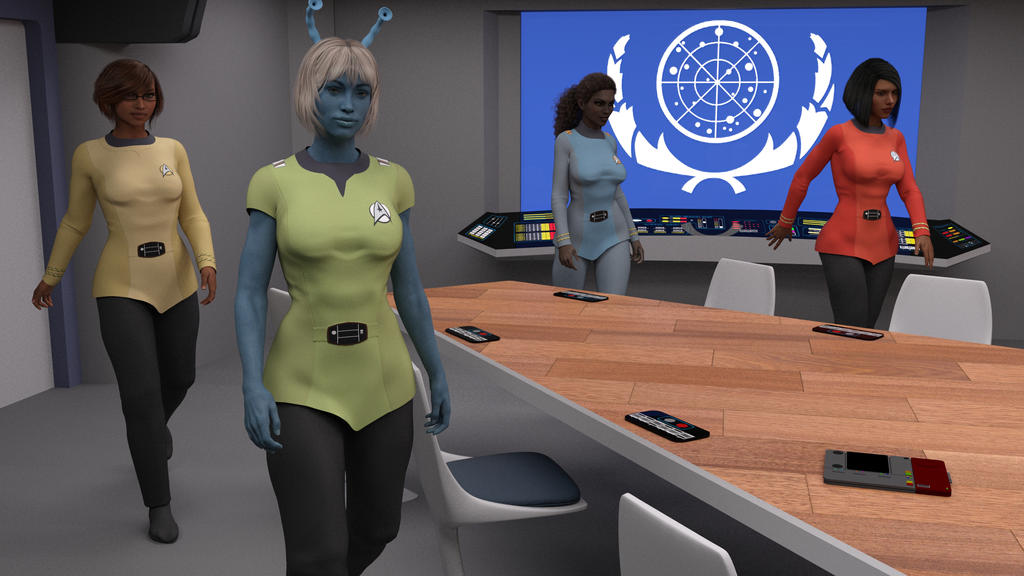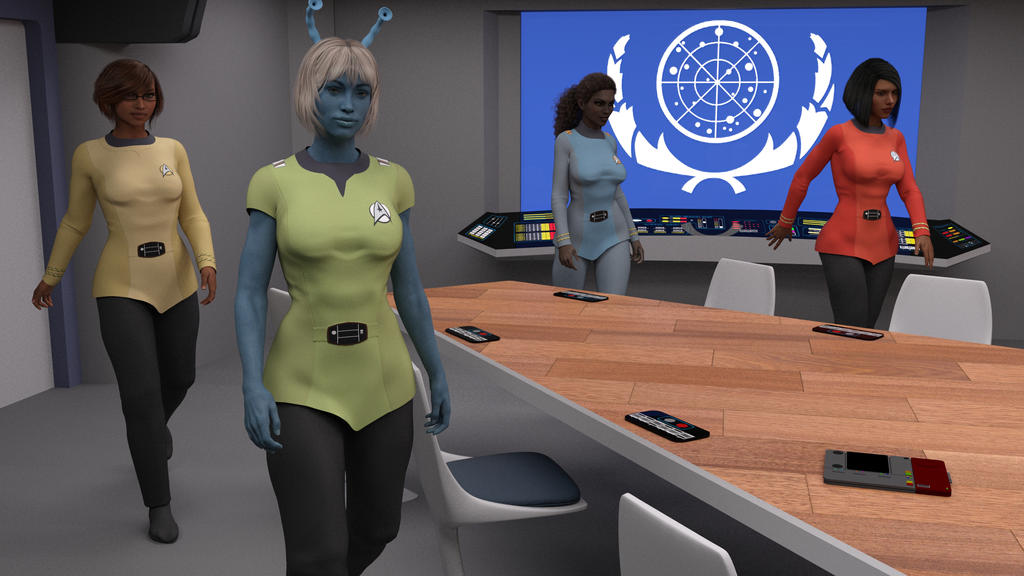 I beat JBogguess to the shoulder ranks (started the texturing and rendering last night and this morning) so I'll have to make some minor changes to mine to match (I went with what they had for the film as a placeholder). Finished off the Casual uniform, female pants version, this one for our Andorian First Officer. I think I'm actually kind of partial to the casual uniform now that I've got it done. But then again I'm partial to t-shirts so



JBogguess Uniform links:
Science Dress uniform
fav.me/dbxeoks

Security Duty uniform
fav.me/dbxep9x

Operations Duty uniform
fav.me/dbxemeh

First Officer Casual Uniform fav.me/dbxek3r

To Do List for next test:
Re-Do Shoulder ranks for Casual and Dress Uniform
Insignia for Challenger

Skirt version
Start working on the male version
Briefing Room built in Truespace 3.2
Rendered in DAZ Studio 4.10 with iRay
Uniform design by JBogguess
Courageous outfit from DAZ
Original patterns for Courageous by Dope_Fish
Genesis 3 figures from DAZ

Reply

Reply

Reply

Great! Do the different colored uniforms mean anything such as beige was most command officers except for Captain and First Officer who would wear grey and Medical also wore grey. Would Red still be security and Communications?! Still Gold for Command like the TOS?!
Reply

Blues for science and medical, gold for command and operations, red for security and engineering, greens for first officer and captain, grey and white for admirals. What did communications fall under? Command/Operations or Engineering?
Reply

I guess Communications was under Operations maybe. Green for Captain and First Officer?! --very much reminds me of THE ORVILLE, but I like the idea.
Reply

Heh. Kirk did it first though! That wrap around uniform he had back in TOS.
Reply

Looking really good!

Reply

Thanks! Texturing isn't my strong suit so this has turned into a nice learning experience.

Reply

Looks good, but should there be more contrast in the green & gold uniforms? (to the center panel)
Reply

I think it might be part of the lighting on this but I matched up the colors exactly to what JBogguess had done up. Plus the casual uniform is missing the sleeves so it's not as pronounced.
Reply