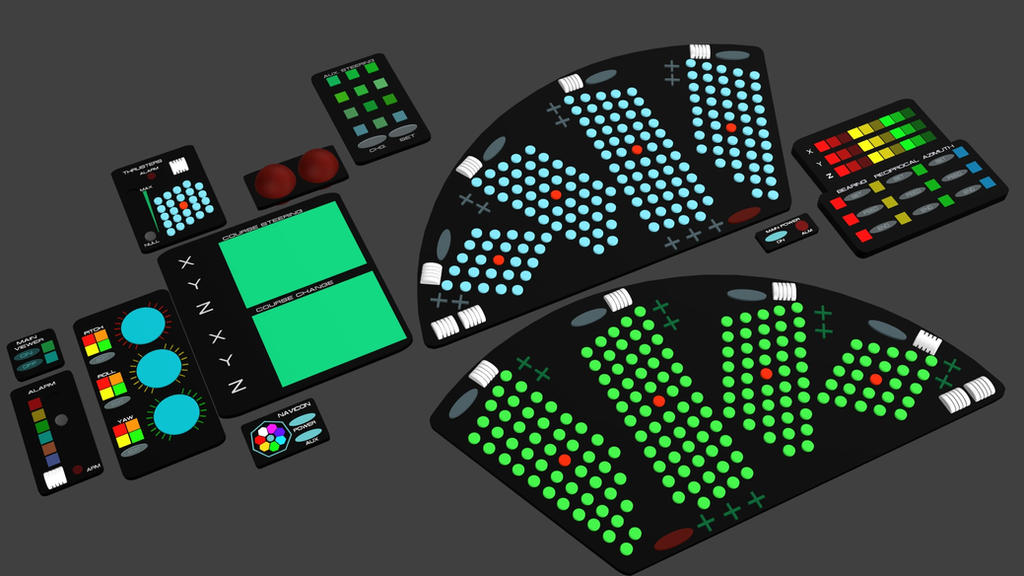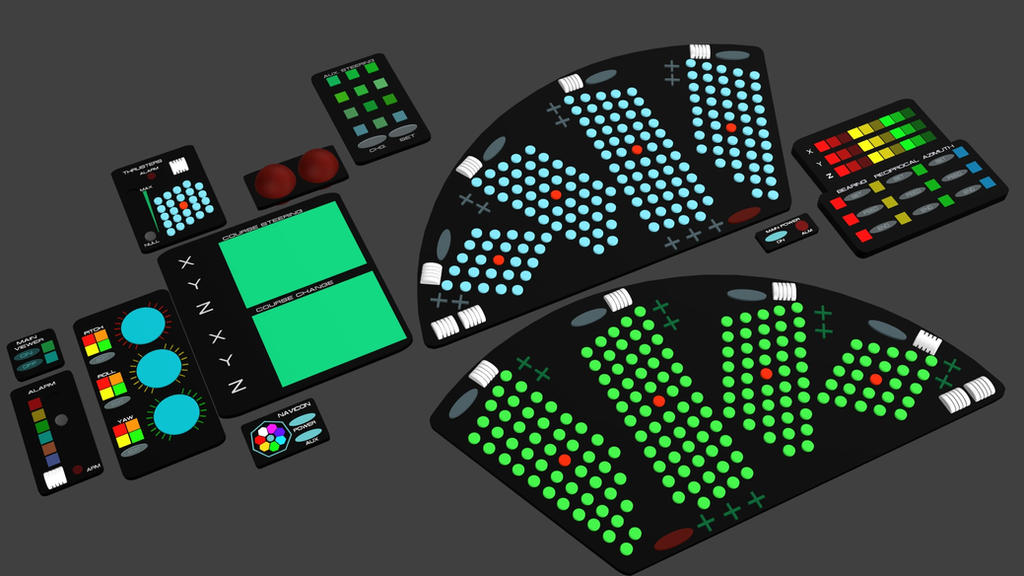 Buttons, buttons. So many buttons. Did up the nav station library access, then flipped it for the science station. Trying to research the labels on the nav station version though. They're different from the science ones but not really that easy to make out. Obviously the course and course correction screens will have textures. Other than the Astrogator, which is pretty complex, I think this covers the helm station minus an alert light on the helm side.

Built in TrueSpace 3.2

Reply

Reply

Thanks. Plug and play bridges coming soon to a PC near you.

Reply

Reply

Oh if only. Would make this go much much faster
Reply

My mistake. I am not familiar with it. I know I am ignorant on many things, so I just guessed.
Reply

They do have a virtual reality bridge simulator out but I haven't played with it. I think it only does TOS/Kelvin bridges and a Next Gen bridge was in the pipleine.
Reply

Oh, OK. Thank you. I wanted to try ST: Online but I do believe my computer could handle the processing power needed for online games. It's not a 'gaming computer' but It does what I need it to do.
Reply

I played Star Trek Online for awhile back when it first launched. I haven't played in a few years though.
Reply

Lee Cole would be proud of what you have done.
Reply

I didn't emphasize this in the note I just sent but.. the font I suggest for the console call-outs is Context Ultra Condensed Bold

Beyond that, these flipbobs and control surfaces are shaping up nicely all around.
Reply

Lots of work. I am worried about it becoming a resource hog which won't make it usable as a set, but we'll see. DAZ has surprised me before.
Reply

Impressive work as allways!

Reply