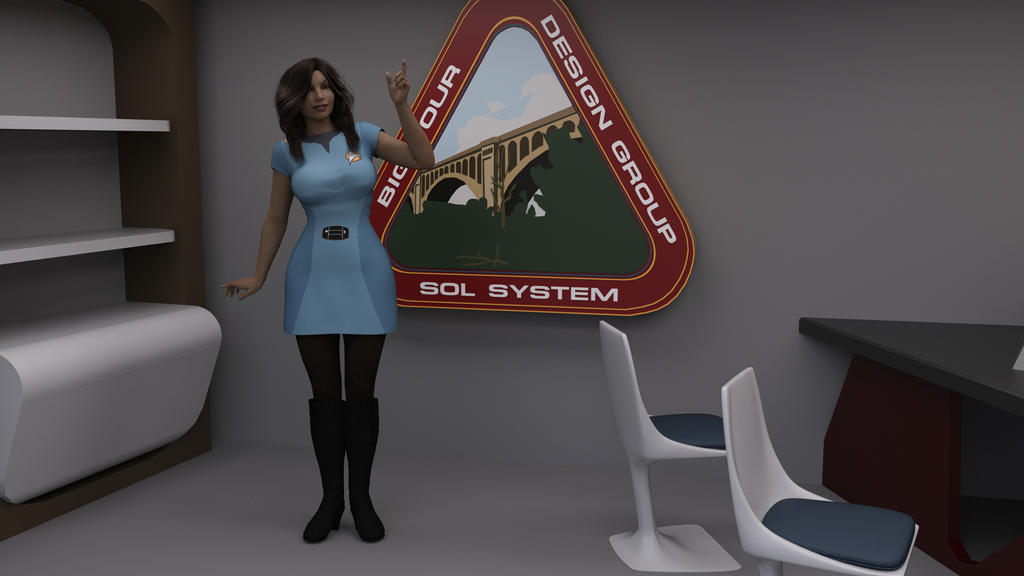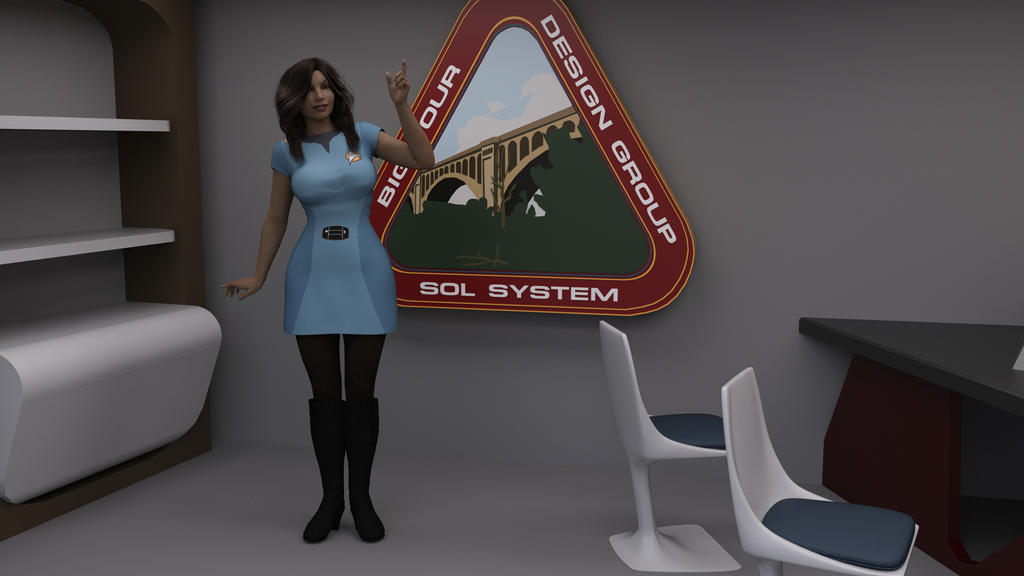 Since I needed a test subject, I chose my DAZ Studio alter ego. She's only a civilian, so no rank involved but is attached to the Science Division and occasionally works with the Engineering Division. I didn't know if this counted as a dress so I went with the TNG term of skant. Definitely different boots than the other Phase II uniforms, and of course, hose.
Going to settle on a skirt that fits to make the casual shirt and skirt combo.
Here's
JBogguess
original set of Phase II Casual Science Uniforms
www.deviantart.com/jbogguess/a…
Built in TrueSpace 3.2
Genesis 3 Figure from DAZ
Courageous for V4 form DAZ
Uniform textures based off
JBogguess
Phase II designs

Excellent. Fits right in during the few years before up to the TMP. Very Phase II as you said. Fantastic!
Reply

*nod nod* I think these would even take the place of the TMP unis, at least in my mind. More color, fits better with TOS, and works really well with the variety of Uniforms we saw on screen in TMP.
Reply

One thing I liked about the JJ-verse films was how they made updated uniforms that paid homage to TMP uniforms. What Pike and Kirk, and Spock wore at the briefing before Khan attacked the room had them all in those white and grey style uniforms but better (seemed) than the originals in comfort.
Reply

I am having trouble getting the images. Not just yours, but other posters images are coming up a blank page on my screen. Do you know if anyone else is having loading issues?! I am hoping it is not just me or else I am baffled as what to do.
Reply

I've been having issues as well. Usually reloading the page seems to fix it. It seems like a server issue on DA's side.
Reply

She looks great

A casual uniform of sorts

Reply

Thank you.

I really think the only thing casual about it is the sleeve length.

Reply

Civilians working with the military? In Star Trek? Oh the horror. What's next? Cat and Dogs live in harmony?
okay...on that note...love the dress, it works.
Reply

You sound like David in Wrath of Khan. "Civilians have always been pawns of the military!"

I should probably give her a different badge though... maybe the design logo since she's not military, or maybe the UFP logo...
It took me a little bit to get Courageous to behave with G3. It doesn't like my character's hips and bum much apparently.

Reply

We are not pawns. if you think about it...a civilian runs the military, and he appoints civilians below him to administer the military. The Joint Chief of Staff still has to take orders from a civilian. We rock!
I know just the logo! It's seems to be like a plague in my images.

And I'm sure I know someone who like your hips and bum...so don't knock it.

Reply

Now that is looking sharp and to the point

The hem length is just about perfect I would say. I envisioned mid-thigh was just about right. I have never liked the micro-mini dress..or in general really.
Reply

I was hoping I got it about right. The skirt version is giving me a few fits. Trying to find the right skirt is a pain, apparently in both real life and in 3D.

Yeah, the TOS uniforms had that length issue. When your female officer has to wear a matching panty to her uniform to hide the fact her uniform is too short, you maybe need to rethink the length

Reply