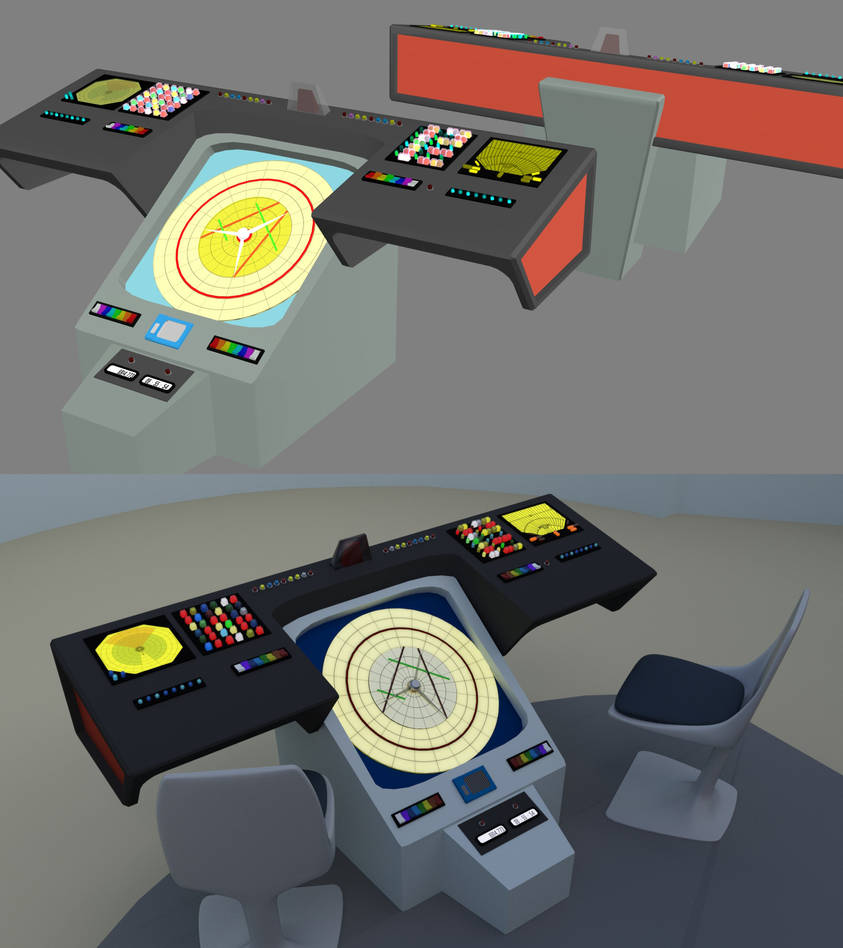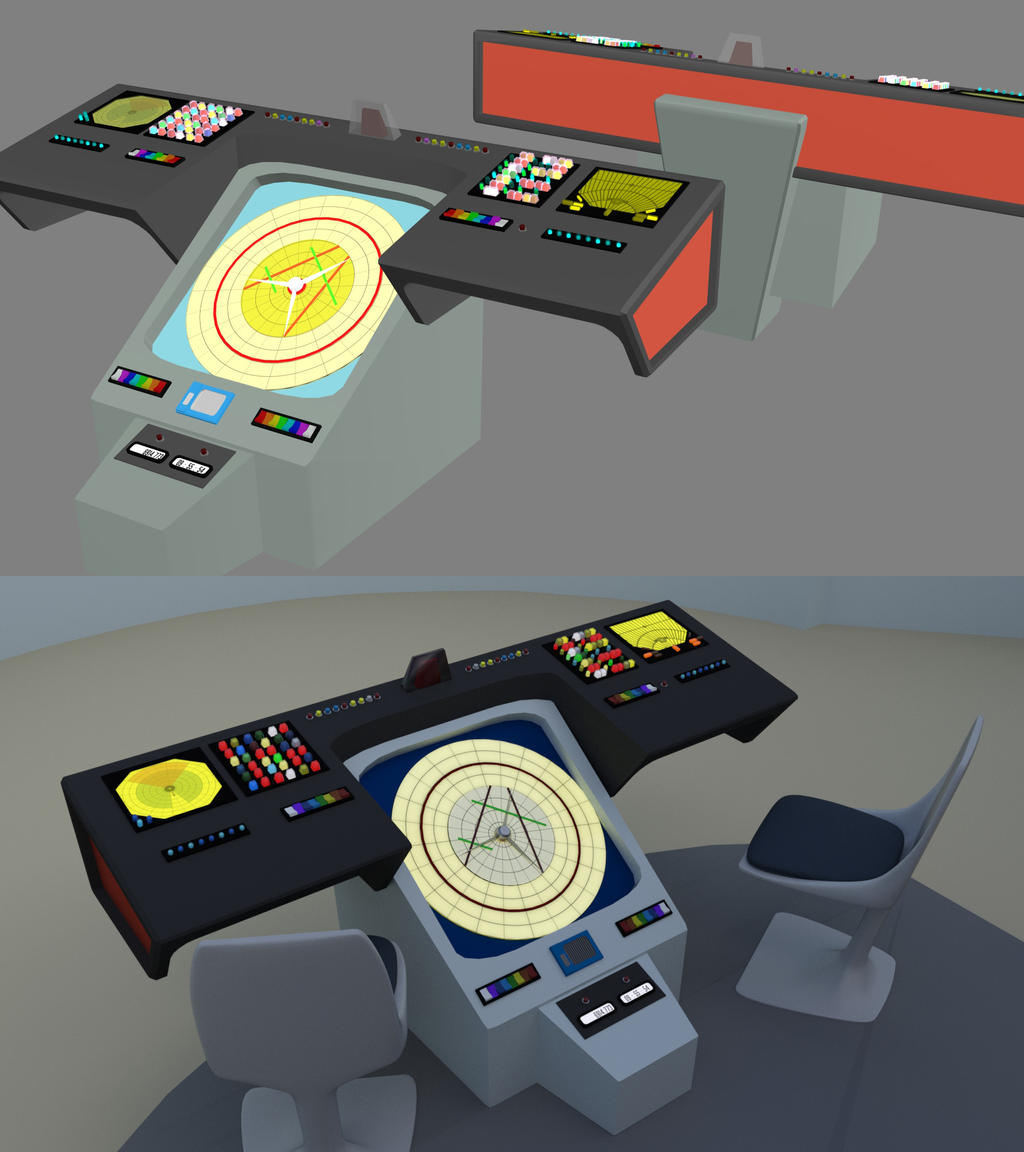 After poking at this all weekend, I think my helm console is DONE.

Two parts to this, the top part is how she looks in TrueSpace with it's rendering engine. Bottom is how she looks all decked out in DAZ Studio using iRay with just low level environment lighting since I don't have any lights installed in the bridge yet.

Built in TrueSpace 3.2
Top image rendered in TrueSpace 3.2
Bottom image rendered in DAZ Studio 4.10 with iRay

Really Cool! You got it just as it was in the classic TOS. It looks that way to me. The only thing that seems to be missing is Sulu's 'tactical viewer' that was similar to Spock's personal 'viewer'. I never understood why they had those. What are they seeing in there?! Different wavelengths, such as infrared view, ultraviolet scans, filtered enhanced views?! Sulu's station one would likely be for targeting accuracy of torpedoes maybe.
Reply

Thank you! I was pretty faithful to it although there's a few changes, like the chronometer and the helm side. I opted to not go with the tactical viewer or the array of buttons from the first season and gave the helm side a standard display. I don't mind the viewer, but it cut out half the functionality of Sulu's console when they put it in. I've got it working as a tactical display here with the ship in center showing firing arcs and ranges and when in combat it could show the enemy ships as well. Honestly, I think it was to have something for Sulu to peer into and look worried and so it could do multiple functions on a budget.

Reply

Reply

Oh my word I want to push the buttons. Looks amazing
Reply

I know that feeling all too well. I may have spent too long making it so that MOST of these can be lit or unlit by a 3D actor pressing a button. Also, I'm thinking about re-importing it so that I can actually have the astrogator center piece be rotated in the center like on the show. Probably because I'm insane, but yeah.

And thank you!
Reply

Dang now I want to twist that like Sulu

Probably not a good idea to let me drive.

Reply

this looks awesome, going to be one very detailed bridge when you're done
Reply

Thank you! A bit more detailed than I was thinking when I started this little project but oh so worth it.

Reply

Complete awesome! The colors are all there and those chairs...those chairs must remain in use forever.

Reply

Thank you! I was going to just throw in the TOS chairs ptrope put out there, but I figured I'd use the other chairs I'd done up to see how they looked.

Reply

Geoff's chairs would have worked great as well! In fact, his take on an extension of TOS/TAS into the Phase 2 period would also work for me. His aquashuttle design is quite amazing and it really does make you long for the TOS aesthetic to last forever.
Reply