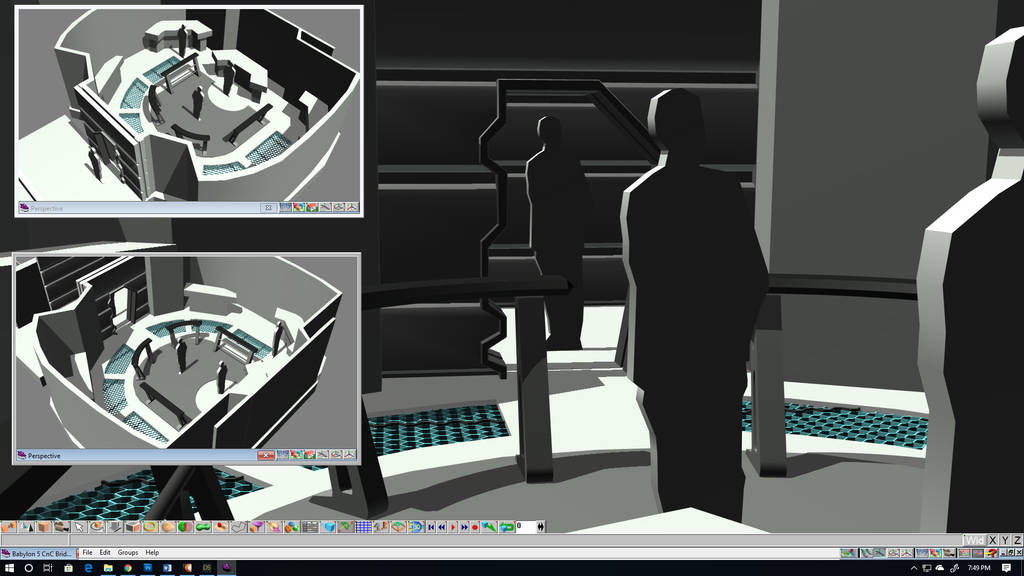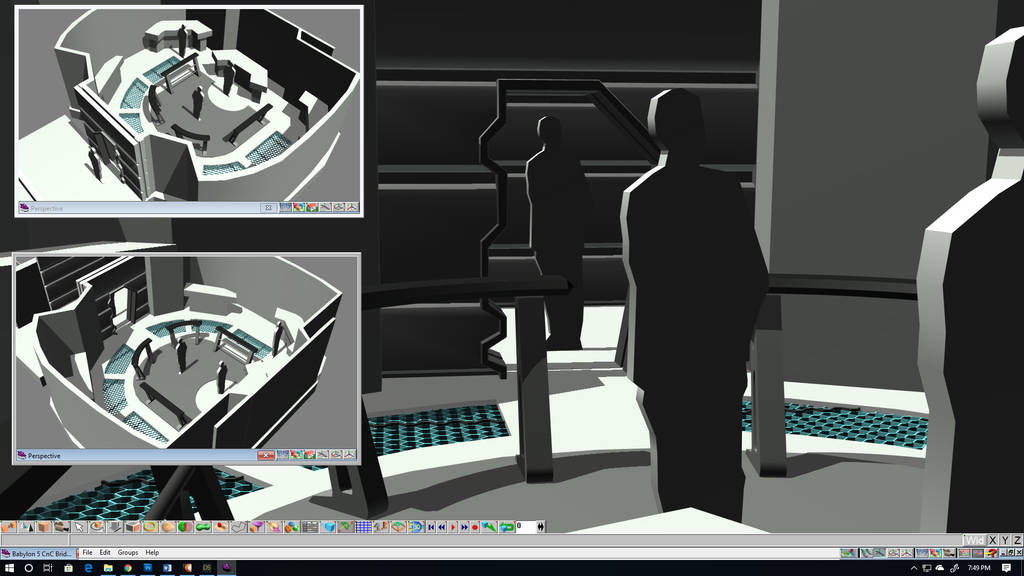 Took me a lot longer to get the doorway to the bridge done than I thought it would. But I remembered to leave space between the walls for the door and ended up with a blank wall for the corridor, but I'm thinking that wall doesn't quite match up with what's on screen. I'll have to look around more for that back wall for references. It definitely could be a good corridor part at least. Granted I'm kind of doing B5 with a bigger budget though, so.. yeah.

Built in Truespace 3.2

Reply

Thanks! I'm at the hard part of trying to figure out what to do with the walls that isn't just straight up and down. Ugh.
Reply

On the wall, maybe break them up into sections, like panels that open at the bottom, like rectangles for the lower part of the wall that would open. Then narrow panels side by side up top, kinda like Picard's ready room panels on TNG. Then every so many feet, a break in the vertical panels that has a display or station of some type.
Reply

I'm definitely breaking it up. On the left side, there's going to be a full blown sit down console with displays, a kind of MSD like wall that we'd get in TNG but with controls, and then a standing console in back. The other side will have similar break up but the standing console will have that clear system map we always see with a few built in wall consoles behind it.

Where I'm having trouble is coming up with a sitting console that doesn't look like a Trek console. It's a fine line.
Reply

For the sitting console, I suggest you rewatch some episodes of B5 with the White Star. The ship's bridge have a few sit-down consoles that might offer some ideas. For some reason they were distinctly B5 universe and not a redux of Star Trek sit-down consoles. They managed a new aesthetic all its own. I do argue that when DS9 made the DEFIANT single console for the helm, where Dax usually sat, that they copied the design cues from The sit-down stations of B5's White Star. They were around the same time but Paramount had the habot of stealing ideas every which way.
Reply

Yeah the White Star uses a 3/4 circle stand with parts attached as a console. Definitely very similar to the Defiant console for Dax. Might be too Minbari/Vorlon for an Earth Alliance ship, but it's still worth exploring. All the Bab 5 EA console are similar to the TMP Trek bridge consoles, just HUGE, and the regular TNG standing consoles. I do have some things to play with either way

Reply

It is starting to look good. Very much like the old show. I always felt there was not enough security between the "bridge" and the rest of the station, in case someone tried to mutiny and take over the station. I thought there would be like levels warded off limits to all but people with clearance. Like an elevator to the bridge like on STAR TREK. That elevator should be at the end of a long hall with like six guards, two at each end and another two outside further asking for ID clearance to proceed further into the area with the bridge. Kinda like real life classified complexes! It felt like anyone could just waltz onto the B5 bridge and not be restricted. Even on DS9, they had to have clearance to get onto the lift that went to the command center. Of course, everyone still went there, like Quark every time he had a complaint about Odo.
Reply

CnC is kind of a pain to get to if you look at the station layout. It's in front of the hangars which are restricted in some parts and the station's high speed transport doesn't go there directly. The one thing I have noticed going over what refs I have of the consoles is that they all use a hand scanner and I'm guessing that's for security so not just anyone can access that station.

I figure on an EarthForce Destroyer they're probably not going to worry too much about civvies or foreign diplomats coming in, but I think the security hand scanners for each station would be standard across the fleet. The hallway outside what I've got for the bridge is going to go back to two sets of security doors as well. Don't know how far I'm going to take this one beyond the bridge, but yeah security has definitely been something I've thought about.

That and where the hell the bridge would be in the rotating section? It must be closer to the center of the rotating section on the Omega because when they get hit there that's when the bridge's in the show actually take damage.
Reply
(1 Reply)

It's been a while since I watched B5. But I really liked the Earth Force ship designs. I don't really remember what the command deck looked like, so it'll be interesting to see your take on them.
Reply

Each time they popped up, the Omega bridges I mean, they used a slightly different re-dress of the Bab 5 CnC so each bridge ended up being unique that way but also looked just like they moved parts of the Bab 5 CnC around. They hid it pretty well in the episode but if you're looking for it, you can see it.
I'm going to try and keep it with the Bab 5 feel but at the same time give it a bigger budget look so we'll see how it goes

Reply