Look at me posting ocs I did like forever ago and stated to ship off but took forever to post xD
Shame on me but created goes to
Nutty-Adopts
for the original design! Which you can see here: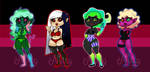 __________________________________________________
Name: Gwendolyn Berger.
Nicknames: Gwen (By family and friends).
Age: 24 years old.
Date of birth: 18th November.
Gender: Female.
Species: Five eyed succubi.
Sexual Preference: Pansexual.
Relationship Status: Single Pringle who LOVES to mingle (Reserved)
Crushes/Partner: Does her vibrator count?
Virginity: Ha! Lost that years ago.
Height: 5'2
Abilities: Quick on her feet, Decent at cooking, She can fake a good excuse, Quick learner and Street smart.
Weakness: Cooking... She's decent not a professional, Despite being quick on her feet she can be very clumsy, Animals (Big animal person), Stressful situations (Not the best with stress).
Tattoo's: -
Piercings: One on left ear and two on right ear.
Scars: Old stretch marks on chest and hips area.
Most Noticeable Feature: Her eyes?
Residence: Neo-New York in a Decent sized shared apartment.
Current Job/studying: Performer at Club Lowkey (Owned by
Hanppy
)
Swears: Yes Often, too often.
Face claim: Zuri Tibby.
Language: English and a bit of French.
Personality: Bubbly, Positive, Flirtatious half the time, Outgoing, Can get Bitchy, Too Friendly, Clingy and cuddley, Has a sense of humour and does laugh at almost anything, Hardcore romantic deep down all in all those hormones.
Likes: Loud music, Dancing, Meeting new people, Her job, Being the main attraction, Parties, Romantic dates and movies, shopping and Gossiping with friends.
Dislikes: Party Poopers, The occasional asshole who enters the club, House Chores, Few months with little to no sex, Early mornings and Starting her day without coffee.
Family Relations:
Father, Aeneas Berger, 57 years old, Alive and Living in Paris.
Mother, Marietta Berger, 50 years old, Alive and Living in Paris.
Friend Relations:
Hope~ Roomate, Met while taking pole dancing classes, despite the opposite personalities the two became besties and now share a apartment.
Koi~ Good Friend, Met through Josh in highschool, despite not being friends with Josh anymore she still kept in contact with Koi and loves hanging out with him when they can.
Josh~ Ex Friend? Met him while she was in Paris, use to be best friends when she moved to Neo New-York but that changed after he did.
Ace~ Best Friend, Met him on a dating site... They weren't a romantic match but the two immediately clicked and because best buds.
Kendrick(
Hanppy
)~ Co-worker, Her main bud when it comes to the new hot gossip, also possible goes to Ken for second/third opinions.
Sabine(
Hanppy
)~ Co-worker, Shy girl but once she got to know her, she immediately adored the shy girl and now Sabrina is stuck with her babbling.
Thomasina(
Hanppy
)~ Co-worker, Finds Thomasina cool as hell, not to mention hot as heck, likes to hang with Thomasina during work hours when possible.
Pets: -
Anything else/Extra:
- Gwen is an adopted child, been living with the couple since she was about 3 years old, Grew up in France till the age of 15 before moving to Neo New-York living with her Aunt because she got the opportunity to go to her dream school and eventually dream college.
- She use to be a much more shy and quiet girl when she was growing up but during college that all changed along with her appearance as she started working more on her figure.
- Was never really comfortable in her own skin but as time went on she learned to love herself just the way she is and Occasionally if not always flaunts how much she loves herself, showing off her stretch marks caring less what others could think.
- Studies to be a Business owner some day like her adoptive father, but didn't end up liking the idea of finishing college, now she's enjoying her stripper life and annoying her boss into regret mostlikely.
- Grew up with little to nothing, watching her adoptive parents try their best to keep her little heart happy, which is exactly why she saves all her hard worked for cash, but is still the biggest hoe who loves to be spoiled by others and would never say no to a gift.