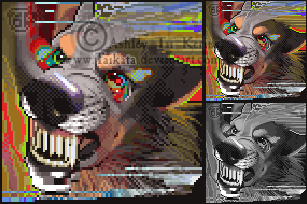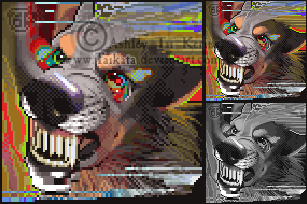 Watch
Or, 'figs' on Furcadia. =]
I'm sorry there's no recording of me painting this one, as I said I wanted to do! This port was really different to the others i've done and the pressure of being watched wasn't helping me get my head around it, so maybe next time! This is also why I've not posted a port in a while!
I love the concept of Crowe. As ~
22mg
said:
''He lives in a land of the "conceived" which includes anything and everything anyone has ever thought of. Sometimes beautiful, sometimes terrifying. Usually both. If you have a taste of doing something surreal, even Crowe himself can look distorted, often specifically "drippy". ''
I really wanted to think about the colours you see when you close your eyes after seeing a bright light, the distortion of old VHS tapes on screen, and how sometimes in dreams, you're looking at something you clearly recognise, usually 3 stark images at once, (in this case, the eyes and teeth), but the rest of it kind of blur and vaguely represent the rest of it, even though you think you're seeing something fully intact.
I LOVE things which are set in the mind, in dreams specifically, so this one was special! Do you think I pulled it off the way i've intended?
-------------------------------------------
Art copyright to me, ~Taikata 31st July 2012
Do not steal/use/edit/claim as your own/trace/copy/post anywhere else but in a link/thumbnail that returns to this exact page. Unless you are the owner of the port, who can do all of the above but claim that they drew it.

Not only is this beautiful, but what makes it even more great is the thought that's gone into it. Like you said about your love for things 'set in the mind', I can see that here- this to me looks like a nightmare, a hellish snarling and distorted creature popping out of the colours like that. Or maybe it's like an overlying bad thought or memory that keeps rising into the forefront of the individual's mind. This is actually really inspiring and I'd like to try and draw something inspired by this sometime. Great work!
Reply

this looks like it was fun xD I like the colours on the left and the repeating eyes.. and the glitched chin. Having such an original character helps I suppose!
Reply

The eyes were fun, but also very quick to do, they usually are. =[
Hehe, I had practice with the TV glitching effect on that Moomin picture. XD
Reply

Awesome concept. I love the TV static effect.
Reply

This is so odd, crazy. Such interpretive colors. A total success I believe.
Reply

you are so talented, oh mannnn <33 you did so well! i love this ahh
your perspective and the distortion and everything just looks really lovely! thank you sooo much~
Reply

This is stunning! The idea is well conveyed, and it reminded me of strange, surreal dreams even before I'd read the description!
Reply

Woah was not expecting this to appear on my screen

The colours are amazing, you seem to have captured the surreal aspect well. Its well balanced with crazy colours with realistic tones :3
Reply

I love the bright outlining colors, and the way he connects with the scenery. The flow is very well done. I think that his lower lip looks very very squarish though, unless that is meant to look like it's glitched. You've done a fantastic job with a very complex concept. By the way, have you ever heard of Dota 2? The concept of Crowe reminds me of some of the characters from that game, particularly
Faceless Void
and
Wisp
(read their Lores).
The dithering near the eyes looks nice, but I think my favorite part is the blurred stem-ish growth out the side of his snout. The shading is very good, as always.
Reply