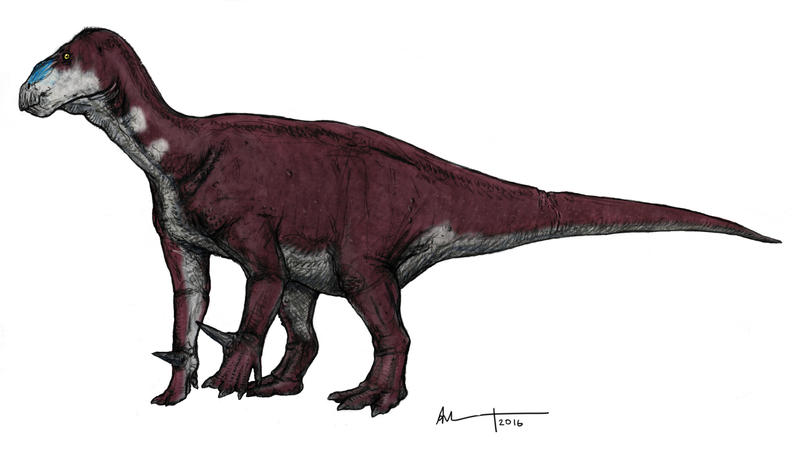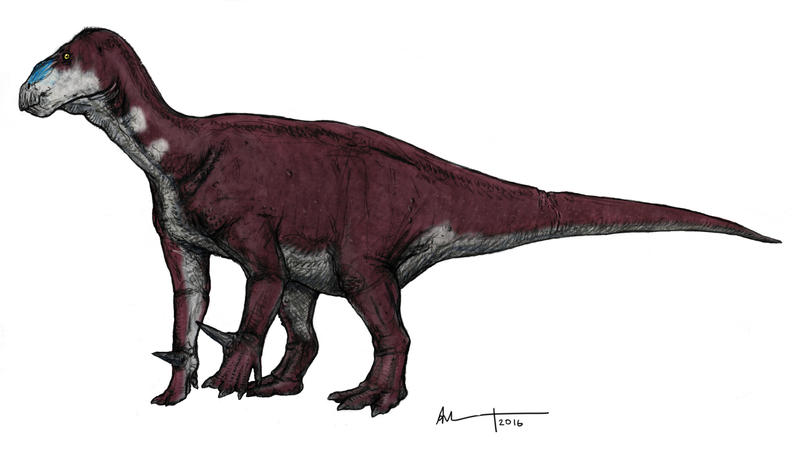 A quick pass at our original (and, per Scott Hartman, rather odd) ornithopod. I ran with a sort of classic color scheme more or less by accident: I looked at large ruminants moving through areas like the Okovango, mixed them up, and got...well, this. But I kind of like it just the same.

Looks awesome!
I was wondering.......what species of Dimetrodon was it that was eating the Xenacanthus Sharks? The article said it was Loomisi, but it also said it had a long, slender neck, while Loomisi had a very shirt neck and big head. Just wondering, was gonna use the species for a fictional work.

Reply

Well, there were a bunch of different species around in the area, so I think Grandis? I forget. It's been a while.

Reply

Looks awesome! Good job

Reply

My childhood favorite. Great job

Reply

Good to see the first life reconstruction of Scott's monstrous Iguanodon! It looks less massive in this perspective.
Reply

The proportions might be a little slimmer on this fella--I wanted to try and get the stance and bulk nailed down in my head. Call it ontogenic change, maybe.

Reply

Reply

Was wondering......shouldn't the neck be thicker?
Reply

I don't know. I've only ever seen iguanodonts restored, skeletally or otherwise, with fairly thin necks. (Hadrosaurs these days are a different story.) Can you think of any literature?
Reply

All your yesterdays suggests we should make ornithopod necks thicker, similar to how rabbit have loose, low hung necks that you can barely see through their skin and fat.
Reply

I like how the hands are illustrated here, more scaly instead of looking like the classic mitten look. It's a nice hybridization of the mitten and bird feet which help makes the Iguanodon look more realistic and bizarre.
Reply

I feel like the hands look a little flat, might need to be thickned up a bit. But im not a master of saurian anatomy, so in the end this is still fantastic.
Reply

Yeah, I think I'm going to rework them in the final sketch to be a bit fleshier. This guy was sort of an experiment in communicating weight and bulk as efficiently as possible, and the mitts just might not fit.

Reply

I have to agree overall. I like how this looks but shouldn't there actually be some digit fusion/flesh mitts much like that of hadrosaurs? I see that in most higher-quality reconstructions of iguanodontids but I haven't read any of the literature on it.
Reply

Congratulations on having what might be the first illustration based on Scott's new skeletal. It certainly is a strange looking animal and I think you did a nice job conveying that.
Reply