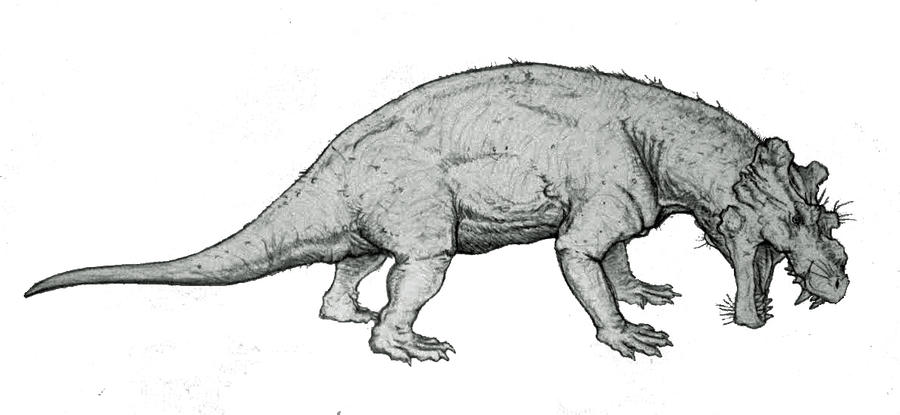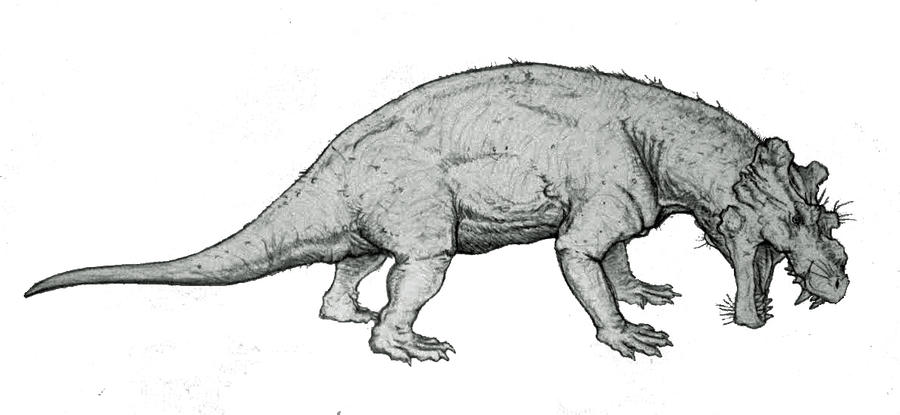 Some of our ancient relatives were more than a little demonic looking. This is a Burnetia, a stem-mammal from the Permian with extravagant crests and canines. She's in a territorial mood and is warning us not to get any closer.
Speculative features included in this sketch are massive scarring from battles with other individuals, heavy skin to help protect from fangs, and a huge tumor under one eye--perhaps something similar to the contagious cancers that plague modern dogs and Tasmanian Devils.

Awesome, I love Burnetia and other prehistoric synapsids.
Reply

WTF is this monstrosity??
Reply

Yikes! Her head looks like a clicker!
As always, epic work! By the way, read
Wampus Mask
over break. Epic story. I couldn't help but think this would be epic as an animated series by Laika or Genndy Tartavosky. You know, because of the nightmare fuel factor.

Have you posted more stories?
Reply

Not officially, but I'd be happy to share a few unpublished Anna O'Brien stories with you if you'd like! Most are quite a bit longer than Wampus Mask, but I think it's better in just about every way, and has a much more experienced Anna O'Brien. I also imagine her adventures animated, though. Color and mood is too important to them to risk passing them off to live action. (Since, you know, I'm dreaming...)

Google Burnetiamorphs, by the way. Burnetia is by no means the strangest of them.
Reply

Beautifully characterful!
Reply

Thanks! I'm trying to incorporate more character design into my paleontology pieces these days. Not just illustrating an archetypal animal but a specific one in a species.
Reply

I like that - I mean, obviously having a "basic" reconstruction is useful too, but giving them a lived-in look makes them seem more real and alive.
Reply

Perhaps she's an old girl on her last legs?
Reply