Hello, everyone! I'm AshenCrystal, but you can call me Ashe, Ryuu, or Sylvia. (( I am also captain-moony-winchester on tumblr))
Here's everything you need to know about me;
I am a 15 year old nerdy fangirl who loves to surf on the internet and make people laugh! I love anything horror related, which is odd because I get scared very easily.
I also roleplay, so take a look at my interests and hit me up if you wanna RP any of that stuff! I usually RP in paragraph form, but I will RP in script as well if you want me too, although my script posts will be semi-long.
Well, that's all for now. Arrivederci!
RP Buddies: (Watch all of them!)

ArtsyGoatAlan

Pirategirl28

Golden-Archive

ATHJChester

wateralchemist121
and more!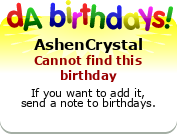 Favourite Movies
Batman: Under the Red Hood, The Hobbit, Guardians Of The Galaxy, The Avengers, Big Hero 6, How To Train Your Dragon
Favourite TV Shows
Supernatural, Doctor Who, Jericho, Once Upon A Time, Merlin, Robin Hood, Sherlock, Arrow
Favourite Bands / Musical Artists
Shinedown, Fall Out Boy, Thousand Foot Krutch, Within Temptation, Panic! At The Disco, Linkin Park, The Beatles, The Rolling Stones, AC/DC
Favourite Books
Harry Potter, Lord Of The Rings, The Hobbit, Assassin's Creed
Favourite Writers
J.K. Rowling, J. R. R. Tolkien, Oliver Bowden
Favourite Games
Assassin's Creed, Bioshock, Dragon Age, Resident Evil, Tomb Raider, The Walking Dead, Skyrim, Slender, Ib, Alice: Madness Returns, Kingdom Hearts
Favourite Gaming Platform
Xbox 360, PC
Tools of the Trade
My sketchbook, pencil, drawing tablet, drawing stylus and my imagination
Other Interests
Roleplaying (usually TV shows or video games)