:thumb559977700: :thumb678974419: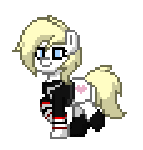 :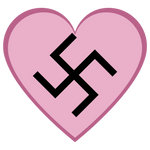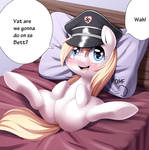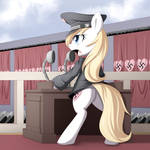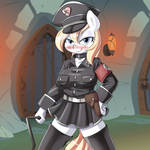 (∩✧ω✧)⊃━☆゚.*<卐3
Name: Aryanne Hermine Hoofler
Nicknames: White Death ☠, Windmill Pony of Friendship
Title: Gräfin zu Sachsenhausen (Nobility Title inherited from her mother)
Race: Earth Pony
Breed: Karster
Gender: Female
Age: 21
Height: 1,77 m
Weight: 73 kg
Eye color: light blue
Hair color: light blonde
Skin/Coat color: bright white
Cup Size: D
Blood type: 00 rhe. negative (Aryanne has this tattooed on the underside of her upper left arm as SS Blutgruppen Tätowierung)
Birthday: April 20th
Zodiac sign: Aries
Parents: Randolph Hoofler (Son of Adolf Hoofler) and Maryanne Hoofler
Siblings: Oldest of 5 brothers and sisters
Nationality: German
Political Belief: National Socialism, member of the NSDAP
Occupation: Military Officer of the Waffen Schutzstaffel & Wehrmacht
Rank: SS-Oberführer/Oberst
Likes: children, cooking, Panzer, Patriotism
Dislikes: Communists, (((Greedy people))), cowards, prudery
Skills: speaks 4 languages, trained in unarmed combat, swordfighting and military grade heavy weaponry including vehicles
Personality: Enthusiastic, hard worker, affinity for sexual behavior, likes to collect weapons and uniforms of many kinds
CM: Pink heart with a purple outline and a black swastika in the center
Aryanne is the oldest of 5 siblings and is used to a leadership role since her early days as a child. Being the granddaughter of Adolf Hoofler she received a good education, but was also taught the values of manual labor, benevolence and respect for her people. When she was 15, she spend a year as an exchange studen in Nippon, this is where she developed a fetish for uniforms. After the graduated from school at age 16, she joined the Schutzstaffel of Germany after she had been tested and recommended as a suitable recruit. As any german worth his salt she takes her work very seriously and served with all passion and power her body could muster for the greater good of the nation and it's people. She now does duty as a high military Officer for the land units of both the SS and ocasionally the Wehrmacht and fought in several campaigns against the enemies of the Reich, which gave her years of combat experience. Aryanne loves her country and her countrymen and although she can't help herself but being a lewd girl, her greatest dream is to find a loving husband and have a big family with many children.

Aryanne on DA - General IntroductionHello and good day.
This is the official Deviant Art site of the drawer behind Aryanne.
I draw SFW and NSFW "My Little Pony: Friendship is Magic" related pony art since early 2013 (mostly of my OC Aryanne currently). Sometimes I also make Animations.
I never receiced any formal artistic education and taught myself most I know during self-study, practice and with help of artist friends.
Back in the day I used to draw a lot over at http://flockmod.com/mlp which is a public draw board. This is also where my OC was created around June 2013, mostly due to an act of griefing. I was just drawing on a sketch and suddenly someone started drawing swastikas in the room and over all paintings. The people there for some reason liked it, so I kept the design and adopted her.
Most of my inspiration I do get from anime and hentai art. My specialty is ponies standing on 2 legs aka bipedal anatomy, but I also draw anthro quite often.
Since September 2013 I was using new drawing software (S

Common recurring questions regarding Aryanne.>Hello. I wanted to ask and say a few things
>Questions: Do you speak German?
>How did you got the idea to draw Aryanne, a now really popular Nazi-Pony and also a sex symbol (what is kinda weird)
>Why a Nazi?
>Then: I really need to say that I like Aryanne, she is really cute even if she's a Nazi. I really hate Nazis. I hate what they >did to the world and Jewish people.
>I would be really happy if you would reply.
>A German brony~
----------------------------------------------------------------------------
I get questions like these very often on my other art accounts. I will try to answer them for you.
>Questions: Do you speak German?
Very little. Neither english or german are my native language. It's quite troublesome for me to talk like this. I still have to use Google translator a lot. Where i live i dont need to know much foreign laguages to do my business.
>How did you got the idea to draw Aryanne
It was an unexpected turn of events. I had no

Aryanne Hoofler - Character Data and MeasurementsPeople have been wondering some essential basics about Aryanne for a while. It's been a long time on the road ever since, but I think this is something that finally needs to be adressed. All measurements here are metric and for humans, if you know an accurate way to translate this to pony measurements, please send me a notification!
Name: Aryanne Hermine Hoofler
Nicknames: White Death, Windmill Pony of Friendship
Title: Gräfin zu Sachsenhausen (Nobility Title inherited from her mother)
Race: Earth pony
Gender: Female
Age: 21
Height: 1,77 m
Weight: 73 kg
Eye color: light blue
Hair color: light blonde
Skin/Coat color: bright white
Cup Size: D
Blood type: 00 rhe. negative (Aryanne has this tattooed on the underside of her upper left arm as SS Blutgruppen Tätowierung)
Birthday: April 20th
Zodiac sign: Aries
Parents: Randolph Hoofler (Son o

Third Party Aryanne Intel (repost)Aryanne "White Death" Hoofler is a female earth pony with a white coat, blonde hair and blue eyes. Her cutie mark is a pink heart with a black swastika in it. She is a military officer from the Maremacht of Germaney and an active politician.

- taken from the Aryanne thread on /mlp/ - https://desuarchive.org/mlp/thread/28107548/#q28107548
-----------------------------------------------------------------------------------------------------------------
Aryanne is the most adorable nazi war criminal ever! Her disarmingly cute design and fiendishly black humor make her one of the select few OCs with a broad following and numerous artists depicting her. Originally conceived as a gag character on /mlp/, Aryanne has since found favor in various places throughout the horse world, even being voted the official mascot of 8chan's /pone/ to the chagrin of the board's admin.
Her original creator, who goes by a different handle on every site and is for all intents and purposes anonymous, has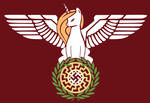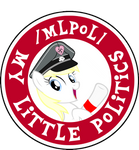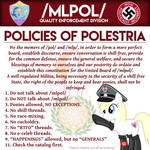 Favourite Visual Artist
HoiHoi, Hetza Hellshock, Dan Paladin, Milosstone, Asanagi Fatalpulse
Favourite Movies
Dark Knight Rises, The Room, Midnight Meat Train
Favourite TV Shows
Spongebob, Ren & Stimpy, Metalocalypse
Favourite Bands / Musical Artists
Classic, Metal, Autotune
Favourite Books
Mein Kampf, How to serve Men, X for Dummies
Favourite Writers
Lovecraft, G. L. Rockwell, Tenzin Gyatso
Favourite Games
TF2, Pokemon, Hello Kitty Island Adventure 2, RTS Games
Favourite Gaming Platform
PC, Game Boy, Virtual Boy
Tools of the Trade
Sai, Manga Studio, Paint
Other Interests
Animals, Jogging, Anime in general