Previous: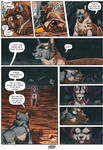 Cover: [link]
Back to Beginning: [link]
-----------------------------------------------------

French Version / Version française: [link] by/par

------------------------------------------------------
EDIT: Chapter Six has started!
The first page is available on Patreon (link above!)
It will be posted on DA starting next Saturday!
Stay tuned for an important poll to decide the comics' schedule!
Chakra!
GASP! SHOCK! SURPRISE!
Said nobody ever lol.
Hundreds of you guys saw this coming from a mile away, and to be honest, I'm pretty sure someone in the story saw it coming too

More on that in a few weeks.
But here we go, one more chapter of Chakra finished, only one more to go.
Man, what a ride this has been. Probably one of my favorite chapters to make, if not my top favorite at the moment. I've had this scene planned for literally ten years and it feels so good to get to this point at last.
And you guys played a huge part in this, thanks to your amazing support. Your help, especially on Patreon, is one of the reasons I was able to leave my job and work on my art full time, and I can't thank you enough for that.
Now, I'd like to take a minute to address the elephant in the room! About a year ago now, when we passed our $250 goal on Patreon, I made a poll asking which comic you wanted to be drawn weekly, Chakra or Africa. Up to this point, I've been updating Chakra every week, and Africa bi-monthly, however a large portion of you requested that it be the other way around, with Africa weekly and Chakra once every two months.
I haven't forgotten I promise, but I really wanted to get this chapter done before implementing the change, because I was having so much fun with it



Still, now that it's over, and the story is at its climax AND there is only one chapter remaining before Chakra is finished for good, would you guys still like me to swap the schedule?
I've asked the very same thing on Patreon, and I got mixed responses. A number of you wanted me to stay true to the poll, which is very reasonable, while a few others are curious about how Chakra will wrap up and would like it to be completed first.
What do you think? Leave your thoughts in the comments!
In the meantime, enjoy this page!
Chakra will be taking a (well-deserved I hope!) one-month break to allow me to prepare for the upcoming chapter. Thank you for understanding!


Enjoy!
Follow on INSTAGRAM for exclusive art (not shown anywhere else)! www.instagram.com/panthera.arv…


Caran d'Ache Supracolor Soft coloured Pencils on A4 Paper.
Several hours.
Characters and art (c)



------------------------------------------------------

Special thanks to Syrus Coy for the amazing support!

---------------------------------------------------------