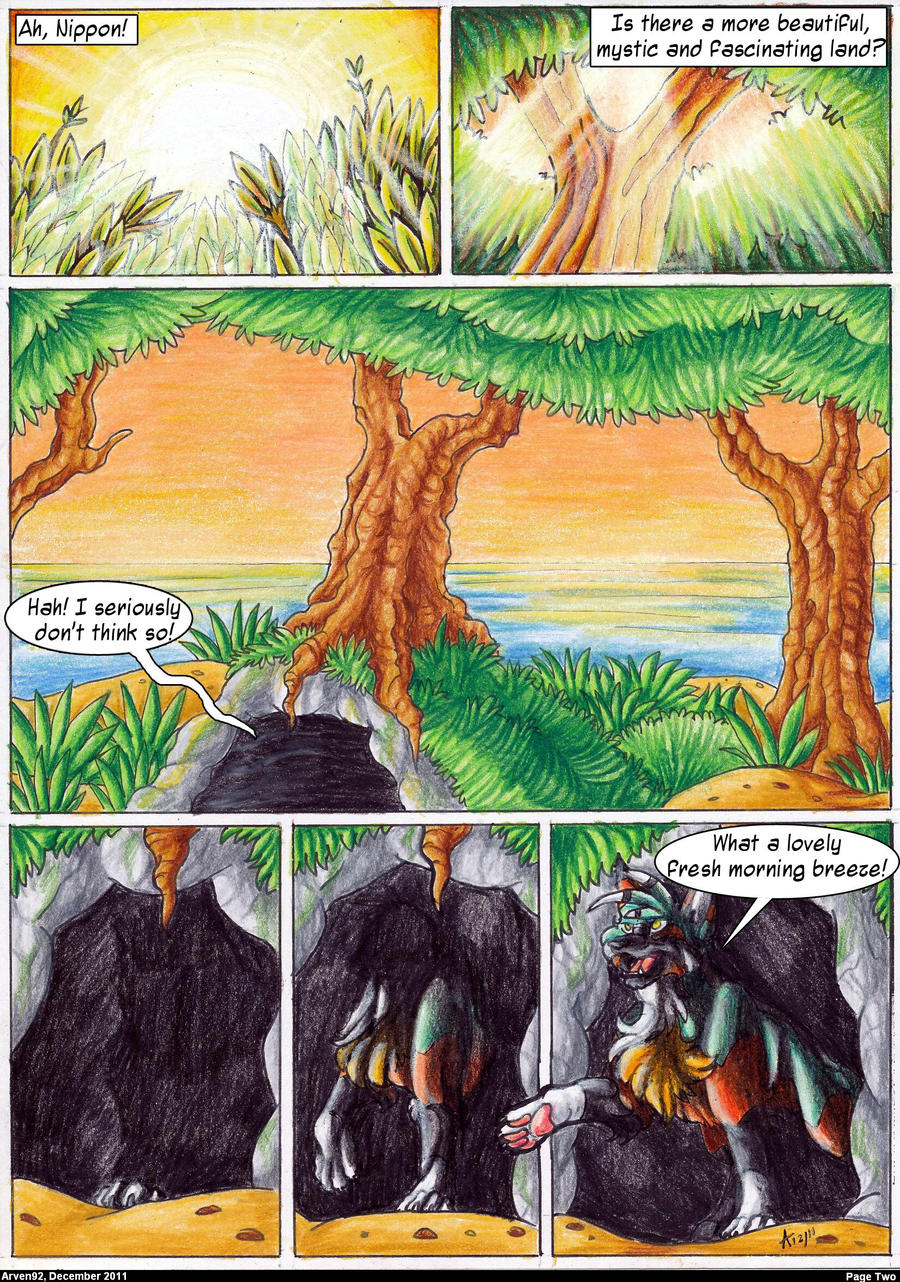 Next:

Previous:

Cover: arven92.deviantart.com/art/Cha…
Jump to Chapter Two: arven92.deviantart.com/art/Cha…
Older version:
-----------------------------------------
French version / Version française
:
aspi-galou-translate.deviantar…
By /par

-----------------------------------------






Oh my, wasn't that quick

First REDO version of pages 2 - 8, specifically, this is page 2

I want to be quick with these, still I don't want to rush :3
Soooo, who will that odd wolf ever be?

What? You already know? O.o
How's that even possible? xP
Ohwell, enjoy this! <3
And please
If you post a critique, can you please also compare it to the old version?
Thanks! <3
Characters & art (c)

Well, wow. I can't believe the differences of these pages! This one looks much better, the trees look more realistic, the ground looks more 3D, and the lighting is kickass! I love the perspective in the last panel.
There's not much I can really point out now, it's just amazing.
I'd say the sky could do with some work, the bottom of the sky looks too dark, it should really be brighter because sun light reaches the lower part of the sky better. The grass doesn't really work too well, I like the way you drew it, I'd just say it's the shading, it doesn't blend in too well and looks off.
I'm really struggling to point out mistakes here

Well done 8D
The Artist thought this was FAIR
27 out of 29 deviants thought this was fair.
hi!

Itīs great (like always), but i like the older version more.
the vision of led is better, and the trees are.. better, i canīt explain it, you know!
but donīt think itīs just bad.
what i like more than at the old page is the light-and-shadow-effect.
the difference comes out more here!
and the speech bubbles are cooler! love them now. the old were so little, i think.
the sky is cool here - but the old was good, too.
my final meaning:
the old version is a little better than this version.
but this is also not bad.
BYE
The Artist thought this was FAIR
22 out of 24 deviants thought this was fair.