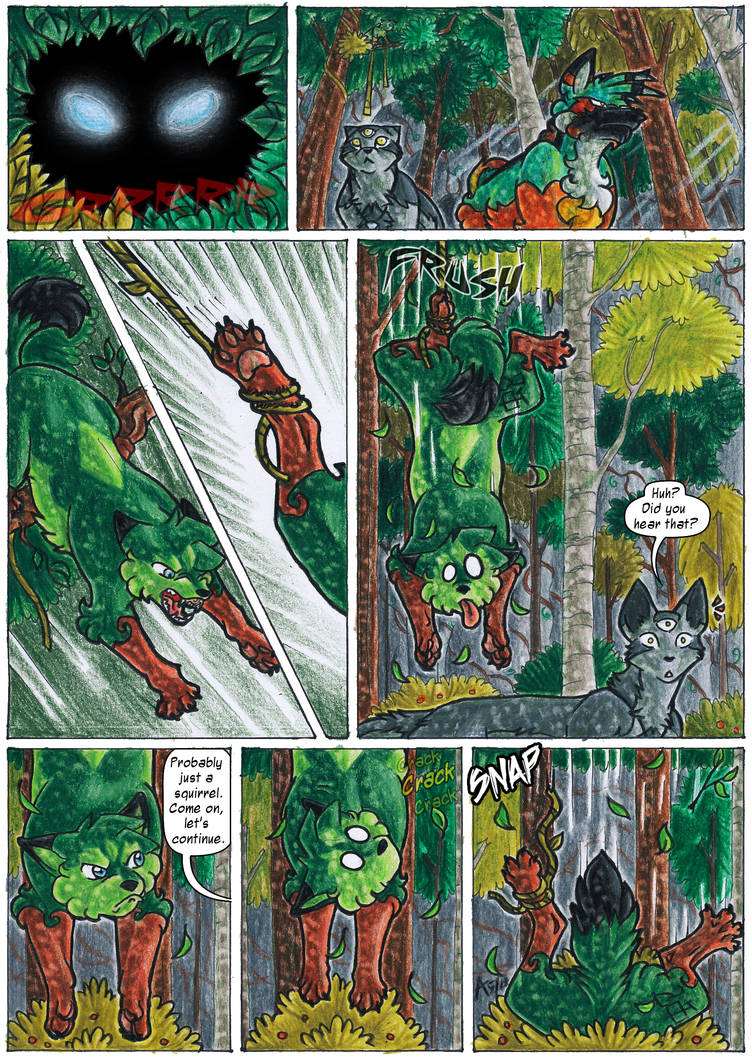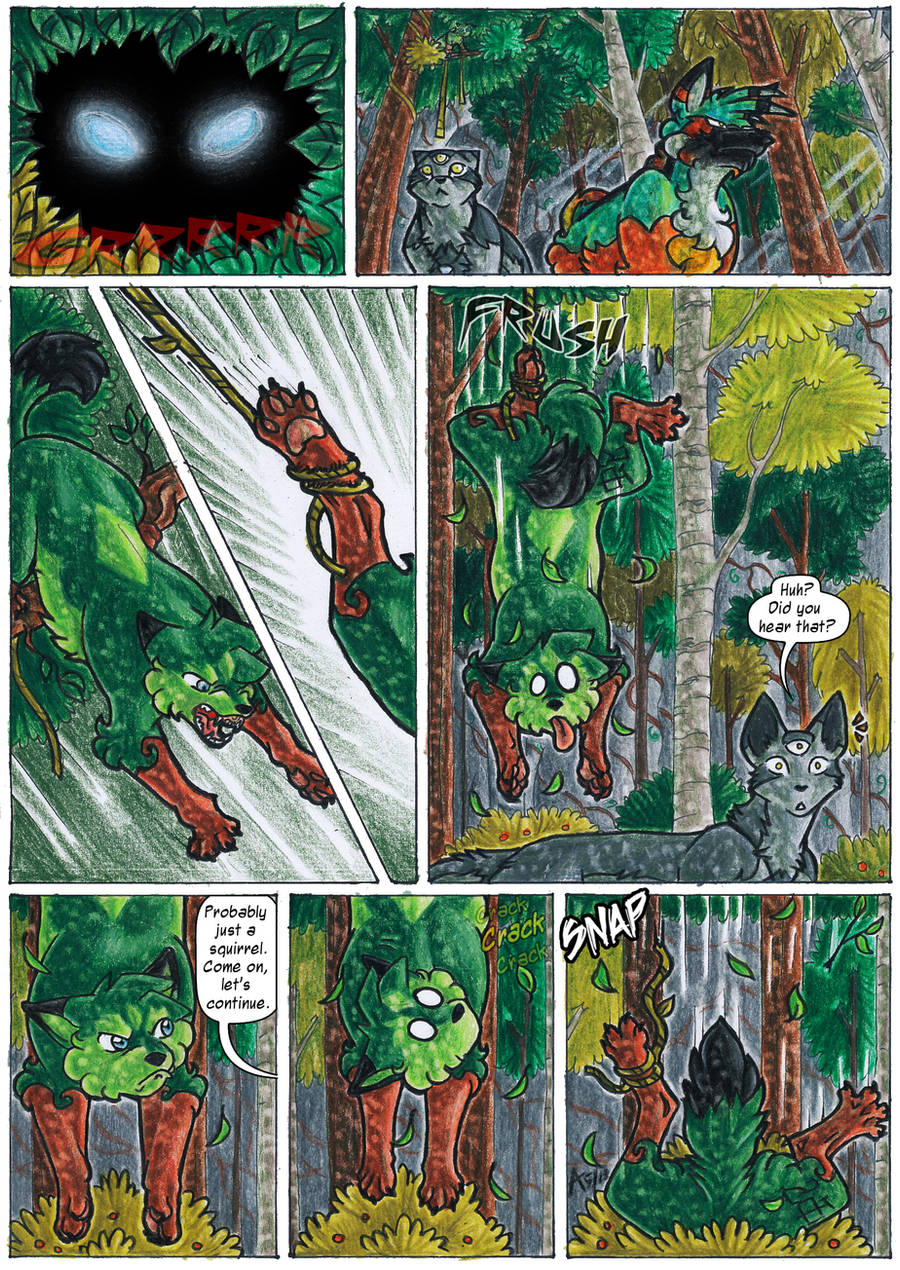 Next:

Previous:

Cover: arven92.deviantart.com/art/Cha…
Back to Beginning: arven92.deviantart.com/art/Cha…
-----------------------------------------------------

French Version / Version française: aspi-galou-translate.deviantar… by/par


------------------------------------------------------



Join the CHAKRA-COMIC group!






-------------------------------------------------
PAGEPAGEPAGEPAGE.
FFF I need some new green pencils

I bet you don't know why!
So, ready to make a happy dance? The mystery character was indeed Kobura! Kudos to everyone who guessed!


I was surprised at how easily and how quickly people were able to recognize him <3 I'm so happy I made my characters unique enough that you can recognize them just by their silhouettes

You're the best, guys <3
And Kobura... well, he needs some training

AMBUSH. YOU'RE DOING IT WRONG.
Poor Kobura, lol! XD
Q: But Arven! How could none of the Heroes notice Kobura right next to them????? That's IMPOSSIBURU!


A: Ever heard of comic relief?

Enjoy!
Coloured Pencils on A4 Paper.
Several hours.
Characters and art (c)

I want to improve, I greatly appreciate feedback and constructive criticism regarding anatomy, page flow and overall composition. Thank you!

Like the comic? GET A COPY TODAY!
Hey Arven. Me here with another crit. again XD I must admit, I have a horrid cold today and this made me laugh so much XD Definatey made my day <3
Vision:
I love how it looks; how the lunge in the third pannel is noticable, and how you portrayed his expressionions in the seventh and sixth pannel. It's really funny how he could have made such a mistake XD
Origionality:
Well I'm not much use on origionality but it is rather origional in my opinion :3 XD
Techique:
I love how you draw wolves in general

Although I will point out that the front paws in the fifth and sixth pannels look slightly distorted, and they may look better like they are in the same position as the seventh XD It's just my opinion, however. I have a tendancy to think things like this are awkward ouo
Impact:
Arven, this honestly is so funny it makes me think. I think I have an idea on what may happen for him to perhaps swap sides (I think that may be what happens since I looked on the Chakra B.O.T page.) and I love how ths might happen :3 Sorry if it's unclear XDD
Overall this page made me laugh for a minute or two and I still look at it and laugh XD
Hope this helps.
The Artist thought this was FAIR
9 out of 9 deviants thought this was fair.
Silly Kobura! Don't you know little ones shouldn't go off on their own? Hi Arven! This is a lovely page.

I'm going to go panel by panel.
Panel 1: It was done really well! I'm glad you didn't use just one color for the leaves, and the way you portrayed the eyes made them look very mysterious. It could have been anyone! (with blue eyes, anyway XP)
Panel 2: I like the angle. The trees came out really good. Led looks great, leading and being awesome. C.Y. looks just a little bit chubby, almost unnoticeable. It's great how Kobura, even so tiny in the top corner, can still catch your eye and you can get an idea of where he is.
Panel 3: This pose is awesome! To me, nothing is wrong with this. I'm sure Kobura thought nothing could go wrong, either.

Panel 4: The vine looks very nice. A lot of people forget to put the little fringes of fur over top of ropes/chains/vines, but you are not one of them! By doing that I can tell his leg is really caught, instead of it looking like the vine would slip off any moment. Great!
Panel 5: Kobura's face is hilarious, and continues to be in the next two panels as well! He looks great in this panel. The leaves falling down around him gives me an idea of how heavy he is. The background looks great, as always, but C.Y.'s head and neck seem to be a little too small. Her ears are the right size, however. Aside from that, her expression is brilliant!
Panel 6: Don't be so pouty, Kobura! You should've known this would happen. XD This panel is great, I especially like his legs.
Panel 7: This panel is also great, and in proportion to the panel before it, except for his legs. They seemed to get smaller. Overall, it looks great, and the main focus is his face.
Panel 8: This was really good. It's so funny! His splayed paw lets me know how surprised he was, and also how he was struggling not to land on his face. Great job! I can't wait for the next page!

The Artist thought this was FAIR
19 out of 20 deviants thought this was fair.