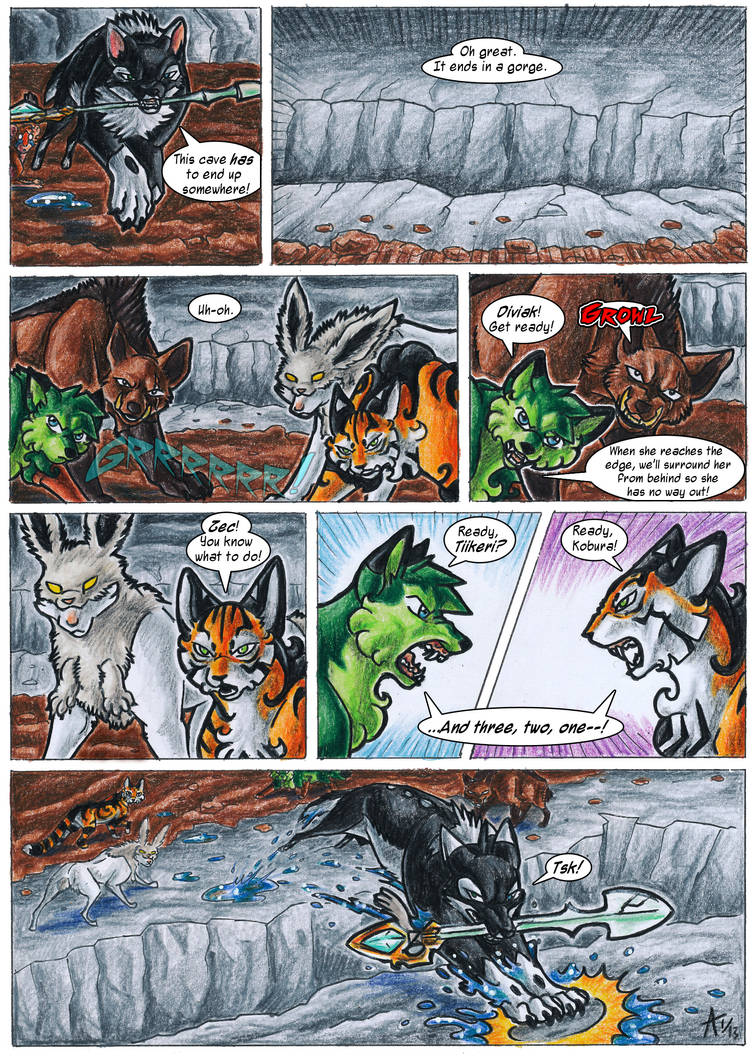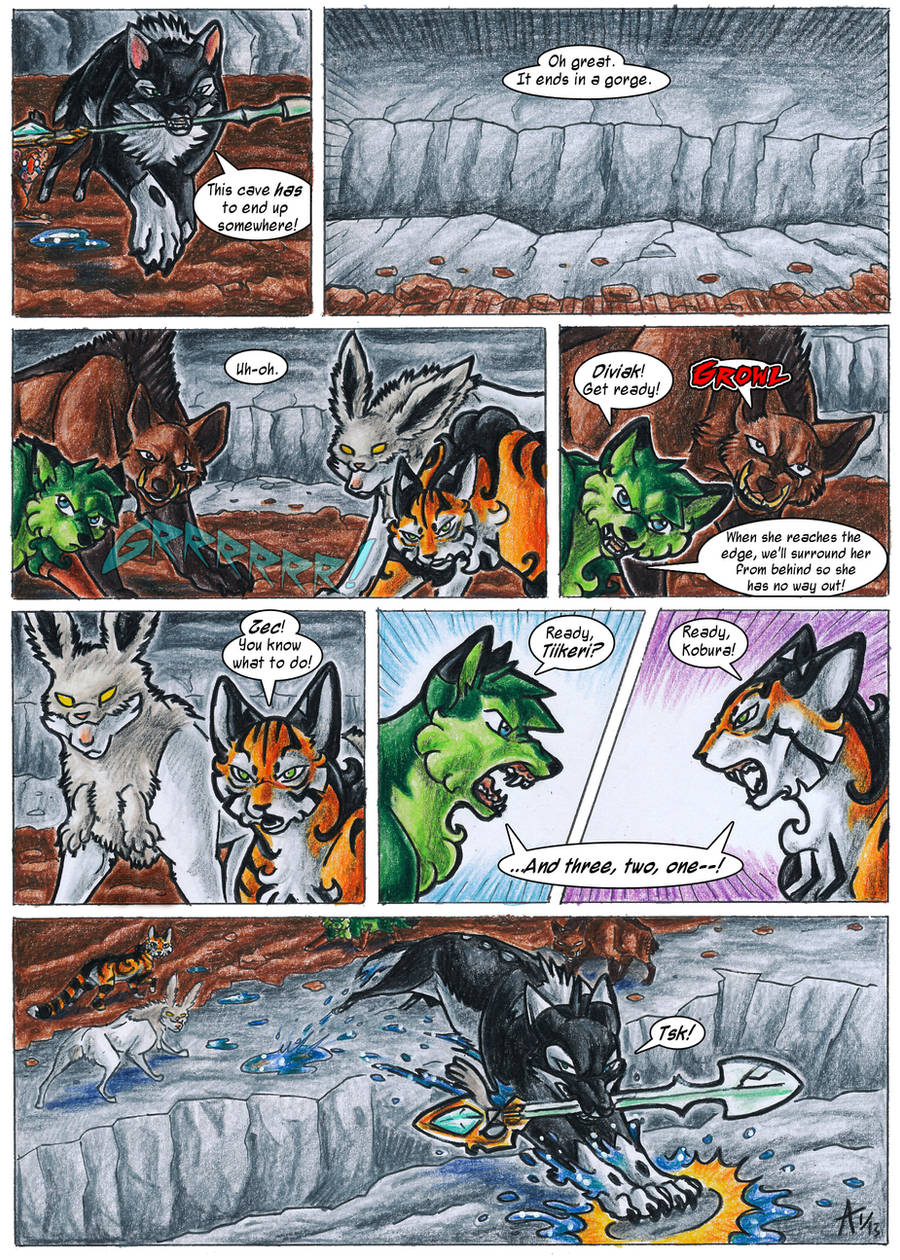 Next:

Previous:

Cover: [link]
Back to Beginning: [link]
-----------------------------------------------------


French Version / Version française: aspi-galou-translate.deviantar… by/par


------------------------------------------------------



Join the CHAKRA-COMIC group!






-------------------------------------------------
DAT PAGE.
We hit 103 guys

And I just finished another sheet of storyboards. This is the second one I complete. Each sheet contains 6 storyboarded pages. SOOOO yeah

And with this page we bet to meet three new Demons:
Diviak the Boar, Zec the Rabbit, and Tiikeri the Tiger
.
We had already met Kobura some pages ago, and now we see him in action :3
Chasing scene is finally coming to an end, YAY! And it looks like the Demons just can't stop Orca

But... is that the hint of a smile on Kobura's face in last panel?
Hmm, something tells me it's not over yet D8
Enjoy!
Coloured Pencils on A4 Paper.
Several hours.
Characters and art (c)

I want to improve, I greatly appreciate feedback and constructive criticism regarding anatomy, page flow and overall coposition. Thank you!

Like the comic? GET A COPY TODAY!
Vision:
The vision of this page was pretty awesome.

I really liked it when Tiikeri and Kobura were getting each other pumped up. The intense background looked like it would take a lot of time, and you pulled it off very nicely. I also would like to add that when it comes to Tiikeri's markings, you did a good job locating them where they were supposed to go! However, when Orca was leaping across the gorge, her body was just a little off proportion. I know that it's the perspective that makes her l;ook like that, but the back legs and feet could have been just a smidget bigger and thicker. I saw no other mishaps in this page

Originality:
Yet again, I would give this page a 5 stars for originality. The characters' actions, thoughts, and plans were all skillfully suited to the story. I really didn't expect a gorge to be at the end of the cave! Great job on the originality of this page!
Technique:
I really like your beautiful technique! I love the way you draw the mouths when they're open; The anatomy looks perfect in every way! Even the teeth look nicely fit! I also like Zec's rabbit pelt, and the way the pelt's eyes look like his eyes. The only thing I am bothered by is the way you sometimes draw the chest fur. Bot Kobura's and Tiikeri's chest fur looks almost clumped together, like little balls of fur. Overall, the technique was really, really spectacular! I can most definitely learn to draw mouths right from this page!

Impact:
The impact of the page was really good! Orca's daring leap across the gorge really spoke to me in a way that it said, "Don't be shy to do daring things." Being a shy person in real life, I am known to stick to routes, tricks, and even food brands that I am familiar with. The page taught me to try new things.
Overall Score:
I would give the overall score of this page a 4.5 or a 5! It is absolutely wonderful and I love the smoothness of the colors. The effects are cool, the story original, and the visuals easy to 'process'.

Good job!
The Artist thought this was FAIR
4 out of 4 deviants thought this was fair.
This is a really neat ongoing comic, and yes, like everyone else, i gotta buy the book. The artwork is just stunning, and the characters are so easy to follow. I enjoy just looking at this piece of art! The faces, the claws, the paws, all just so perfect!! I have seen some really good strips on deviantART, but this one just tops them all!! You have even gone so far as to get the shading and colors all right!! I think that most of us would have just given up, because I know how long these take to draw!
The Artist thought this was FAIR
4 out of 5 deviants thought this was fair.