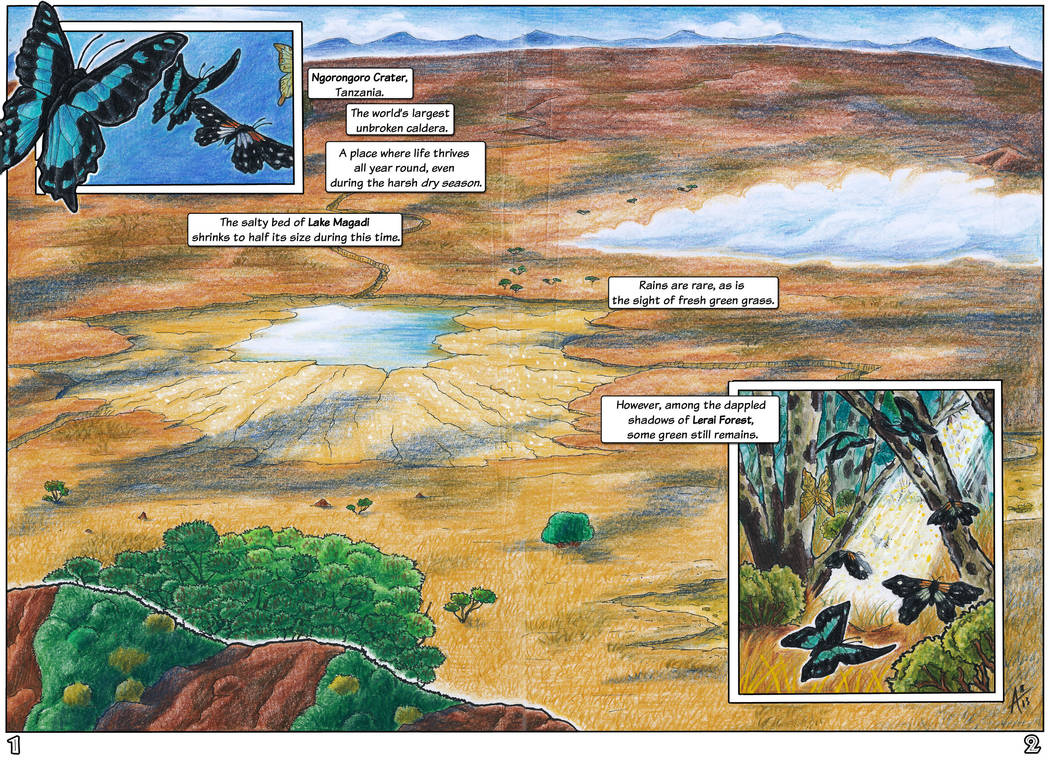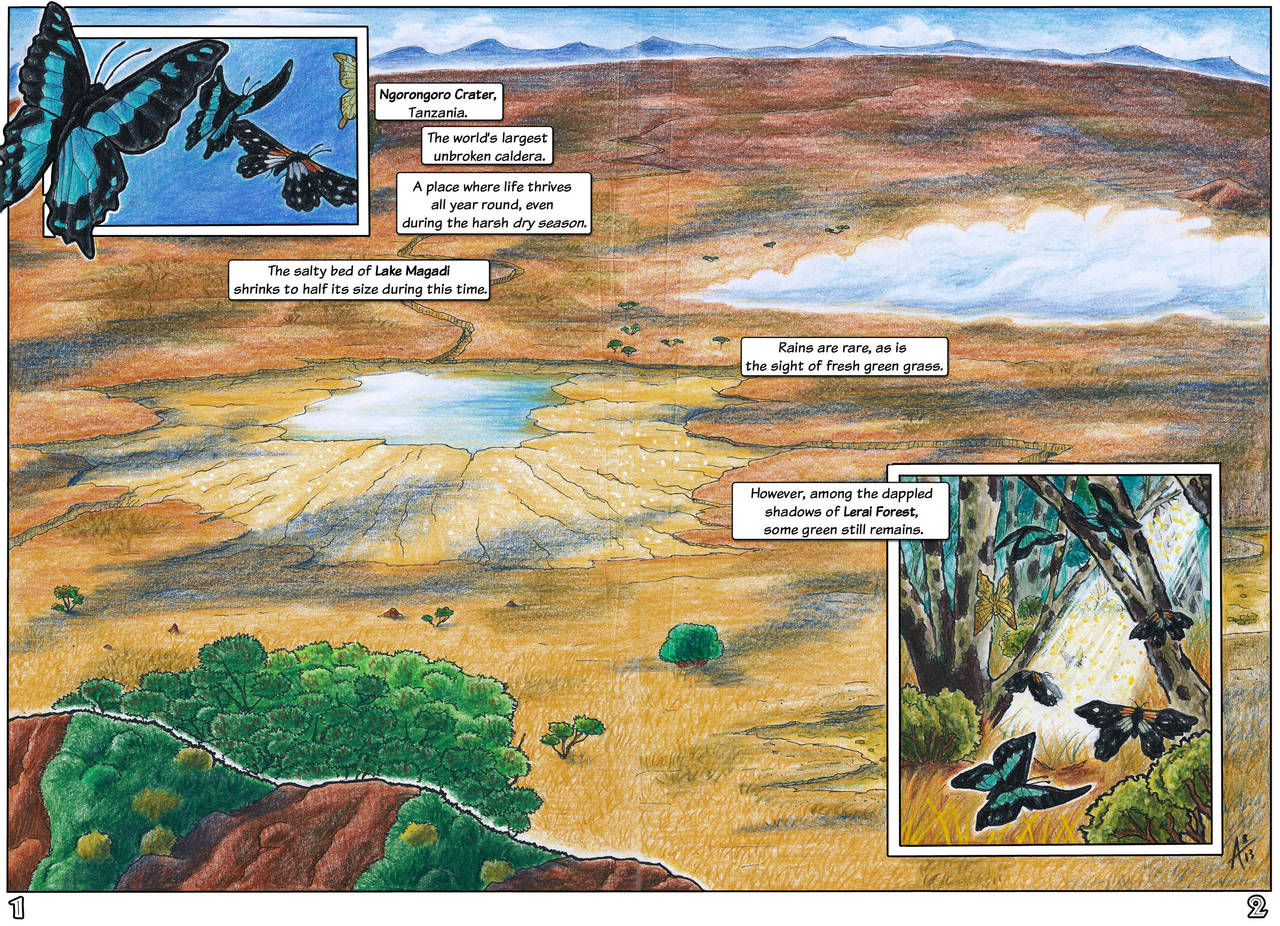 Next:

Previous (Cover):

-----------------------------------------------------

French Version / Version française: [link] by/par

------------------------------------------------------
Join Africa-comic group!

And so it begins!
And what a better way to begin a comic than with a double splash page? 8D
I've always told you that the first
page
of Africa was coming, but I bet you didn't expect it to be a double page

If Saturday is the day for Chakra, then let Wednesday be the day for Africa!
So, where to begin. Gluing two pieces of paper together symmetrically proved harder than I thought. Scanning them separately and putting them back together on Photoshop was even worse. But all in all, drawing this page was great fun!
This you see is
Ngorongoro Crater
, a natural reserve in Tanzania. I've made a lot of research about it, to make the story as realistic as possible.
Even the butterflies you see flying in this page are actual butterflies commonly found in the Crater.
The black and blue butterfly is called
Papilio desmondi
[link]
The black one with red and white spots is
Papilio rex
[link]
The sand-and-brown one is
Papilio nobilis
[link]
Speaking of the butterflies, watch out for them! Butterflies play an important role in this comic, let's see if you can guess which one

So, as the narrator introduces us, we are in the dry season.
You: "But Arven, WHERE ARE THE LEOPARDS????"
Me: "Just wait and see."

There you go! I really hope you enjoy these first two pages!
As for the next one, since I've actually already started working on it, I
might
be able to post it next Wednesday, we'll see.
However,
sooner or later, Africa will start updating TWICE A MONTH instead of once a week
. Only, not just yet

Coloured Pencils on A4 Paper.
Several hours.
Characters and art (c)

I want to improve, I greatly appreciate feedback and constructive criticism regarding anatomy, page flow and overall composition. Thank you!

Arven I just love the way you make this place seem abandonned but if you look a little closer down in the forest ZOOOM goes the leopard/cheetah thingy!I loe the way you did the butterflies and the spots.Your talent is ust absouloutly amazing.I wish I could draw like you ;v; unfourtionatly I cant (I may have slight spelling errors) :silentitty: I'm jealous

Y U NU TEACH ME TO DRAW? Anyway... Yes I gave all 5 stars because, I really love Chakra and Africa comic.It has wondeful Impact and technique. Well that's pretty much all I have to say BYE! ~Bearthepuppy Have a nice day~
The Artist thought this was FAIR
39 out of 41 deviants thought this was fair.
Wonderful splash page! The attention to detail is awesome and refreshing.

I love the shading - especially the dark, wispy shadows of the clouds on the ground. They bring a sense of scale, and make the atmosphere that much more realistic. And that ray of light in the last panel! You seem to be investing more attention into the little details and it's really paying off.

I took away half a star for technique - I'm not sure if it would have been possible to not tape this together, but those little rectangles are the only thing I find detracting. Awesome work!
The Artist thought this was FAIR
25 out of 27 deviants thought this was fair.