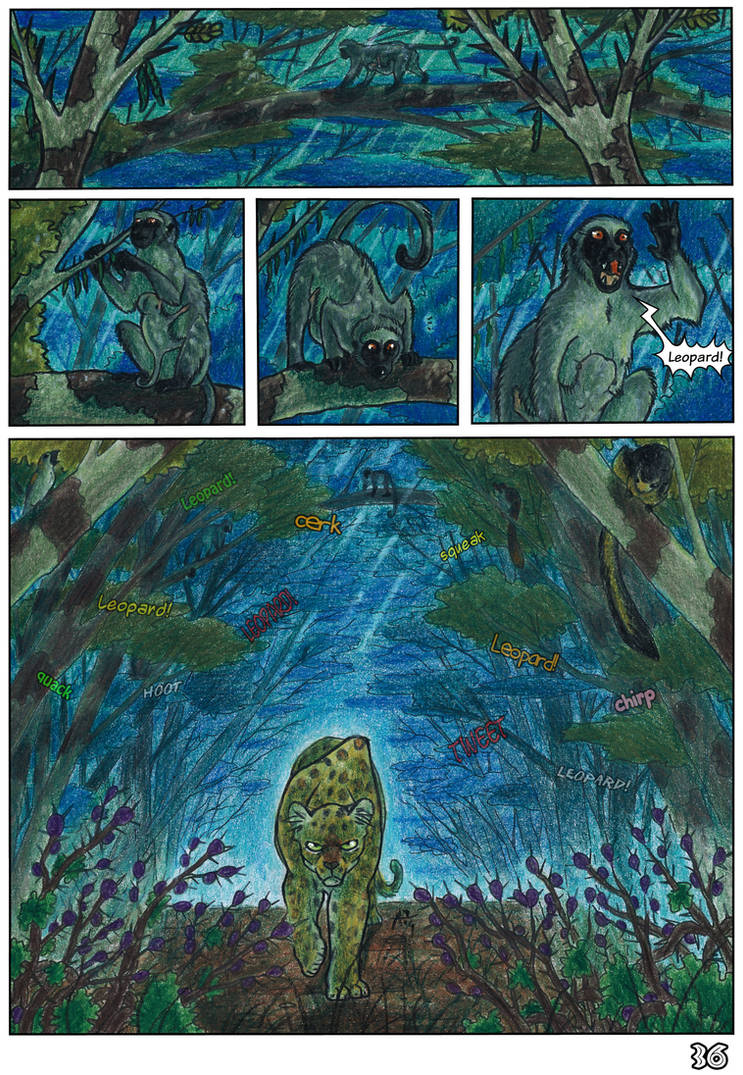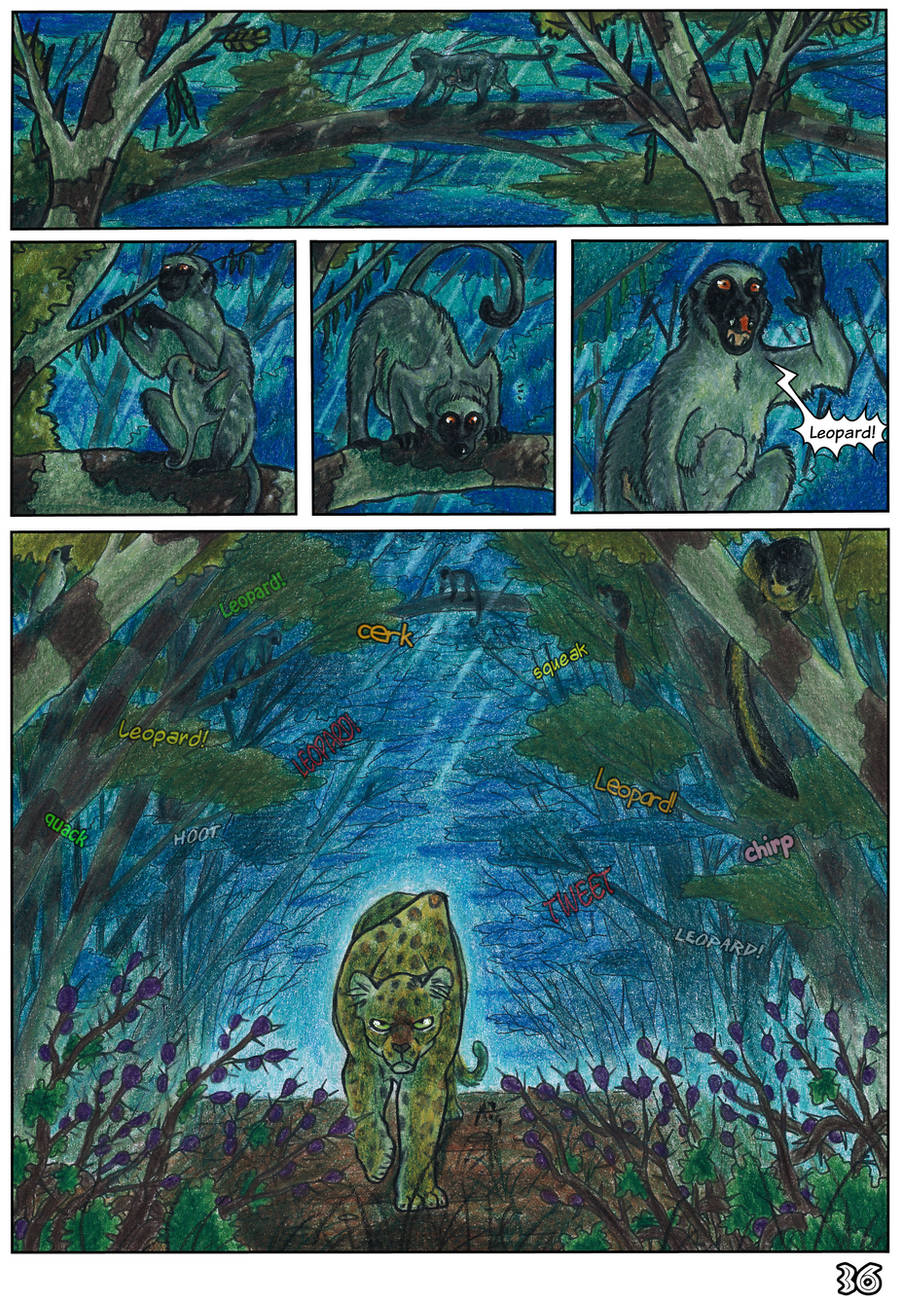 Next:

Previous:

Cover: [link]
Join Africa-comic group!

---------------------------------------------------------
AFRICA is also on Facebook! Leave a like!

-----------------------------------------------------------
French Version / Version française: [link] by/par

-----------------------------------------------------------
...Cause this is Africa.
So, where were we.
We left with Abasi talking about a "darn cat". Well, turns out the cat he was talking about was indeed Africa. Looks like she got herself a bad reputation after three years.
She hasn't changed much physically (except for a little detail

Let's see if you spot which one!), but she did change psychologically, as you can guess from her grumpy face.
But anyway, about this page.
Sorry if the monkey looks weird. I've never been a fan of monkeys since
Planet of the Apes
. That movie used to scare the living organic waste out of me as a kid.
Now it's one of my favourites, but the costumes still scare me a little

Anyway, the monkey starts shouting as soon as she sees Africa, and soon after, all the animals in the trees join in a choir, warning off one another from the threat.
In the wild, leopards rely on stealth to hunt. When they are spotted and kept an eye on, they don't attack. That's why animals who live in colonies, like monkeys, tend to shout and make a lot of noise when they see a leopard. It has a double effect: it warns off the rest of the colony from the threat and it's a way to tell the predator: "We know you're here. Don't even try to attack, because you're going to fail".
Other animals like squirrels and birds take advantage from monkeys' calls and are alert when they hear them shouting.
That's a
vervet monkey
by the way. The same type of monkey Africa used to hunt as a youngster.
Last panel took ages. Period. I don't think I've ever drawn so many trees together in like forever. D8
Also, as you might have read from the text up there,
I'm not exactly sure when next page is coming out
. My family and I should be leaving on holiday from September 15th to like October 1st, but nothing is organized yet, I'll let you know when next page will be out though, hopefully soon

Anyway, enjoy!
I want to improve, I greatly appreciate feedback and constructive criticism regarding anatomy, page flow and overall composition. Thank you!

Ok, this is my very first critique and I hope I do a good job at this. The very first thing I notice was the background. We can see that the forest, even being the same forest Africa grew up in, is very different. The bright green grass and sun are gone, like as if the forest was changed by Africas' mood. I like the way you coloured the forest in blue, because it makes it look depressing and somber. The second thing that really hit me was Africa herself. Her eyes aren't as green as they used to be, and she grew also in size in my point of view. (Little detail) Also, two little dots appeared on her muzzle. Plus, well... she looks grumpy, as if she grew angry with the world. We can see that Africa is the dominant feline in this forest, because of the comotion the monkey stirs up. Can you see the white and light blue around Africa? And the fact that there are no trees in the sorroundings of Africa? I gives the impression of her being cut out and ghettoised from the world. Also the brambles in front of the page give the forest and Africa a sign of hostility. Honestly, I adore this page! Keep up the good work!!
The Artist thought this was FAIR
42 out of 43 deviants thought this was fair.
Ah, here's another great page into the wqorld of Africa!
After an anxious wait, this new one couldn't have been better according to my expectations!
Let me disect the whole page frame by frame...
Shall we?

To begin, we get the panoramic vision of a mother monkey trundling through the thick branches of the jungle's upper canopy, carrying her small offspring firmly held onto her belly. The work of the cold hues in the color palette here lets us know it's quite late in the day, and besides there's a rainy weather pouring over the jungle denizens. The layers of color also conveys us of different densities and planes.

The second frame lets us get a better look at the monkey and her baby, while she picks some sweet leaves from a tree. As she selects the food she's mostly occupied with her simple task, although there's a slight tension to her limbs, which makes us notice she is also watchful for the surroundings. Here the separation of planes is particularly impressive, with the difference of tone layers (Foreground, green-yellowed hues, background in bluish color and more difusely detailed. KUDOS on the depth of the image here!

Third frame and---what had to happen, happened. The monkey has seen something which unsettles her!
She leans forth abruptly, her hair rises, she's horrified. Her baby thankfully clings to her, we can only se his little foot as he grabs on, though we can see how deeply her mother's fur sinks in under his grasp. Tension and fear are masterfully portrayed here! But what has the monkey seen?

Fourth frame: now the monkey begins to savagely gesture and paw the air in urgent advise to her fellows, as she raises a terrified shriek: LEOPARD!
So, that was it: a predator nearby. The fear in the monkey's eyes, the way in which her jaw almost dislocates in her horror cry, and the way in which her baby clings onto her for his dear life are incredibly well drawn!

Fifth and last frame, and we finally see who was the monkey talking about: None other than our Africa!
Here we get a wider gaze at the landscape, as the leopard passes by, frowning in a hunter's cunning stare, checking for adequate prey or maybe only supervising her territory. The depths of this frame are, again, incredibly rendered!. The thorny bush at Africa's feet could even represent the change in her demeanor, from sweet to a wilder, fiercer character.
As the young trees bend under the fall of the rain and the weight of the bewildered monkeys, who raise thwir warning outcries to the sky...we can't but wonder...how will this drama unfold?

A new great addition into the world of Africa!
I will be, once more, waiting in anxiety for the next one!
The Artist thought this was FAIR
15 out of 15 deviants thought this was fair.