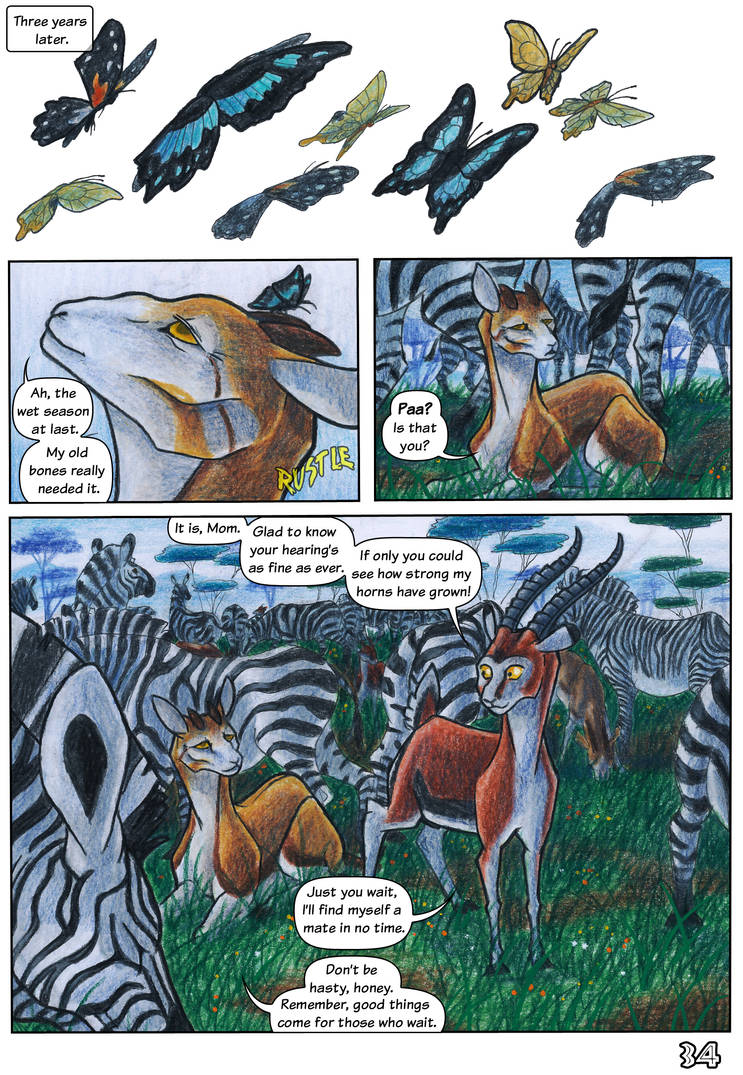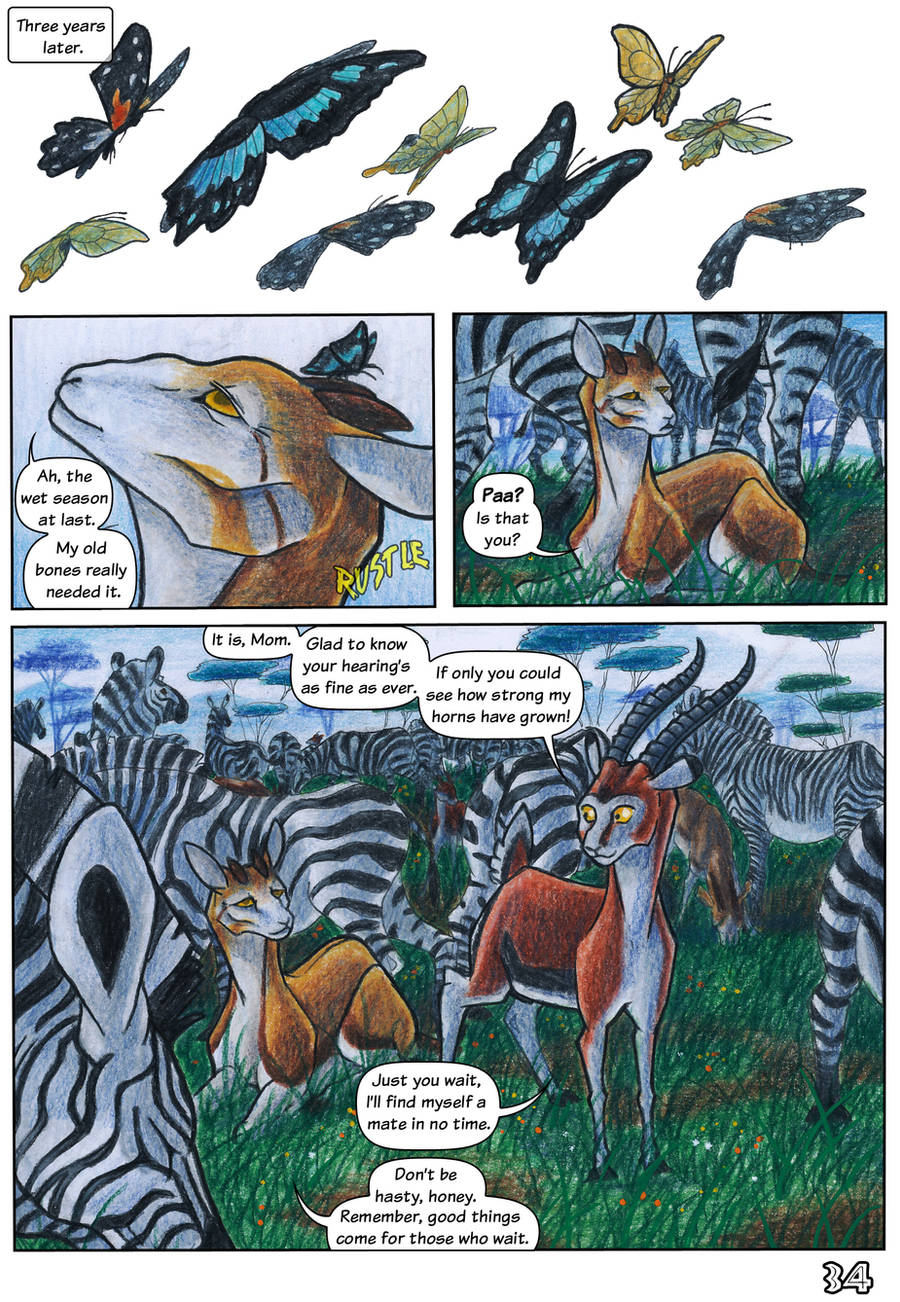 Next:

Previous:

Cover: [link]
Join Africa-comic group!

---------------------------------------------------------
AFRICA is also on Facebook! Leave a like!

-----------------------------------------------------------
French Version / Version française: [link] by/par
-----------------------------------------------------------
Surpriiiiise!
New page of Africa, one day in advance! Well, for those who read my latest journal, this shouldn't be much of a surprise at all, but I'm pretty sure many other people weren't aware of it, so, surpriiiiiise

And this page marks the beginning of chapter TWO!
Wohooooo, I'm excited! We're going to see a BUNCH of new characters introduced in this chapter! I hope you like them!
But for now, we find our old friends back, three years after the events of Chapter one. Nadira, the wise, elderly gazelle, has now turned completely blind. Although her hearing is still fine, she cannot abandon the protection of her son, Paa, now a full adult, or of the herd of zebras they have asked for help.
Also, ALL THE ZEBRAS.
YOU HAVE NO IDEA HOW LONG ALL THOSE STRIPES TOOK TO MAKE.
*manly tear*
Anyway, in the wild, gazelles often "team up" with zebras against predators. Zebras have quite poor eyesight but excellent hearing, whereas gazelles have a great sense of smell. Moreover, gazelles feed on the short grass that zebras leave behind after they eat the longer stems. This way, there is a mutual benefit between the two species.
So yep, there you have it! I hope you enjoy this page!
I want to improve, I greatly appreciate feedback and constructive criticism regarding anatomy, page flow and overall composition. Thank you!

And yet another start to a magnificent chapter! The pencil strokes and shadings match nicely with the settings and are closely related to the real Gazelle. The zebras were a nice touch. You added a feeling to it that makes it look like there are more further away! Not everyone knows how to do that (I am only capible of minor art, anyway) Thought this is magnificent, all your watchers are not quite content with just one little page (Impation little people XD) so keep up the good work!

Well that just about raps up this Critique. Happy drawing

-From your friend the Derp Master
The Artist thought this was FAIR
26 out of 26 deviants thought this was fair.
A NEW EXCITING PAGE IN AFRICA!!!
I am surprised and thrilled in a good way by this new one...here I'll explain why:
In the very first frame, which isn't framed at all, but a free white space flooded by wild butterflies, we are dashed with the detail of the wings and the delicate colors of these fluttering beauties...who sweep us three years forward in the story, serving as a very adequate and ellegant foil for the passing of time.
the second frame with a very elderly Nadira's face did both fill my heart with tenderness and twist it at the same time. She is happy and smiles sweetly on her joy of the coming of the wet season...BUT her cheeks are sunken, her pelt has lost it's natural brilliance, and her eyes...those are perhaps the most difficult change to digest, her pupils are empty of life. With years, our wise one has turned completely blind, and stares without seeing at the changes she can feel in the smell of the wind and the feels on her skin and bone...
In the third frame our olf friend rests among a bunch of zebras who are serving her as protection since she's too old to fight-or-run and is blind to unheard or scent covered dangers. She turns in distress at a sound, asking whether it's her son coming to her...
Fourth and last frame, and oh luck, it is Paa!...He has fully grown a huge, ellegant set of horns, and is ready to find himself a mate. he only regrets his mother can't see his beautiful new horns...and we do too. The contrast exposed between elderly Nadira laying down in the grass, on a pose which depicts masterfully her old age, and vibrant, youthful Paa standing nest to har is brilliant. Particularly on Nadira's case, we can almost see her half closed blind eyes blinking in recognition, her head bobbing slightly in difficulty to hold it completely straight and still because of the passing of time...she is one of the most convincingly old animals I've ever seen in a drawing. Congratulations Arven!...
And then there's the zebras. A BUNCH OF ZEBRAS!...Everyone hand drawn and colored, with a unique pattern of stripes like they should have...and a flawless anatomy. There are also other gazelles hidden in the herd, and the light blue skies and dimly lit prairie are beautifully rendered...
I loved this page!!!
Even if our protagonist doesn't show up for now...
All I can do is to cross fingers in the hope she won't eat Nadira now. She is still a leopard, one must never forget that. As loving and good at heart as she might be, a prey is a prey, and a blind prey is twice as easy to catch...even though as a human it makes me sad to think what could happen should these two's worlds collide again...
I fear a bad ending for old Nadira...
Let's wait and see what the next page brings!
Excellent job, and good keep up of a natural story, it is not easy to make something which until now could be a documentary into something anyone would love to read and follow!
The Artist thought this was FAIR
16 out of 16 deviants thought this was fair.