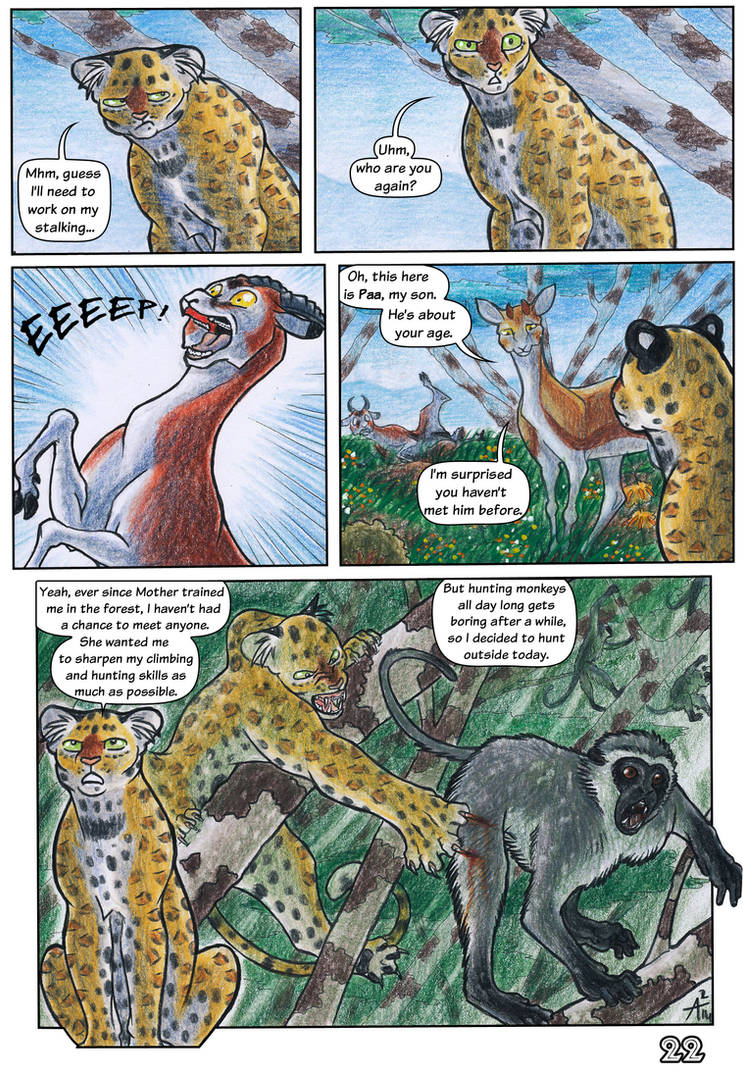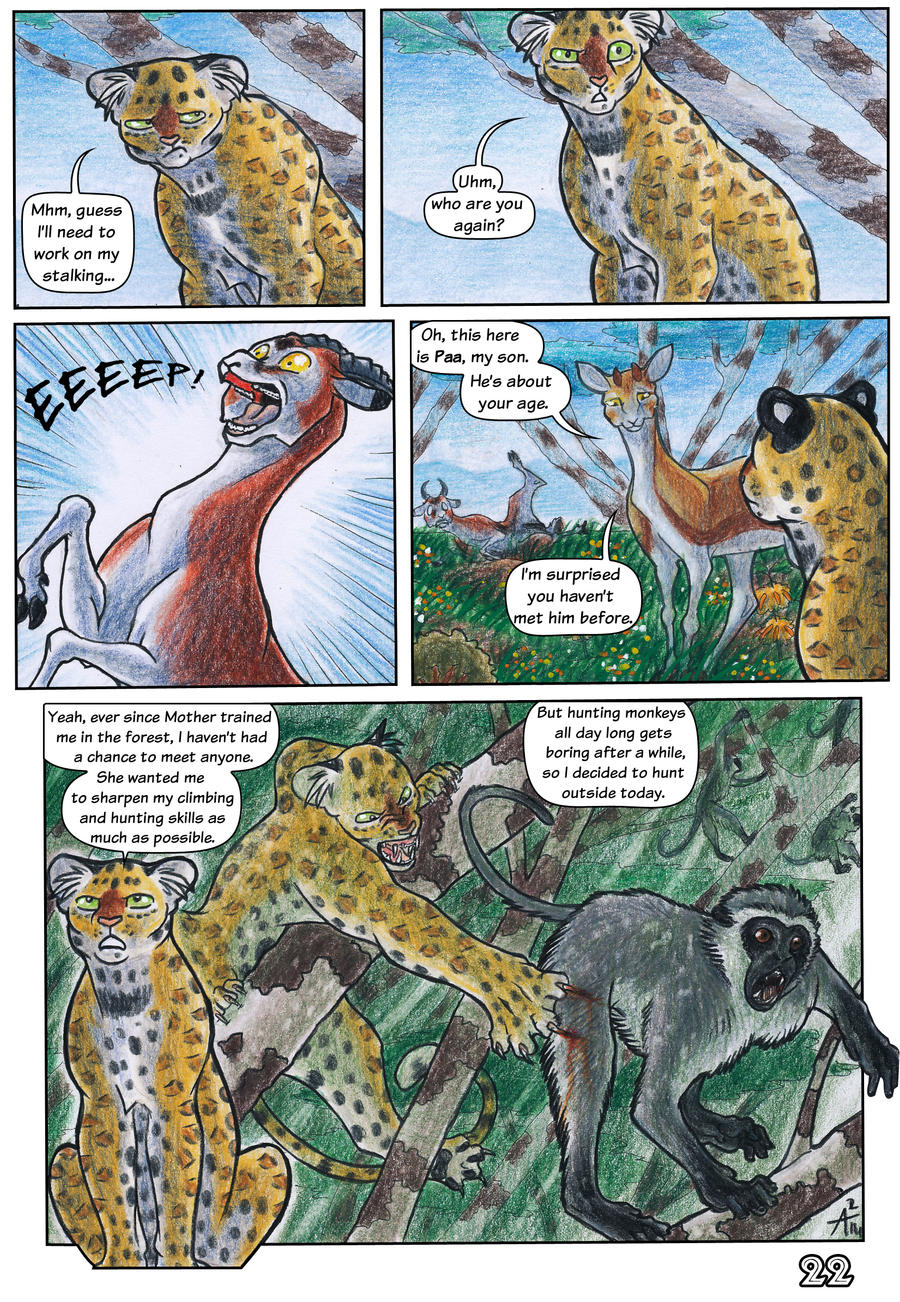 Next:

Previous:

Cover: [link]
Join Africa-comic group!

---------------------------------------------------------
AFRICA is also on Facebook! Leave a like!

Missed the livestream? Rewatch it HERE! LIVESTREAM
-----------------------------------------------------------
French Version / Version française: [link] by/par

-----------------------------------------------------------
EEEEEP page.
Poor Paa. He's gonna get a heart attack someday XD And here's explained how come Africa and Nadira haven't met in a while: Giza, Africa's mother, kept her in the forest to train and work on her hunting and climbing skills.
Africa got bored of hunting monkeys all day, so now she went outside of the forest for a hunt in the field

*Those are
vervet monkeys
by the way. Quite common in Africa

But will her mother like the fact that she's talking to Nadira? O.O
We'll see!
And once again, for the second week in a row,
the next page is coming next Wednesday
instead of in two weeks

I want to improve, I greatly appreciate feedback and constructive criticism regarding anatomy, page flow and overall composition. Thank you!

I'm not quite sure, but i think i see a fault in the story line. wasnt the gazelle pregnant at the beginning of the story when talking to little Africa? if Paa is her child, how can he be the same age as Africa? makes no sense even if the gazelle had two fawns, because wouldnt the younger fawn be near its mother?

i understand that the plot is continuing and i (as a reader) may not see the full idea, so i apologize if i am wrong. it is a great comic and i love your art style. keep it up!
The Artist thought this was FAIR
18 out of 24 deviants thought this was fair.
Hi Arven, your comic is very cool, I like where this is going.
A few things that will make this stronger. Try using the leopard's spots to describe form, have them wrap around him more and use them to assist in foreshortening. When the gazelle rears up in the third panel, I feel a little confused going to the 4th panel. Maybe if there was another panel inbetween the 3rd and 4th panels that didn't have the adult gazelle, then it would be clearer that the gazelle in the previous panel is the one hiding behind the bushes.
If the first and second panels were switched, it would help the panel flow, going from up to down will help the viewers eye travel into the page. Similarily, in the last panel, if you put the seperate dialogue bubble lower in the page, the panel flow improves.
I like your coloured pencil rendering, its very nice.
I hope this helps, keep up the good work,
Andrew
The Artist thought this was FAIR
15 out of 20 deviants thought this was fair.