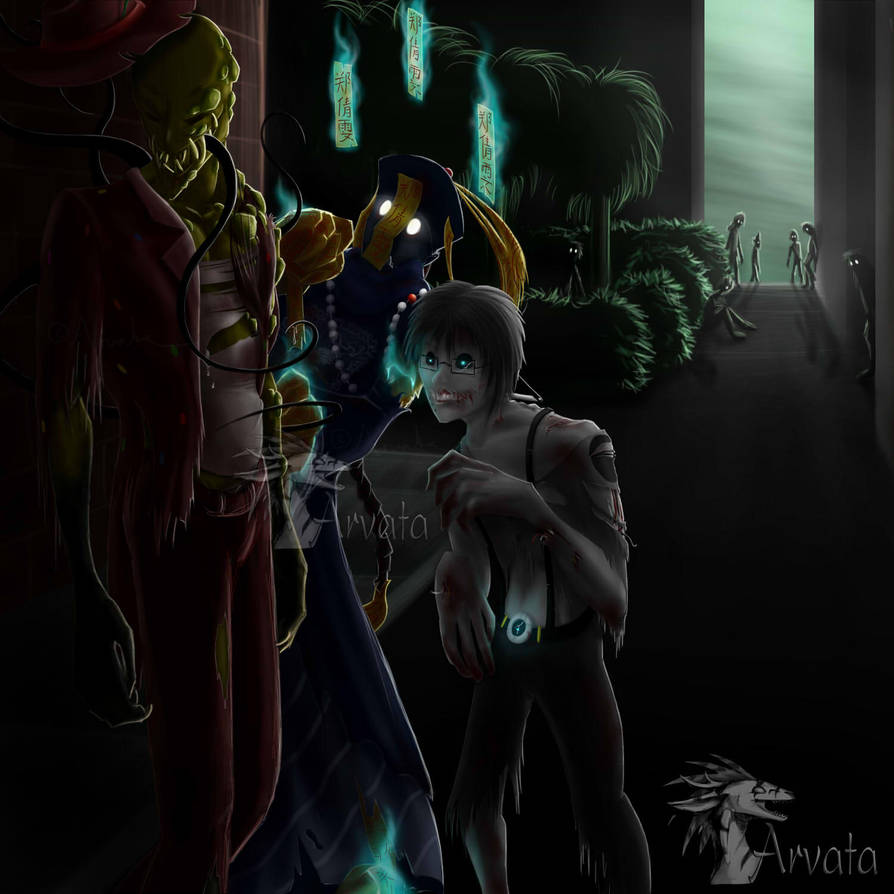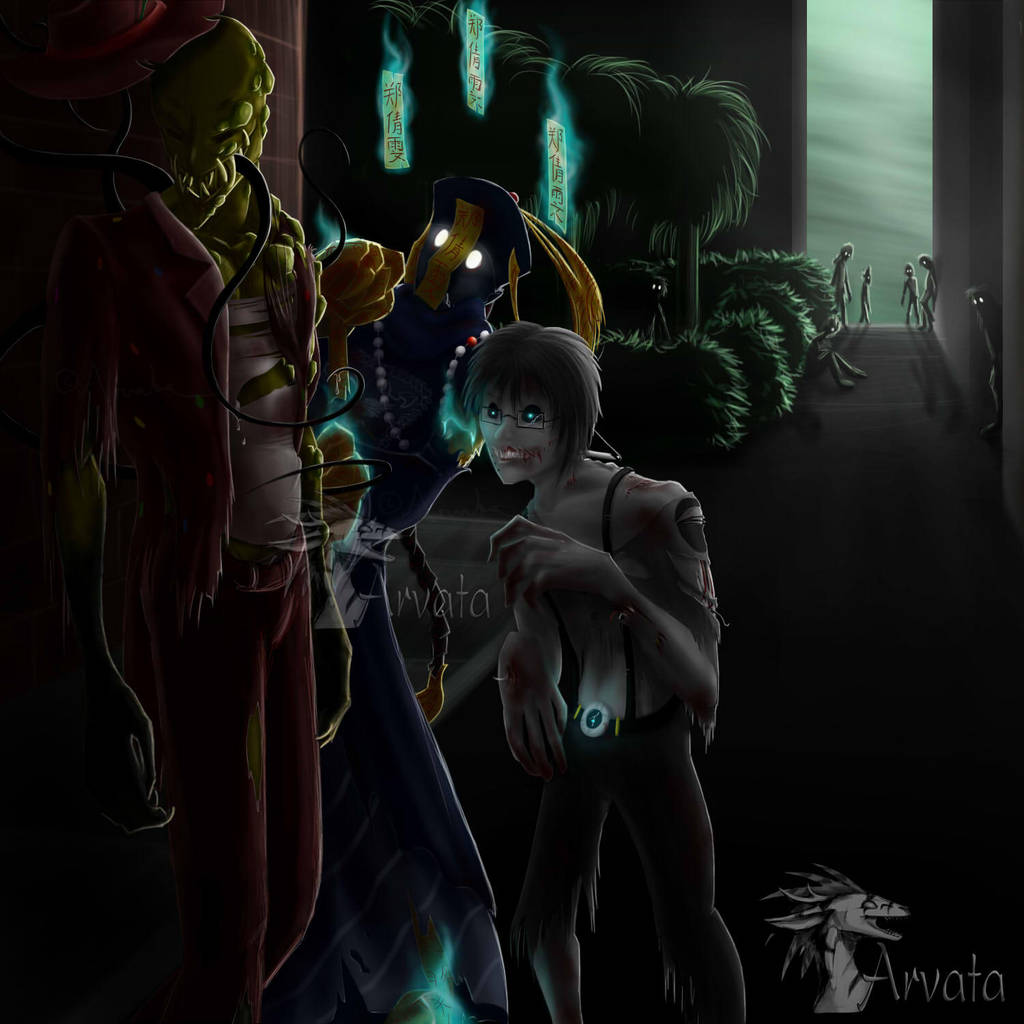 Watch
Creepy Splendorman, Mr China and Wattley as a trio of special infected from Left 4 Dead 2(Smoker, Hunter and Jockey respectively). Not that pan-dimensional demons, jiang shi spirits or androids seem prone to becoming infected in the first place, but hey, why not? The concept is a pretty funny one :3 The title is a phrase written on one of the safe house walls in-game.
Splendy's height and additional appendages obviously appeal to the smoker role. Being who he is, he's basically in it all for fun and doesn't object to his suit being torn apart, even if his quick reflexes and senses could pretty much allow him to stay untouched. Even while infected he's patient and enjoys toying with the targets before the feast. Speaking of which, yes, he's just eaten in this pic.
Mr China, with his huge claws, pale skin, sharp teeth and devoted love for hopping(to not mention he's wears blue attire and is technically already a zombie) gives him the role of a hunter, with the only real change being the ripped uniform revealing his talisman-covered arm, much like the bandages said special infected is prone to wearing. He is, as his nature often shows, more hesitant than the others regarding bloodshed and usually avoids attacking without his team.
As for Wattley, the virus has infected the very core of his system and resulted in his android body deforming, giving him the hunched back and elongated arms of a jockey. The cracks on his core/glasses symbolize his new state of mind, which has become corrupted in a similar, yet slightly more insane way than his chassis-self, making way for Insane!Wattley on top of his skittish body. Like most jockeys, he's restless, and combined with still being his somewhat clumsy self he'll get unnecessary amounts of coolant(his "blood") and gore splattered over himself, though he seemingly doesn't mind.
Mr China ©
Digimitsu
Wattley ©
gabsters109
Creepy Splendorman © Me and
Digimitsu
Left 4 Dead © Valve

Splendor look likes smoker.. Wattley look likes hunter.. then Mr china... Boomer..? <<<Punch!
Reply

Haha XD I wrote something about that in the description.
Reply

That is fantastic! I love the detail! The mood set in this picture! It's amazing!
Reply

Ahhh the final image looks so nicee!! Everything comes together so well

I love how Splendy turned out and especially how you shaded that tummy lmao. And I love how Mr China looks too of course! You've got his personality down to a T and ahhh he's so cute uvu. Cutest hunter ever!!

I love all the detail that's put into this like the torn, shredded fabric for example. And also the GODDAMN WRITING ON THE WALL WITH FRENCH MR CHINA OMFG. *SHOVES SHITAKE UP YOUR MOUTH*
Reply

*DODGES SHITAKE* Ahh ajshdsajsd thank you ; ; They were really fun to draw like this! His tummy omg XD And OF COURSE we needed French Mr China in theree! The real one looks almost normal though, it's ironic how much his traits already resemble a hunter's so there's not much to do without ruining his uniform @@ The three of them are so precious ; ;
Reply

Reply

Reply

Wow, so awesome! -bows before greatness-
Reply

THEY ARE GORGEOUS AND CUTIES o waIT I MEAN TERRIFYING OMG AHHHH

ALL THE LITTLE DETAILS MAKE IT JUST AMAZING PLS
I LOVE THE LITTLE WRITINGS ON THE WALL
AND ALL THEIR FACES
AND
EVERYTHNG ELSE TOO OMG
<33333333
Reply