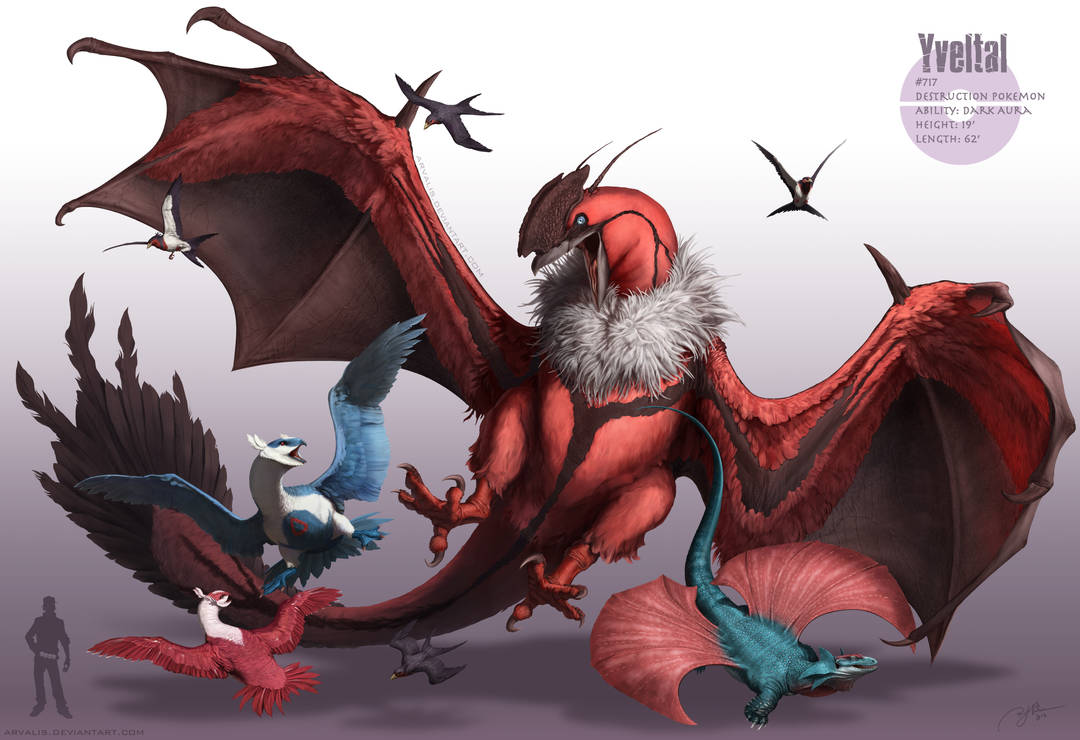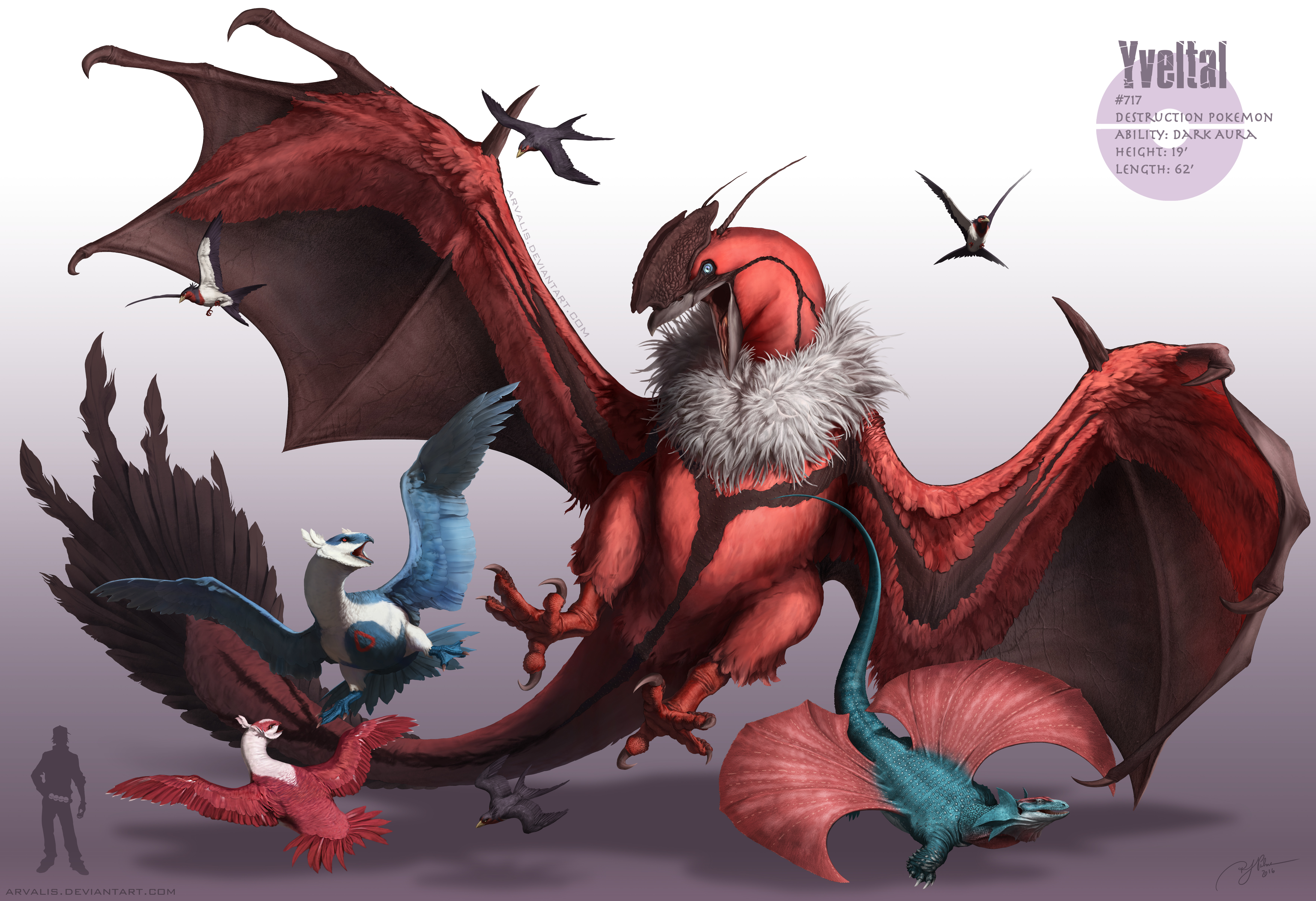 Realistic Pokemon Season 2 finale. I did 18 illustrations in the first season, which took about 6 months, this time it took about three years, but who's counting. This season started with Flygon and boy have I learned a ton since then. I just wanted to thank every one of you guys for seeing me through on this project so far and being fans. I will return to Realistic Pokemon in a couple months, and I will be doing some Sun and Moon Pokemon closer to release when there is more info on them available. Also before anyone asks about the wing design on Yveltal, it was inspired by the real life dragon,
Yi qi
. So its effectively a
Yi veltal
. Now onto the flavor text, which I know is really why all of you are here.
Legends of Yveltal's immensity and terror have persisted for millennia. They tell of a monstrous, feathered beast capable of absorbing the life force of anything it came in contact with. Of course when the first Yveltal was found in present-day, these legends were easily explained. In reality Yveltal is a super carnivore with the unusual ability to hibernate, not unlike the common Ursaring. When the legends spoke of Yveltal wiping out all life in an area before disappearing, it really was just mass consuming Pokemon to prepare for extended periods of hibernation. Due to extreme size and power, there were almost no Pokemon that were not prey to Yveltal's mighty hunger. Though most often identified with the Kalos region, as the only modern sightings of one took place there, Yveltal stories have been found in many cultures. As depicted here, Yveltal is showing those dumb Hoenn turds what's up.
Though rarely observed, it has been discovered that Latios and Latias are male and female members of the same undescribed taxon. Males and females are strongly sexually dimorphic in size, appearance, and ability, which once led to the assumption that they were separate species. Siblings of the species strongly imprint upon each other and are aggressively defensive of one another. Like Delibird, Latios and Latias will seek out a specific type of stone, their's being known as Soul Dew. Once in possession of Soul Dew, it acts as an amplifier for their already considerable psychic abilities for as of yet unknown reasons.
The Hoenn region boasts a considerably high number of dragon type Pokemon species. Amongst the most powerful of the group is Salamence. With a unique growth cycle, Salamence can be very off-putting for some trainers. During adolescence, Salamence are colloquially known as "Shelgon" due to the overly large scutes they develop as protection. They eventually shed these when their rib wings have full developed and gain the ability to fly. Though not the most graceful flyers now, prehistoric Salamence fossils have been discovered with far larger and more developed rib wings. It is thought that these "mega" Salamence were very adept in aerial combat. Too bad we're stuck with this ugly thing now.
Swellow, unremarkable in many ways, is exceptionally fast. They exercise a dive bomb maneuver during hunting, reaching maximum momentum to hit prey below with a powerful strike. Sure they aint no Pidgeot, but they sure as hell are better than that mess, Staraptor.
More Realistic Pokemon
PhotoshopCS5: 50 hours
Yveltal©Nintendo