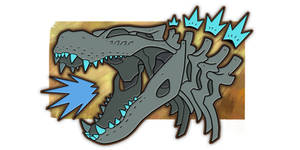 King of the Monsters
Premium support tier. To receive discord role, join discord.gg/arvalis and tag me
---

Description

PRINT STORE-BUY THIS THEREEdit:
I always saw Scyther as a very dinosaur/dragon looking critter with some bug parts. It has come to my attention that others did not see it this way, they saw him as more of bug. This is my interpretation. If you want him more insect-like, you're more than welcome to draw him that way

Always thought Scyther was pretty sweet. Always wished he was actually a better pokemon. This is the Scyther I always wanted. You can see the entire process recording over at
My Livestream Channel
Other Realistic Pokemon
Tumblr Art Blog
PhotoshopCS3: 7 hours
Scyther©Nintendo
Image size
3300x2251px 890.68 KB
I just had to use both my Scythers to beat a Pokemon Go gym. They had a really tough Garchomp.