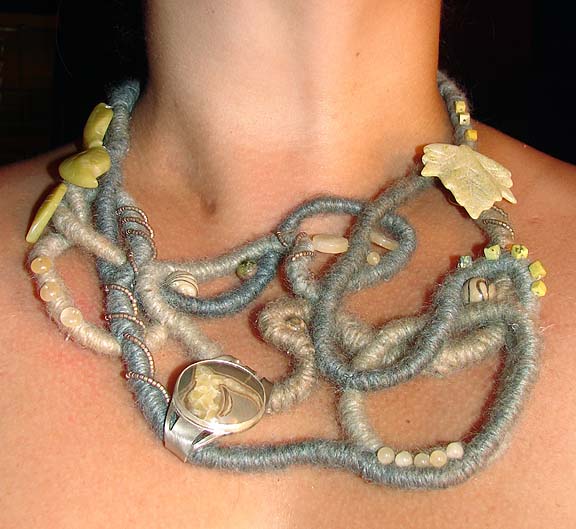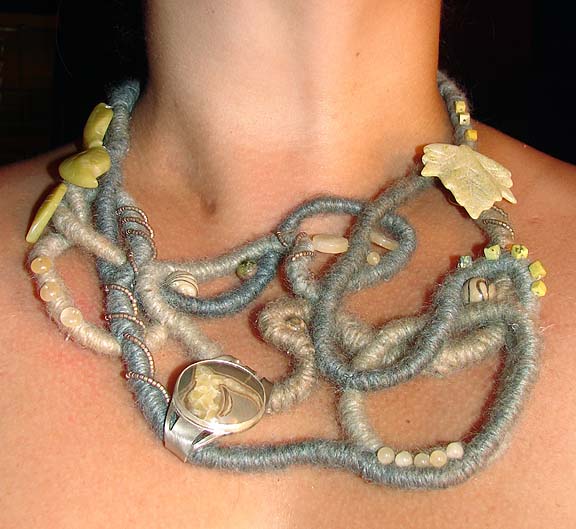 Watch
I found a wonderful inspiration on DA, NjaDean

We did a trade for her piece
and my silver ring
I asked her if I could try and mimic her style. She was extremely kind and gave me the go-ahead.
This piece took quite a while as the process to make the cord is pretty time consuming. In addition to making the cord, I made several glass beads. I also cut, cabbed and polished the focal stone (Septarian Nodule) and set it into a bezel that was also cut, sanded and soldered by me.

wow this is quite strange. it doesn't really suit the tan of the model but on a paler person i'm sure it looks stunning! and so soft

you're very talented!
Reply

Ha- You're right. I never notice that. My skin fluctuates so quickly from tan too white. I usually where this over a turtle neck so it helps... but really good crit for making it better. Thanks-
Reply

so then you're the oposite of me... i do not get brown... and i also don't get red

. my skin just doesn't change too much at all.
Reply

That is amazing. I love the combination of materials and the organic design. Brilliant.
Reply

I really love this! How long did it take to complete??
Reply

So many different aspects to this piece. The necklace was about 8 hours (at least), then cabbed the stone (30 minutes), cut and polished the meta (4 hours), made glass beads (2 hours) and then beaded everything together (2 hours). When I add it up it seems like so much more than 16.5 hours... so I guess what I'm saying is it took a LONG time!

Thanks for the appreciation-
Reply

That's a crazy looking necklace! It's definitely an eye-catcher!
Reply

I love wearing this piece

It speaks for itself.
Reply

I'd say, you would make the artist proud .

Reply

Great avatar... she probably makes me dance more than I make her... since she was the originator and all. But a long time DA friend so I know she would be joining in.
Reply

Whoa, very funky/cool @ the same time.. I love all the earthy/natural colors in here.They work very well with the focal stone, as well as all the small accents in it. Very organic!
Reply