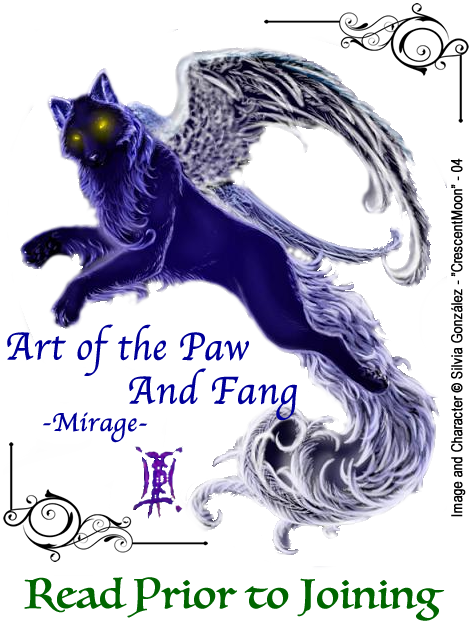 Our mission statement:
We are a community where advanced, experienced and gifted artists share quality wolf artwork. Established March 8th, 2004.
What do we mean by quality?
It might sound unfair, but members must submit work that has obvious noticeable effort and ability in regards to; anatomy, golden sections, quality of lines, backgrounds and fulfilled intent.
Why do we have this?
So each deviation submitted will be something worth viewing. Joining our group means you have the confidence and talent to meet our goals. If you think you're good enough, you're encouraged to join!
Everyone
is invited to
WATCH
our group, everything in our gallery is excellent.
Requirements to Join

In your request, give us the links to 3 pieces that are
the best
representation of your work and ability. Choose carefully and follow the submission standards below.

Those who do not submit 3 examples invite our admins to judge your membership based on your gallery, or are subject to their membership declined.

Wait for group acceptance. Sometimes our Alphas can take a few days to make a decision. If you are declined this time around you are free to try again at a later date.

To avoid HOAX accounts, we require your membership with deviantArt be more than 6 months.
We Do Not Accept

We do not accept traces or screenshots.

No messy sketches or notebook drawn images.

No vore, fetishes or hard porn, for God's sake have some dignity.

Hate pieces or anything slandering others have no place here.

Sorry, no photography or literature, however this could change.

Admins reserve the right to decline posting artwork that they feel is not suitable or finished enough to be posted. Hopefully this will give all of us the incentive to do our best and give wolves the beautiful representation such magnificent creatures deserve.
Submission Standards

Submissions must be your work.

We accept wolves, wolf-like dogs such as huskies malamutes and other Nordic breeds, coyotes wild breeds and mixes of all of these are welcome. Werewolves are welcome in the specific folder. Hybrids should contain noticeable wolf anatomy. Alphas can decide acceptance on a case by case basis.

Gore is welcome (if you're 18 or over).

Nudity is welcome if done in good taste (again if you're over 18).

Fan Art of characters is welcome (Balto, White Fang, etc.) as long as you credit your sources per Deviant Art rules. Copyright laws will be upheld. Document all inspirations correctly.

Limit your submissions to 1 or 2 at a time. Why? We promote quality over quantity and less is more. Consider what the watchers want to see.

Line art must still be a finished render, clean crisp lines are a must, because of the lack of content anatomy needs to be well done on these pieces as flaws will show up easily.