I posted this ages ago, but the image was not very good, so I changed it with a new one (this one), except the friggin print would not let me change the old poor version, so I disabled print and posted it now here separately, with print enabled.
This is the link to the one I am talking about where I disabled the print: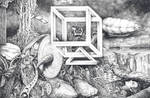 I will have to add a note on that one to link to here where prints are available. Best possible image, taken with a Hasselblad.
graphite on paper - 1997
61 x 40 cm
A common shamanic concept, and a universally told story, is that of the healer traversing the axis mundi to bring back knowledge from the other world. It may be seen in the stories from Odin and the World Ash Tree to the Garden of Eden and Jacob's Ladder to Jack and the Beanstalk and Rapunzel. It is the essence of the journey described in The Divine Comedy by Dante Alighieri. The epic poem relates its hero's descent and ascent through a series of spiral structures that take him through the core of the earth, from the depths of hell to celestial paradise. (Wikipedia)
Image details
Image size
7205x4733px 10.44 MB
Shutter Speed
751619276/536870912 second
Date Taken
Apr 7, 2012, 7:17:36 PM

Awesome! Love the title too (also the name of a fantastic album by the band Decrepit Birth).