This is a commissioned art I did for

and this is his OC Kaori.
To know more of this OC, kindly ask the owner himself. Thanks!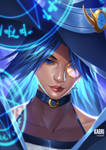 Headshot Project:
goo.gl/dhvh9F
Wanna commission me, check my journal down below:

Commission Batch 65 is now CLOSEDCommission Batch 65 is now open for inquiries.If you love creating characters for games and for your own IP's but you can't draw then I can help you create it for you. I love creating characters in action poses or even character designs. It will be awesome to be part of your creative process. Send me a note if your interested. See the details below.,

oggo171

Project: Draqquet Zalcoatl ResureccionStatus: Paid

Enoile

Project: KStatus: Paid

superemopowerz

Project: Lelouch From Code GeassStatus: Paid

superemopowerz

Project: Li-008Status: Paid

Zalla00

Project: Duchess of ChainsStatus: Paid

NewbieplayerHoneydue

Project: CoverStatus: Paid ___________________________________________________Full body painting info:Fictional Characters ( Anime, comic book character, etc. )Original characters: I'm ok with NSFW thing but probably not Yaoi. Sorry.Additional fee for complicated designs such as robots, bio-mech, buildings, and a crowd shot.Any additional characters or specific background of choice will have an extra charge.:)

For the new clients, read first the info link below before sending me a note:

,For those who will avail 2 or more slots, here's my offer:,,,

Thank you so much for your time! Looking forward to work with you guys!
________________________________________________________________________________________


Kaori © binghu795
Art © ArtofLariz


COMMISSION INFO | My YOUTUBE Channel | My BLOG | PINSEL PROJECT on Facebook | My Website | My BEHANCE | MYTH on Tapastic | MYTH on Webtoons | TRUESIN manga | ArtofLariz Twitch | ArtofLariz ARTSTATION | ArtofLariz INSTAGRAM
Image details
Image size
3608x1804px 3.54 MB