1. Post these rules.
2. Post 8 facts about your character.
3. Tag 8 other characters.
1.
Takes at least one nap during the day.
2.
Sings in the shower, and actually has a good voice.
3.
He loves to dance (have you ever seen Tom Hiddleston dancing?... well, that's how I picture Zarek xD)
4.
When he ranked up to Commodore, he was not assigned any female subordinate. In the past, he caused a lot of trouble. Catfights, underperforming among women who admired him, heartbreaks, love affairs... somewhat scandalous.
5.
He loves cats, he has one kitten named Rocinante.
6.
The death of Rocinante was a big shock to him. He knew he had a secret mission and died, he doesn't know who killed him or anything about Law, Sengoku hide the fact from him.
7.
The scar on his eye was made by Rocinante after a fight (Roci picked up a sword made of seastone by mistake). The cut in his lip was made by Vista in the Marineford War.
8.
After recovering from the death of Rocinante. He decided to pierce his left ear. The rings are made of silver, they are related with the deaths of beloved ones. His mother and his friend.
__
Kaylee
Tagged by Mangasia and SnajeyArt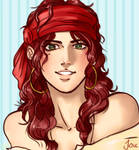 1.
She sleeps under water, at least a couple of times in a week. (mermaids get ugly for being so little in water, like Kokoro) She doesn't do it because she doesn't want to be "ugly",she is afraid of changing and not being recognized by her mother when she founds her.
2.
Kaylee doens't have a last name since his father, Fabian, was an orphan.
3.
Her father forced her to keep her hair short to the neck. When she left Fishman Island she let it grow, she prefers is like that.
4.
Her hair has a faint smell of caramell.
5.
Her dexterity is really good. She learned how to assemble firearms, deactivate bombs, open locks and closed doors.
6.
The rings she uses were given by her mother and won't take them off until she knows she is alive.
7.
She had a deep crush for Mihawk, but it was not reciprocal (that is not new... I know) but I headcanon that Mihawk actually liked her back but didn't do a thing about it.
8.
When Kaylee is drunk she thinks everything is beautiful so she gets carefree (just like in the fairy tales and romantic stories she likes).
I tagg~
Eliya -

Sokko -

Sexy Mai -

Fina -

Arbie -

Wonda -

Arin's sezy Papa -

Nat -